You might have noticed the new Rubrick here on designsetter – mindful decor. It comes to inspire for a conscious lifestyle and showcases interior styling ideas that reflect a living philosophy of wellness and mindfulness. Wellness can mean taking care of the body, nevertheless also it can mean a soul wellness. Creating a wellness oasis at home can inspire us to turn to self care each day.
Today's story is inspired by the Nordic lifestyle philosophies reflected also in home decor – the Hygge from Denmark, the Lagom  from Sweden, Geborgenheit from Germany and Sisu from Finland. With the latest one "Sisu" I got first aquined just recently, by getting to know interior design brands from Finland. The products they create reflect the finnish way of life – living in one with nature, learning from nature to utilise its resources as well as our inner human resources to live happily and celebrate luxurious simplicity.
Creating a wellness oasis at home – interior styling tips:
1. ONE WITH NATURE

When we are connected with nature, we are already connected to the healthy wellness state. How can we transform our homes to be the place where we feel close to nature? By choosing mostly sustainable fabrics and natural materials. These are linen, wool, bamboo, jute and paper yarn and similar recycled, natural materials.

2. CREATING CORNERS IN OUR HOMES THAT INSPIRE WELLNESS ROUTINE AND DAILY WELLNESS RITUALS.
This could be setting a tray with what's needed for a "caring for the feet session", for dry brushing, or for a plant based body oil treatment, for a natural skin scrub using salts and oil. For those who strive to minimalism, this could also illuminate unnecessary bottles of cosmetics standing around. With simple four ingredients such as salt, natural oil and body brush we can use for scrub, moisturising and bath. Mixing essential oils and salt can be used both for a bath and a body scrub. One bottle of plant based oil can be so versatile -for removing make up, as a moisturiser and even as an anti cellulite treatment (a mixture of rosemary, lemon and grapefruit oils mixed with a base oil)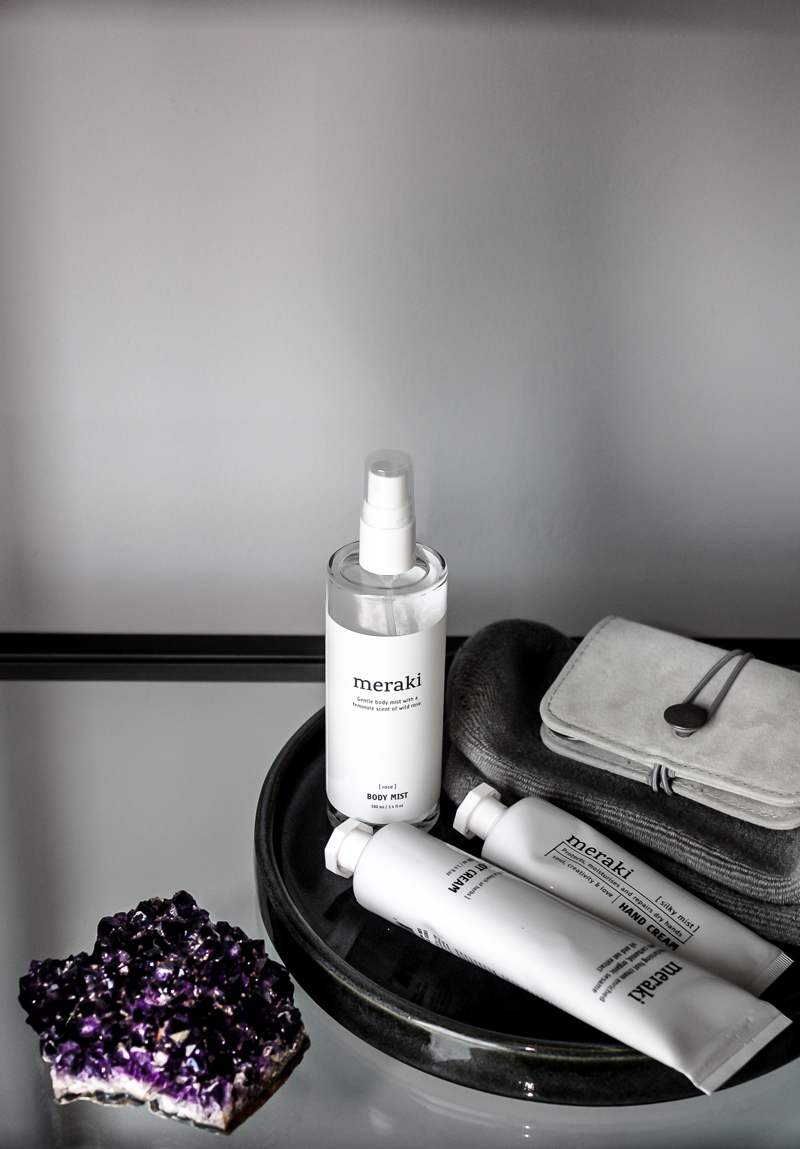 A setting for the wellness morning: The reality is that in daily life, most of us have time pressures from either the morning commute or helping kids get ready for day care and school, or both. It does not leave us with much time for a nice long morning ritual of self care as we maybe wish. Nevertheless, even short small gestures of self care in the morning can be very powerful for our well being and self esteem.
By awakening, I open the windows wide to let the fresh air inside. Then shake the beddings and make the bed. On hot summer days, I love sleeping under a linen sheet and it's saves even more time for bed making.
I use a natural jute rug by the bed for sun a few yoga sun salutations or just one stretching exercise to get connected to my body. Then I drink a full glass of water with lemon, wake up the kids, lay down something for them to dress and go to the shower. All this takes ten minutes but it sets a message of acknowledging ourselves before we can go and serve the world. From experience I can say there is a major difference to the emotional and mental state on the day when I jump right a way into my "servant" role with a strong mug of coffee to go in hand, without taking time for these small rituals.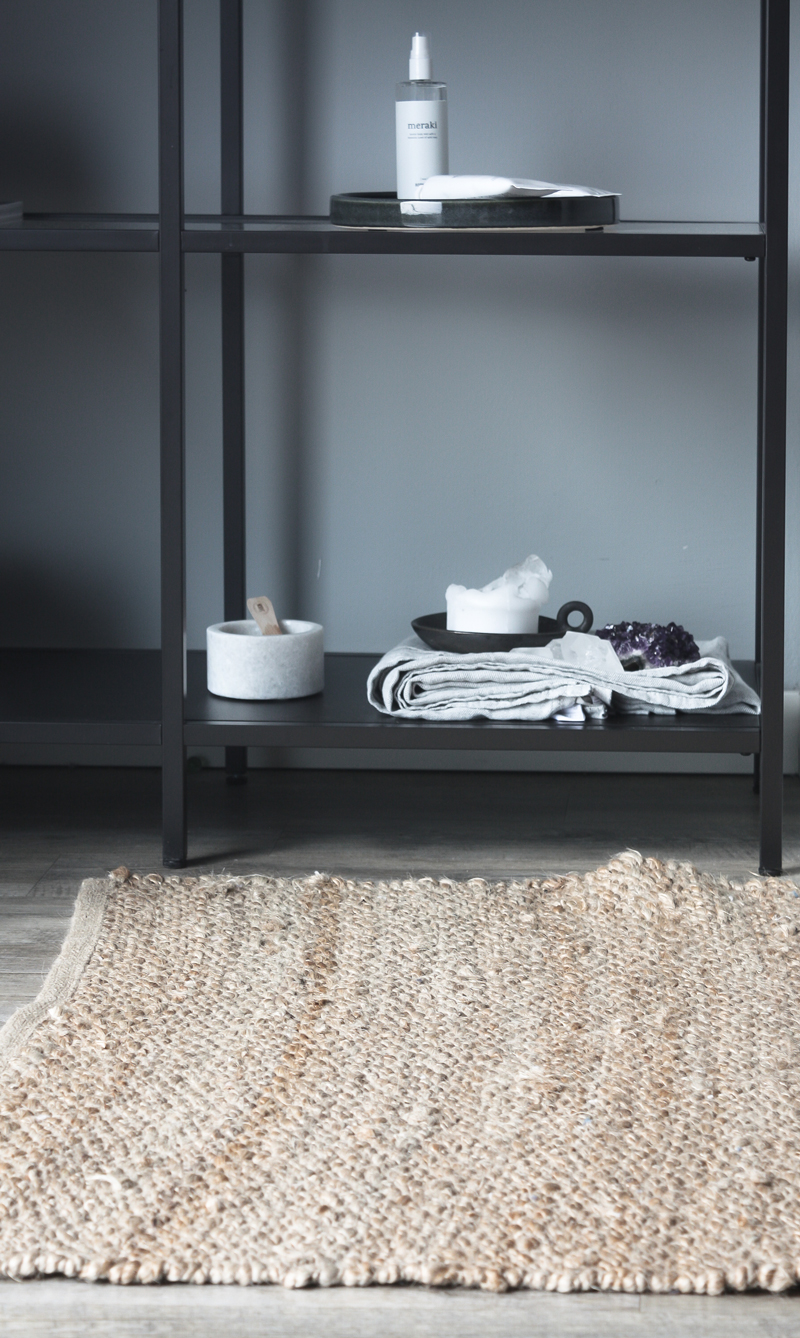 3. ADDING PLANTS AND COLOUR GREEN TO THE BATHROOM AND BEDROOM
Adding plants for interior space can be a challenge because we do not want to overdo or to add plants that require lots of care. This is why I recommend adding aromatic herbs such rosemary, lavender, thyme in a small planter, together with one favorite indoor plant beauty of your choice such as monstera or "Ficus Abidjan". Adding green bath accessories such as towels can also enrich the "connected to nature" feeling.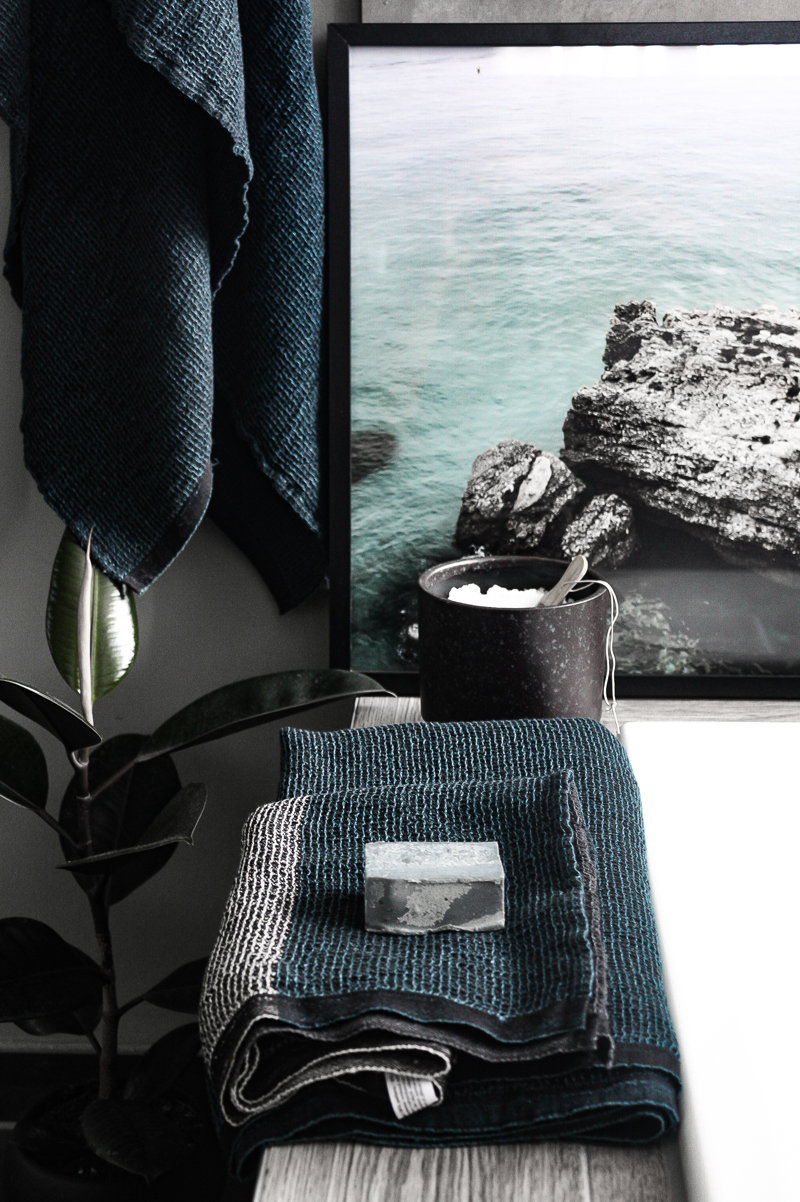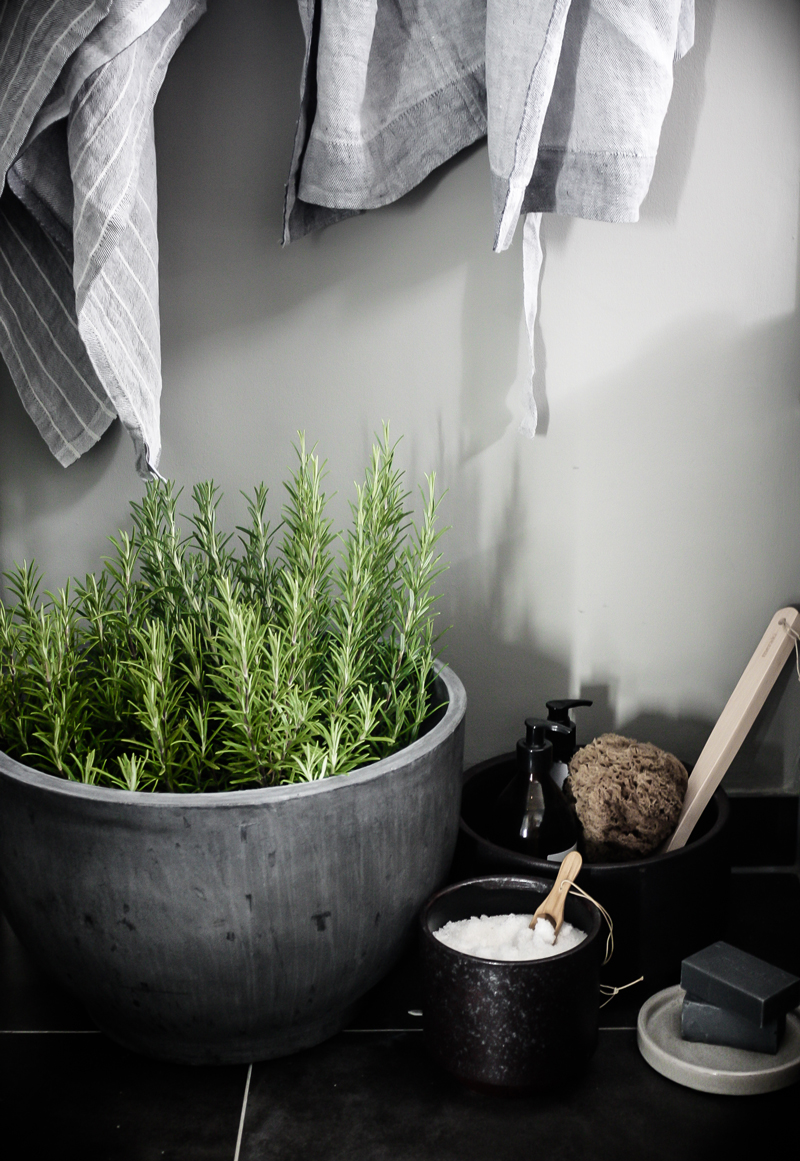 4. ADDING IMAGERY OF NATURE.
This could be prints of a favourite flower or a mountain/sea image. I love to capture sceneries throughout travel and making art prints for the interiors. This also reminds me of the relaxing vacation feeling that is sometimes  easily lost after we return to our daily lives.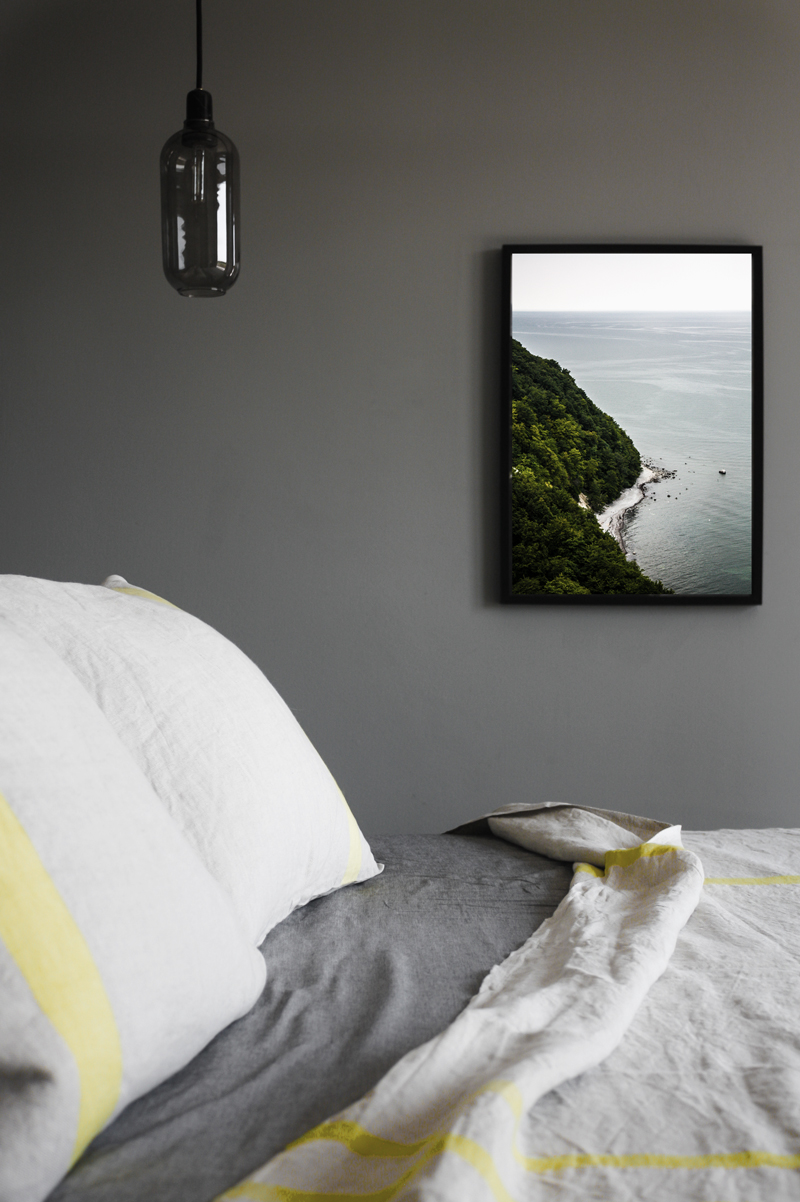 5. AVOIDING RUSH CLEANING CHEMICALS AND PLASTIC
Of Course this is a personal choice. I humbly believe that we have to respect mother earth in order to benefit from its healing potential. Our bodies are nature, so why harming them by breathing in and using harsh chemicals on our skins and in our homes.
Unfortunately it is easier and cheaper to buy a plastic toothbrush instead of bamboo one or to clean with a chemical cleaner instead of a natural bacterial based one. For the purpose of this article on creating  wellness oasis at home, I would love to inspire you with the natural products I use at least in bath and bedroom.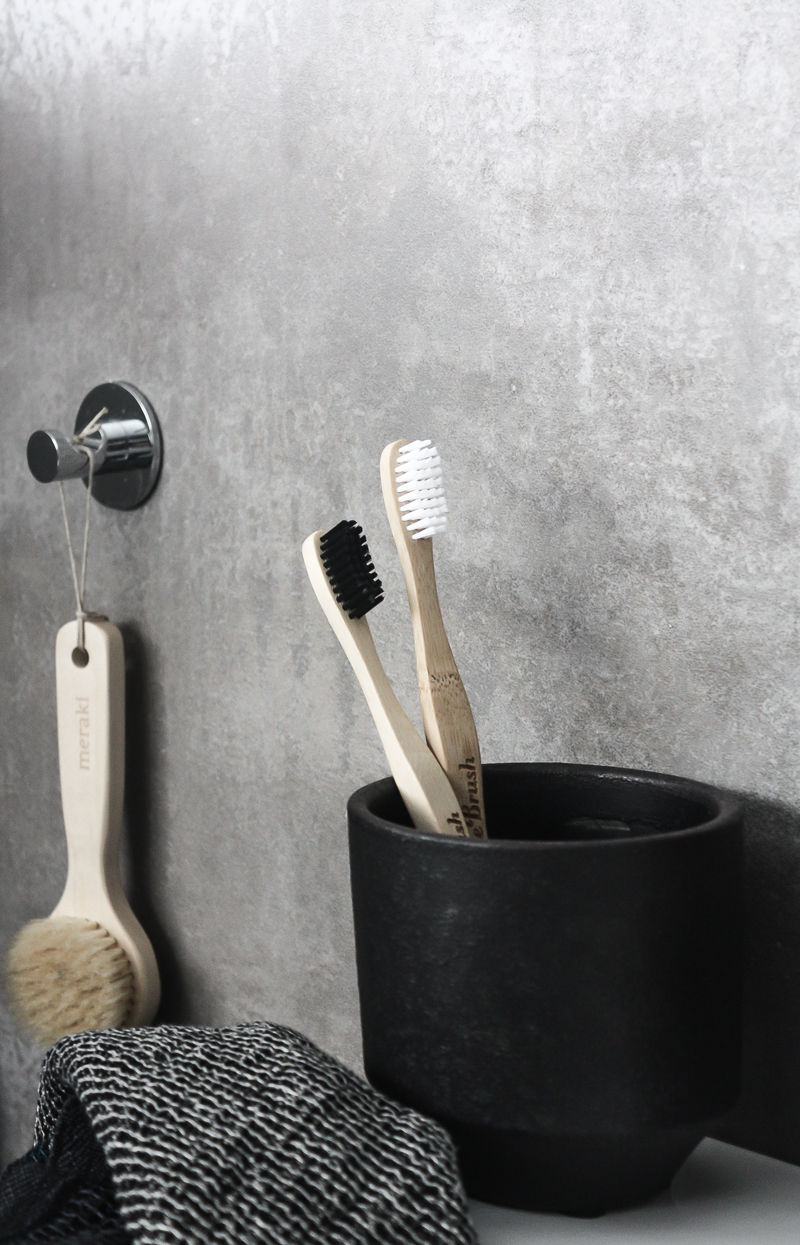 6. CREATIVE STORAGE FOR BATH ACCESSORIES
Be creative, imagine you are turning your bathroom into a wellness retreat. What materials and elements come to mind? I love the idea of using clay planters to hold toothbrushes soaps and sponges.
Hope you are inspired to turn your bathroom and bedroom into a minimalist nordic wellness retreat. Now we do not need to wait and save for the next spa visit or vacation. Our homes can be an oasis for wellness and self care. Stay well and practice small soul wellness moments each day!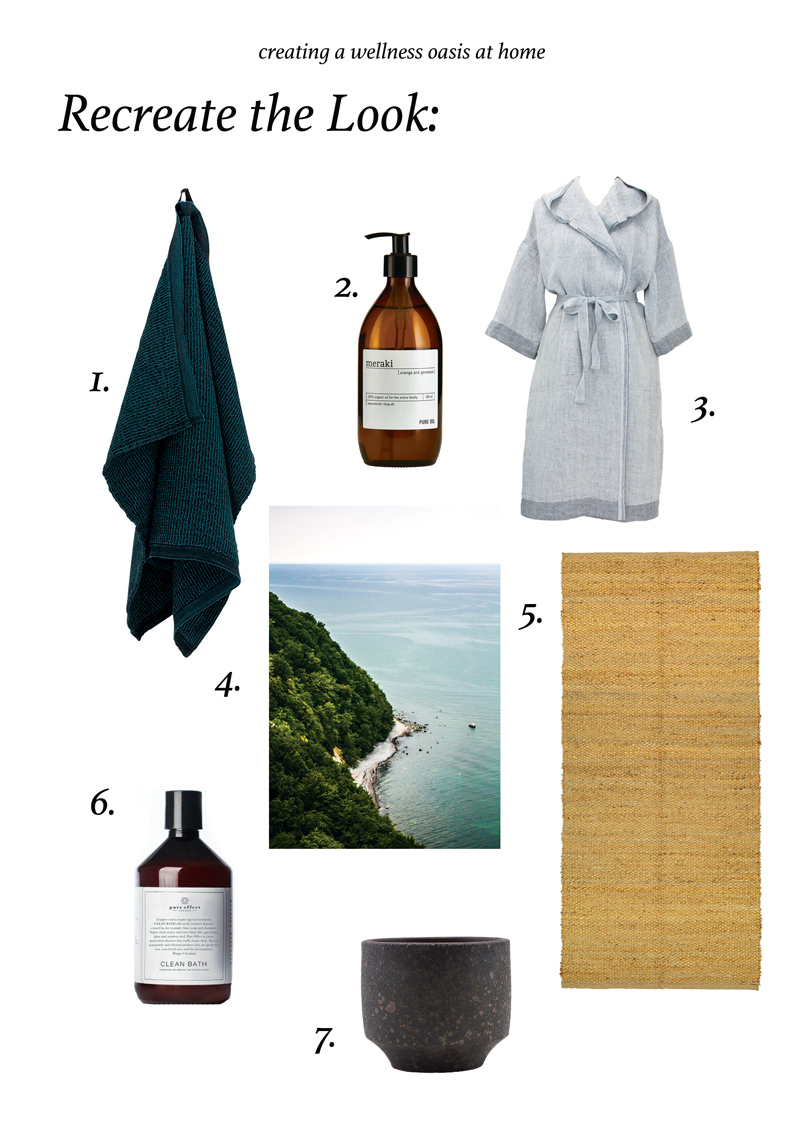 1. TERVA Towel by Lapuan Kankurit **   2. MERAKI Pure Oil          3. KASTE bathrobe with hood Lapuan Kankurit  4. Nature Print by Valerie Schoeneich 5. HARVEST Jute Rug by Finarte 6. CLEAN BATH by Pure Effects  7. EARTH plant pot by HOUSE DOCTOR
*Disclaimer: To create this interior styling I teamed up with a few brands who share my believes about eco friendly conscious lifestyle. This article shows both styling samples and own purchased products to demonstrate the look. This is only an example and it is possible to recreate this look and styling concept also with your wished products. All images, concept, idea and words are by Valerie Schoeneich without any influence from brands or PR agencies.
** Until end of August you can get featured products from Lapuan Karkuit with a discount of 20 % / use code DESIGNSETTER
Concept, Text, Styling and Photography: (c) Valerie Schoeneich 2018. Please do not use without written permission
Are you interested in housing advice, product styling or mood pictures for your brand? Just contact interior stylist Valerie Schöneich for a customised project
DE Version lesen: Eine Wellness-Oase zuhause schaffen – Tipps für die Inneneinrichtung