Today we are visiting Interior Stylist Annetta Kristjansdottir who lives with her partner Fabian and 8-month-old son Viggó in a two-bedroom 90 qm Berlin Altbau style apartment. On a December day, we are meeting with Annetta in her Apartment in Friedrichshain, Berlin. She greets me at the door, holding her smiling baby son. From the first moment, one can sense a feeling of comfort and lightness in this apartment. Decorated mostly in Scandinavian design style, the main elements are natural materials – pale wood, natural fabrics such as linen and organic cotton, white tones, tipped with a few colour pops and sculptural elements such as ceramics.
Annetta is known for creating such airy, warm Scandinavian spaces in her work as an interior stylist with her partner Ellinor at SALTY interiors. Naturally, this interior style is also reflected in her own style at home.
Annetta puts it in her own words:
"The feeling of calmness and comfort is very important to me. A home should always be the place you enjoy the most staying at and long for when you're away. It's your haven. At my work, I like to seek inspiration from nature, so it's no wonder that we choose mostly sustainable materials when we work on our projects at SALTY Interiors. I always knew that once I would have a baby I wouldn't want to change my apartment drastically. I am still me and I take pride in showing a piece of my persona in my styling. When I invite people to my home it's like inviting them to get to know me. The real me. This is why it was important for me to keep my home as it was. The extra pieces I needed to buy for our baby also need to fit with the atmosphere and my style. It was, however, important to me that our baby would have the same sense of feeling when being at home so I like to keep all materials natural and without any chemicals. "
The transition from one family dynamic to other changes also our decoration needs. Our living requirements and decoration take a new spin when we welcome a baby into our home. Now, living with kids shifts a bit the decoration priorities – we want to create space for the baby to explore, develop in a healthy and fun way. This does not necessarily mean we have to equip the home with all possible on the market ideas for living with babies. From Annetta's example, we can see how simply making space by reducing the unnecessary, using ecological fabrics and soft colours can create a sense of comfort and safety for the baby and a calm atmosphere for the parents can create a comfortable warm family living.
For the first months, many families tend to share their bedroom with a baby before he/she moves into their own nursery. In Annetta's and her husband's bedroom, they installed a cosy diaper-changing area and a baby bed. Annetta also told me how the first weeks and months, the baby would spend a lot of time in their bed. Hence the focus was on a choice of the bedding, to be 100 percent organic, produced without the use of any harmful chemicals. The bedding set Annetta has in her bedroom, including a matching baby bed set, is from the Swedish brand Alva – in a Scandinavian subtle, warm colour called Seashell Beige, which contributes well to a natural atmosphere in the bedroom. This colour fits well the light green wall colour and the pale wood elements, creating a sense of well being and being surrounded by nature. Alva is involved in every step of the bedding production, making sure that the people who work at the cotton fields are fairly treated. The organic cotton they are using for the bedding is derived from small plantations in India that are members of Chetna Organic, which is is a cooperative that specializes in organic farming. What also beautiful about this bedding is the silky look and feel – the fabrics are woven in a way that it becomes a unique shine and has a very special softness.
The baby snuggles with Annetta on the bed, then plays on the carpet – both in the bedroom and living room. Also here, the focus is on organic materials and colours that provide a sense of calmness and nature.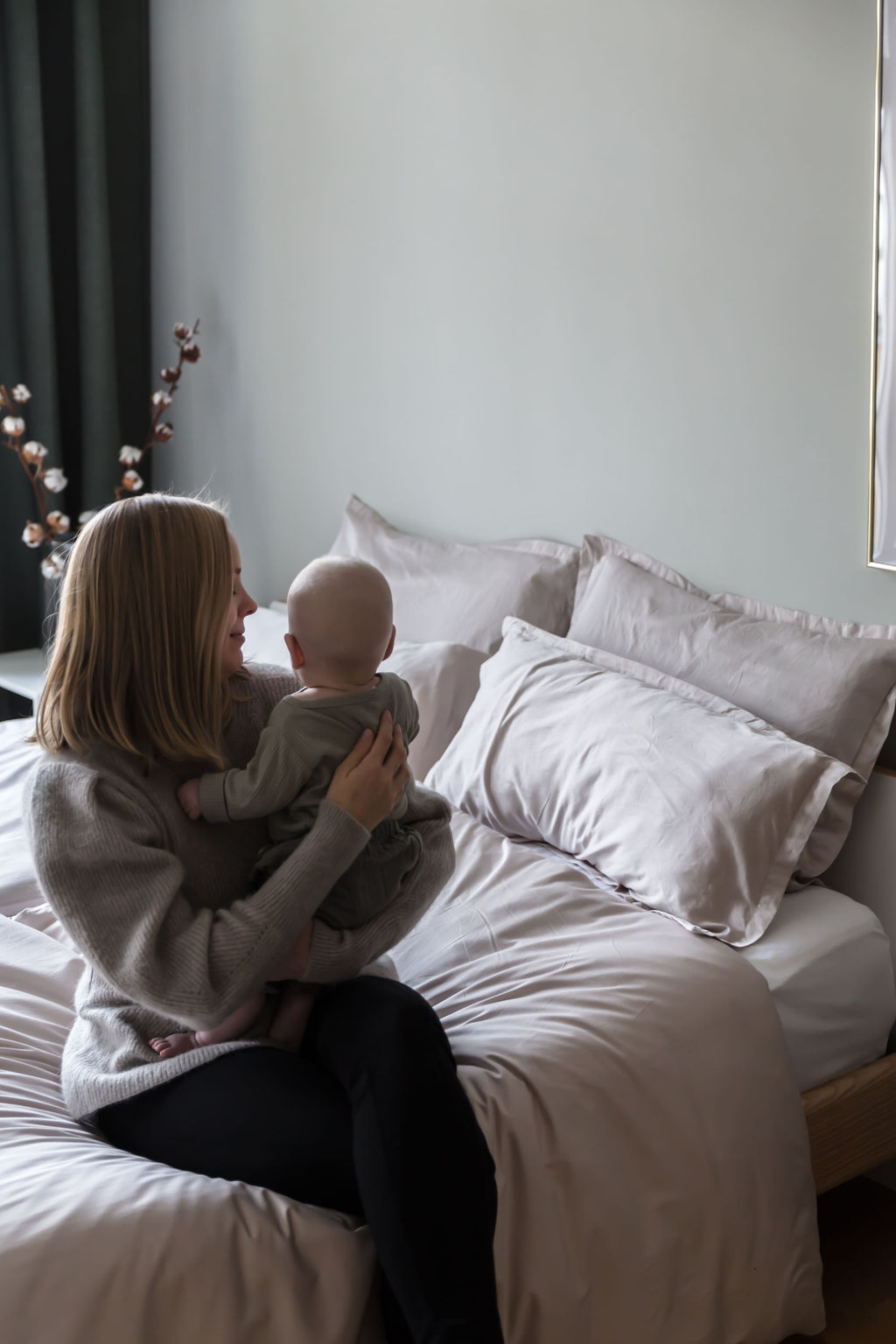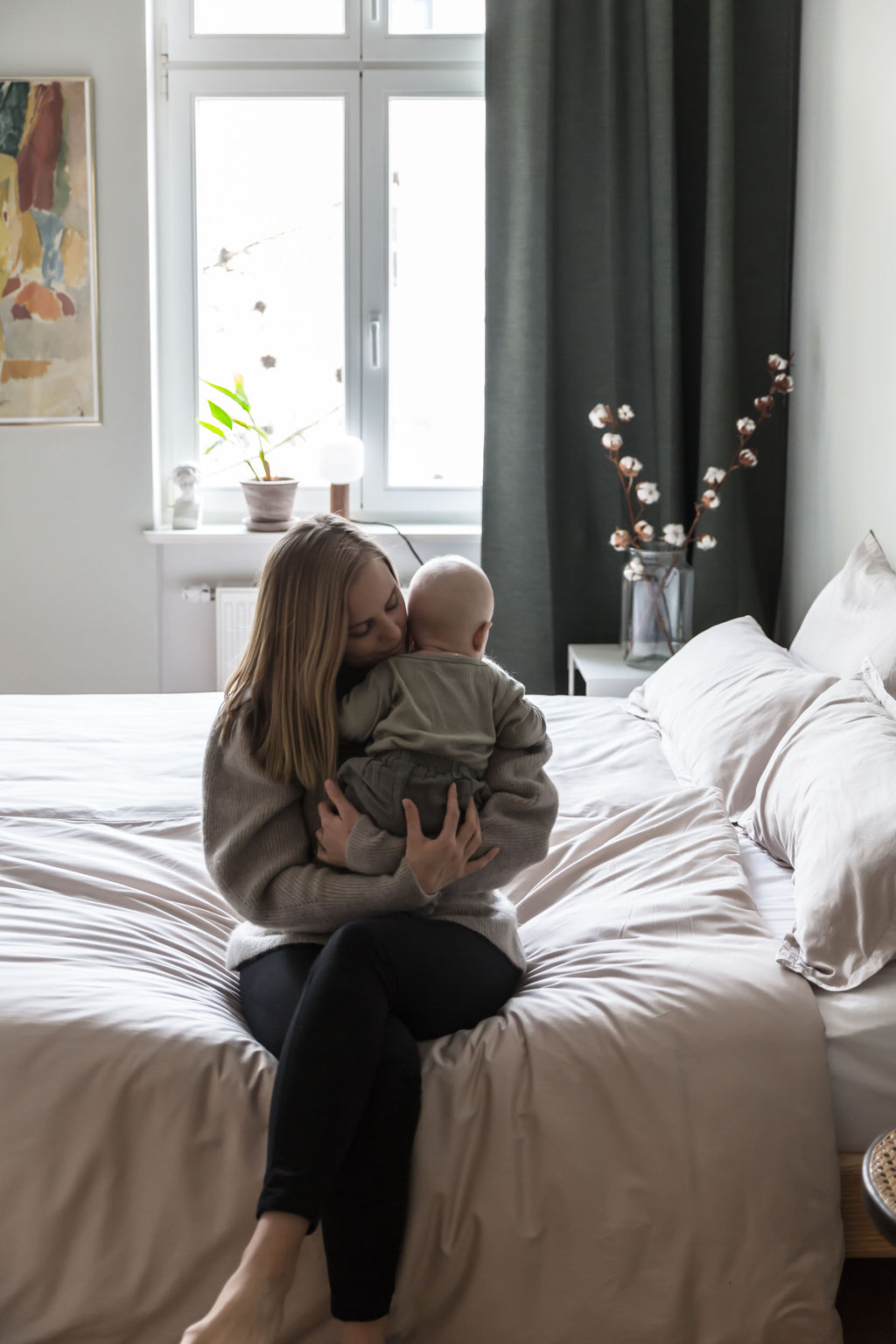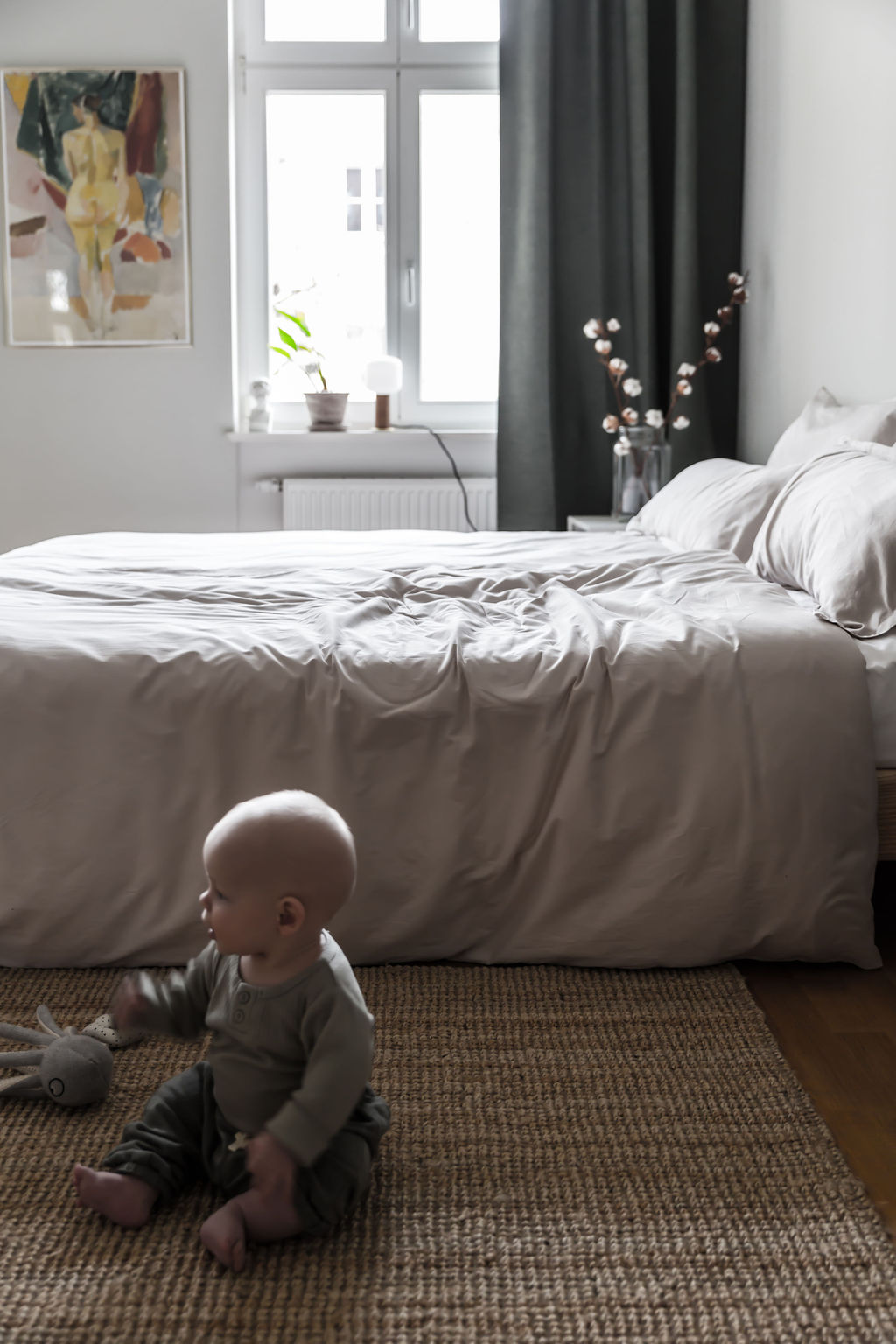 Take a look at the photos now, to get a sense of this beautiful home:
Bedroom: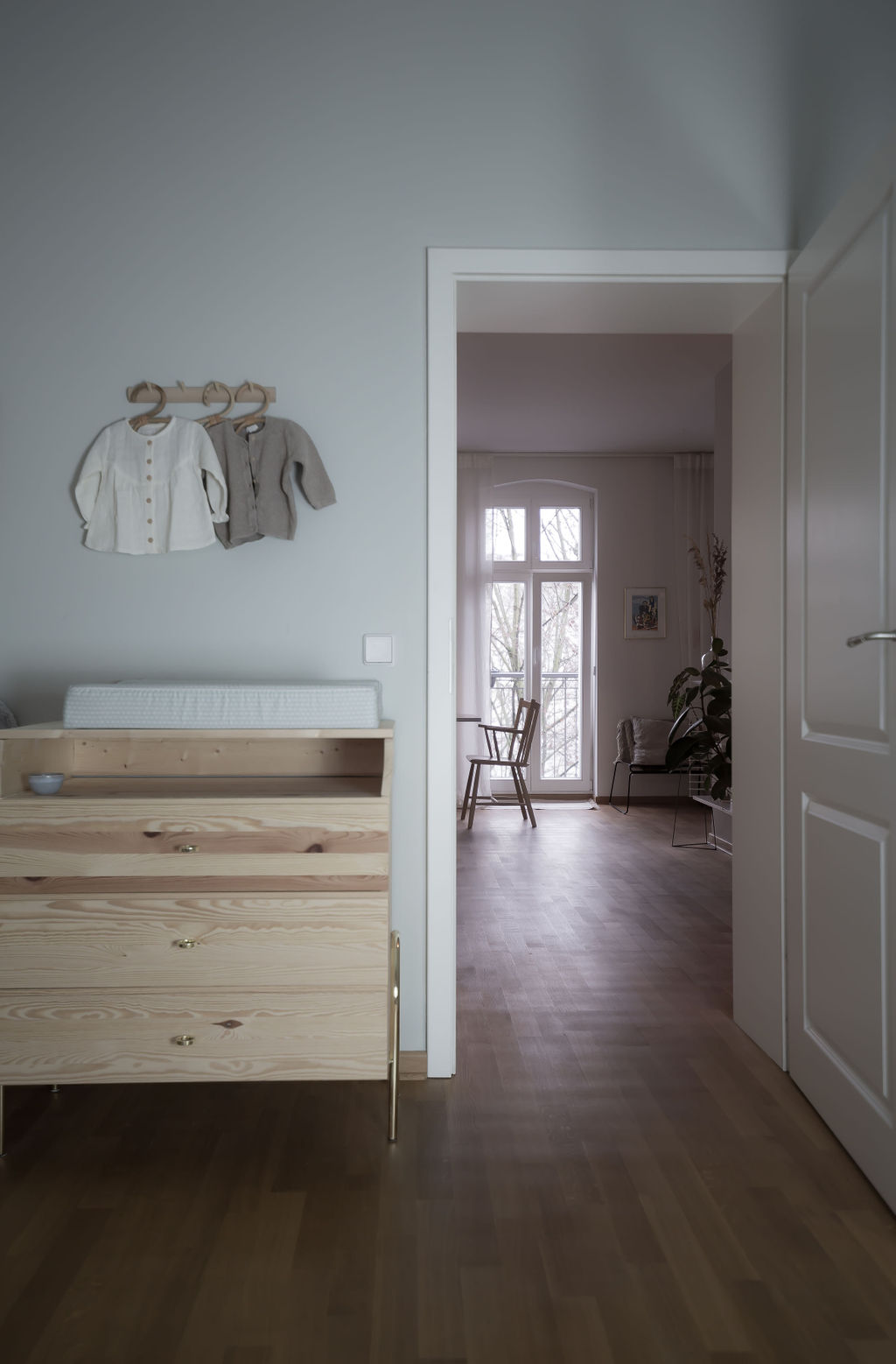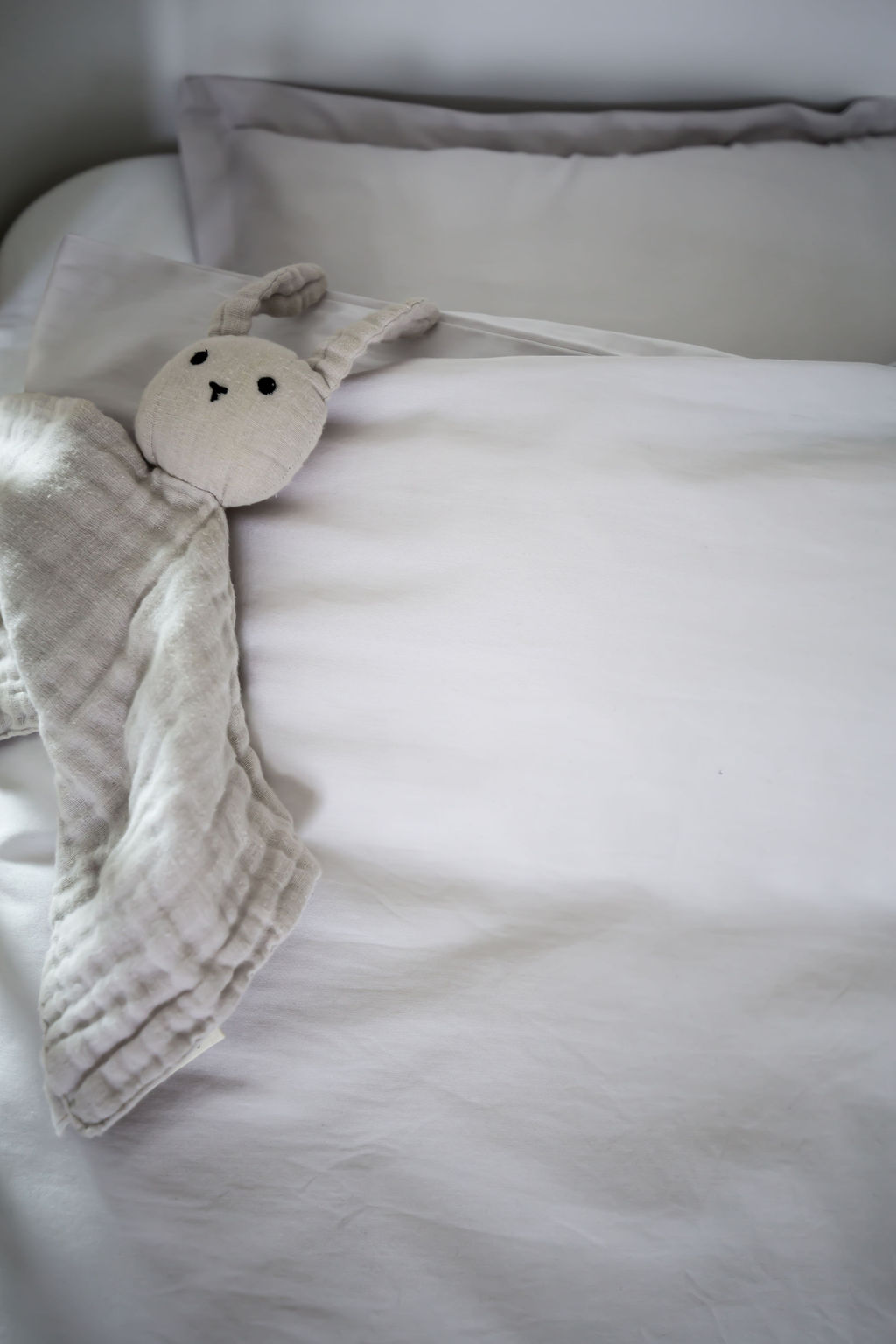 Living and Dining Area: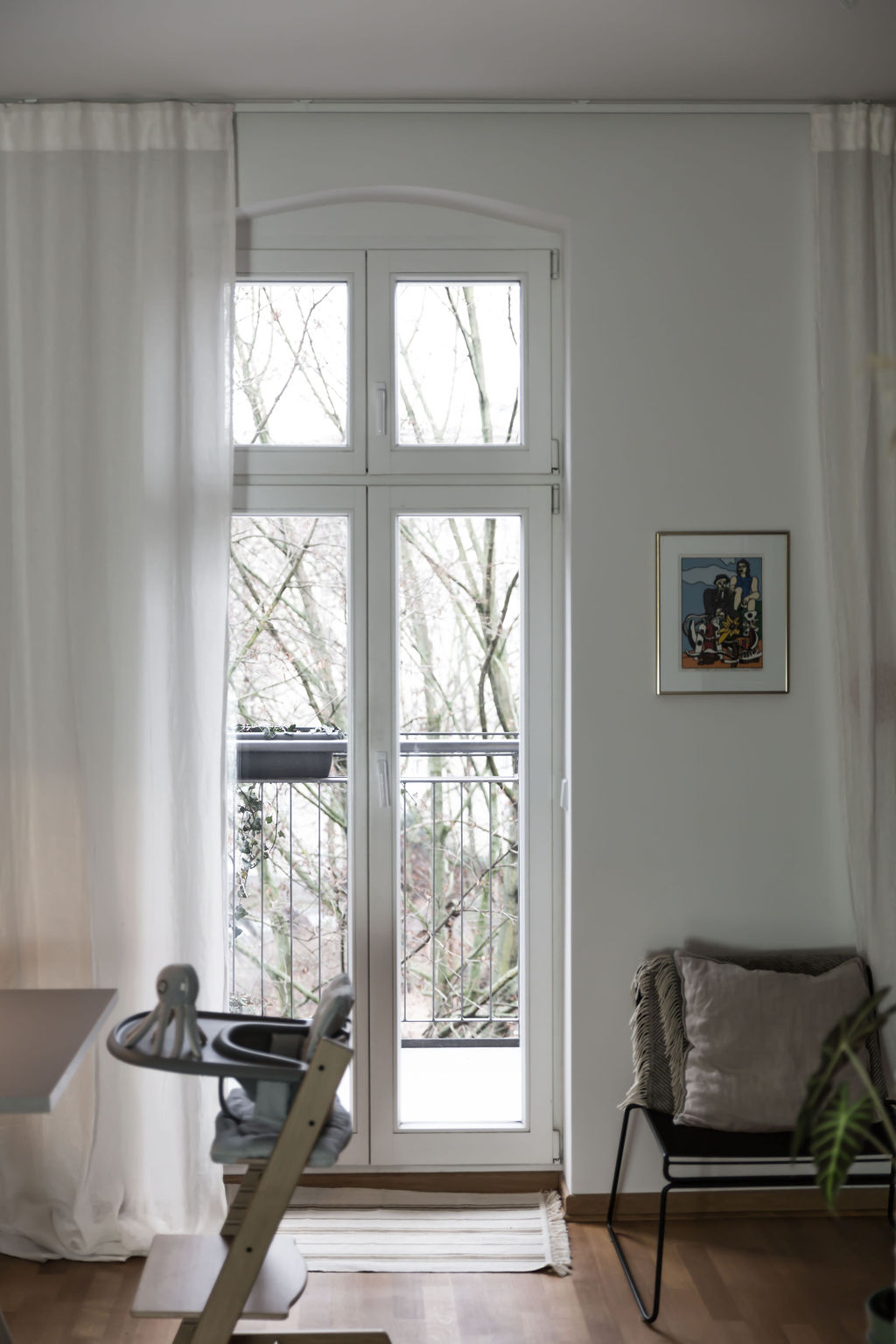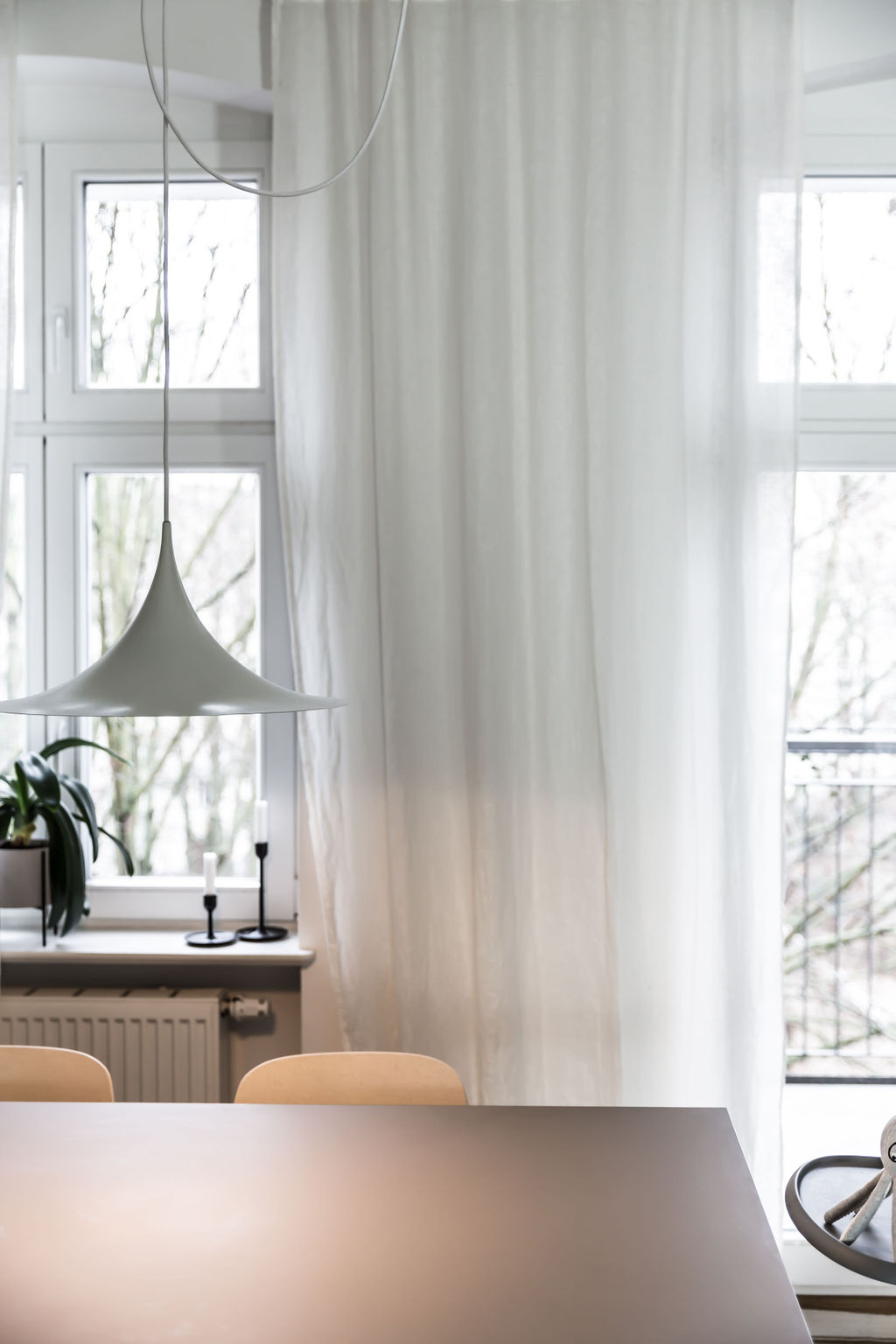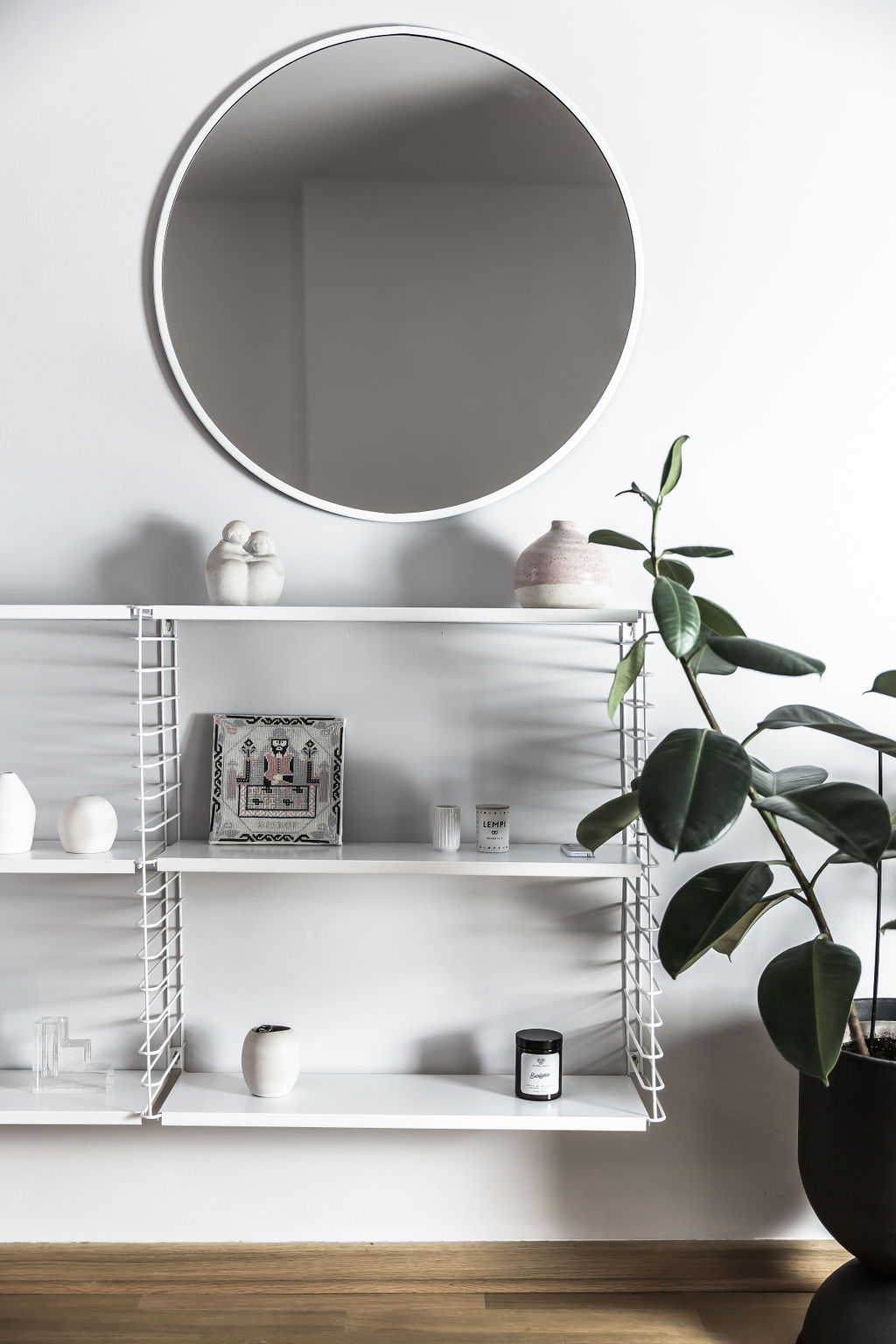 Photography by Valerie Schoeneich in collaboration with Alva
Annetta Kristjansdottir is a Co-Founder & Interior Stylist at SALTY based in Berlin, Germany. Originally from Island, Annetta is contributing to the growth of Nordic Design aesthetics in Germany
www.saltyinteriors.com
Alva is a new Swedish brand offering premium quality bed linen made out of 100% organic cotton, in a timeless Scandinavian design. The cotton is Fairtrade-certified, the process is GOTS approved, and with a fully transparent supply chain Alva makes sure everyone is treated fairly throughout the entire production process. Their soft and beautifully designed bed linen comes in a range of different colours – all of which are carefully selected to go well together.