Staying at a small boutique hotel is on the indulgence experience list for many of us. It's the longing for that experience of comfortable, recharging sleep, the luxurious feeling of the bedsheets on our skin, the wellness atmosphere of a special retreat. 
Today's interior styling inspires us to create a warm minimalism 'boutique hotel-style bedroom' within our homes. It also shows us how to use one bold key color that elevates our emotions even if we are usually most comfortable with the subtle minimalist earthy or monochrome tones.
What makes a sleeping experience at home similar to the one we love at a boutique hotel? How do we create this atmosphere with less, in a warm minimalism style? These questions I'm constantly exploring and was something I considered closely when redesigning my own bedroom.
Color scheme – we all have heard that colors have a direct impact on our feelings, sensations, and mood. I used to feel only comfortable and relaxed surrounded by earthy or monochrome colors. This is what most people think minimalist or nordic style is about. What I discovered however is that there is a way to work with color for the bedroom design that uplifts our emotions without the visual overstimulation. By choosing a main subtle color such as grey, beige, white, muddy greens as a backdrop to the room we set a tone of calmness to the space. 
After you have chosen a calm background color – a wall color for example in sand or grey or a lime wall paint which gives us a grounding natural feeling, now we can add tone in tone furniture. By choosing furniture that blends with the wall color, we are creating calmness. The idea of creating visual calm within an interior space is supported by making sure our brains don't have to process too many colors and shapes. The bedroom is one of the most rooms in demands for a calm atmosphere.
When adding furniture to your bedroom, ask yourself what is the purpose of having this piece in the bedroom. Each piece of decor or furniture can be a distraction from us resting in the bedroom. This is why keeping minimal here is the key. If a small vanity corner is important for you for taking care of yourself before sleeping then add this if its a chair where you read or meditate add it. Just ask yourself each time – does this piece really needs to be in the bedroom and contributing to my atmosphere of peace and rejuvenation? If the answer is yes, add it!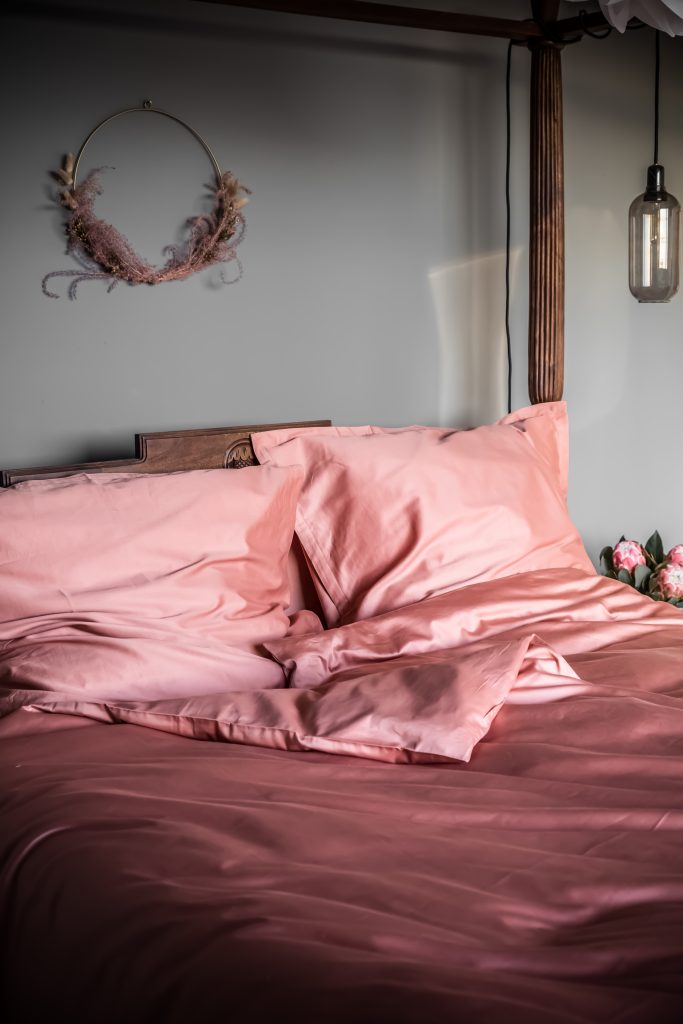 Now it's time to add one colour element. Scary? Take a look at different colours and ask yourself what one colour you feel drawn to and ask yourself why. Describe to yourself how this colour makes you feel. If the answers resembles the feeling you wish to have in your bedroom then you have found it. Challenge yourself to ask, again and again, you will start to eliminate the choices and will end up with one special for you at the moment colour. 
Where do I apply the colourful elements in the bedroom? One beautiful way in interior design to add colour is to start with the main piece. In case of the bedroom that would probably be the bed, right? So now it's time to look at beautiful beddings. For this example today, my bedroom is dressed in this beautiful colour Pink Terracotta from organic and fairtrade bedding brand Alva (make sure to read to the bottom for a discount code). I am sharing my choice from pure conviction here, because not telling you about Alva bedding would be like keeping a great secret from a friend. I think when you experience it you will see yourself why. There were so many beautiful rich colours to choose from at Alva. If I could, I would constantly rotate their bedding colours to create different moods. At the moment I was drawn to Pink Terracotta as I associated it with both warmth and uplifting energy. I love waking up to this both earthy grounding and at the same time energizing colour.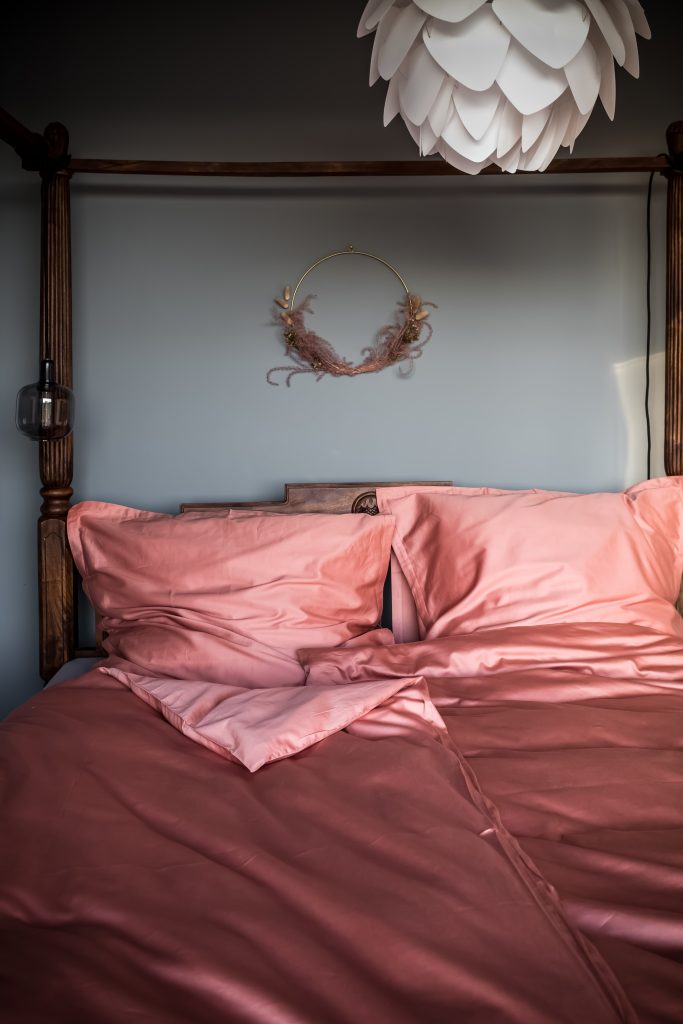 Now that you have chosen the bedding colour, time to add just a few more accents in the same colour. In my case, I approached Eleni, the artist behind studio paradissi and sent her the pink terracotta colour code (I know, it's one of those weird to some things we designers do with each other :)) She then applied it to one of her posters and here we go, matching to the bedding art is hanging in my bedroom, harmonizing the colour theme even more. I also asked our local floral to create a wreath in this colour to hang above the bed. 
We have talked about colours, furniture and decor accents so far. One other recommendation I can give you from the heart is – use only ecological, consciously made materials, fabrics for your bedroom. The feeling of wellbeing is then guaranteed. By the way, another reason I chose Alva who produces 100% ecological bedding and takes care that small scale farmers in India directly benefit from the Fairtrade way. You can read their ecological story and mission on Alva website. Pure, authentic recommendation here.
So, are you inspired to turn your bedroom into a boutique hotel suite? Still feel you need a helping hand of an interior professional? If so feel free to write to me. 
Alva is a new Swedish brand offering premium quality bed linen made out of 100% organic cotton, in a timeless Scandinavian design. The cotton is Fairtrade-certified, the process is GOTS approved, and with a fully transparent supply chain Alva makes sure everyone is treated fairly throughout the entire production process. Their soft and beautifully designed bed linen comes in a range of different colours – all of which are carefully selected to go well together.