Summer is just the right time to set up the dining table outdoors to enjoy the beautiful weather.  Here in northern Europe summers have their choice of how many sunny warm days they bless us with. Hence,  as soon as the weather invites me to go outside in the garden, I tend to take advantage of each warm moment. I live by some outdoor summer rituals like meditating and then having coffee in the morning sun first moment I wake up and finish the day by watching the sunset and drinking tea, both in the garden. We also tend to dine all our meals out in the garden. Sometimes to celebrate these moments, even more, I love creating a beautiful summer tablescape with table linens based on summer colors.
After our home appeared in the german interior design magazine Schöner Wohnen this May, I get so many emails about the summer linen bedding with the yellow stripe. Its unique design comes from Finland by the family-owned ecological weavers Lapuan Kankurit. Well, you might ask why am I mentioning bedding when I was about to tell you about the outdoor table setting. Hold on, there is a connection – that beautiful linen design used for bedding comes with a matching table linen design by the finish Lapuan Kankurit. This beautiful collection called USVA.
USVA is made out of 100% linen. Ecological flax is grown in Normandy, Europa and it is traceable 100% European Masters of Linen long staple linen yarn. All yarns are spun as well as dyed in Europe according to REACH regulations and fulfill the ÖKO-TEX certificate requirements. Lapuan Karkuit's strategy is to be responsible for the whole production from yarn to readymade products. The main part of the whole production is made in their own weaving mill in Lapua. Product development, material purchases, programming of looms and design as well as warping, weaving, finishing, and fabric inspection is done in Lapua in their weaving mill. Sewing is mainly done in their own subsidiary sewing company in Lithuania or own weaving mill in Lapua.
Not only the USVA table linen is ecologically made, but it supports the conscious lifestyle of reusing and repurposing products – the USVA tablecloth can also be used as a summer blanket for warm weather nights or as a beach/picknick blanket. Do you love the colour combination of calming linen and warming yellow as I do? I just love to style yellow-themed gatherings in the garden with these linens as it celebrates the summer energy and joy. I leave you now with tons of visual inspiration on this theme with the images below and hope you are inspired to get outdoors and celebrate summer days in an ecological and conscious way.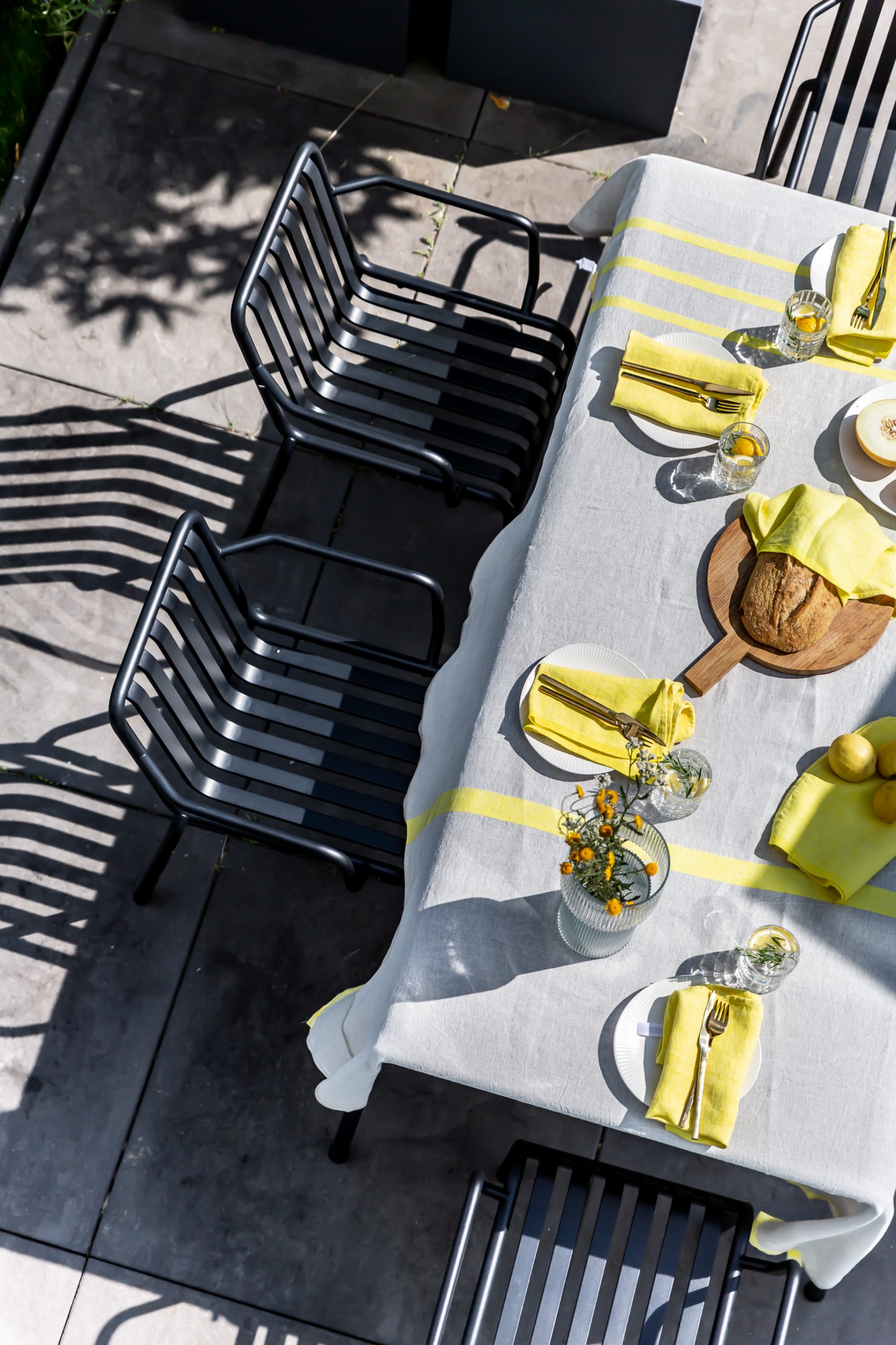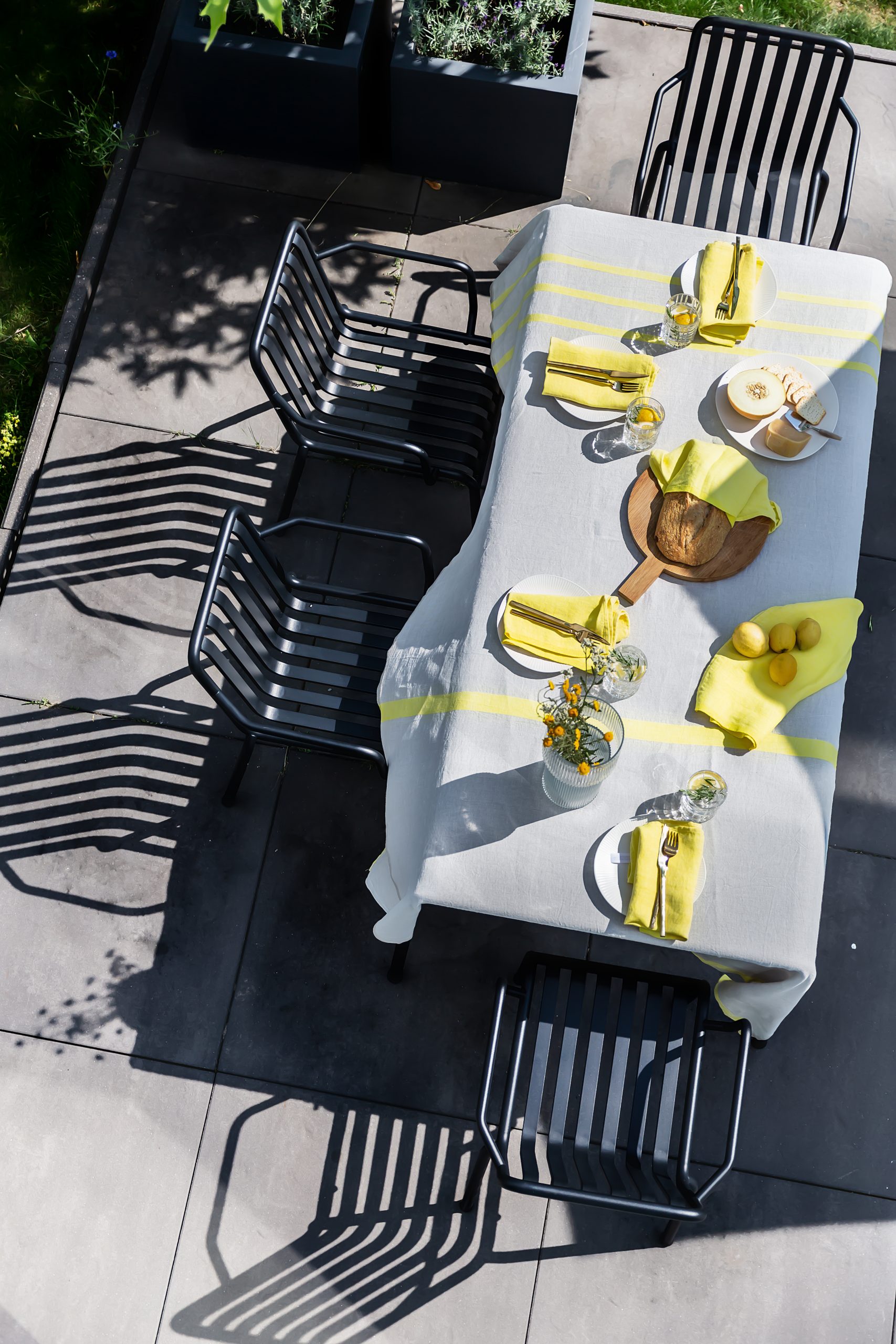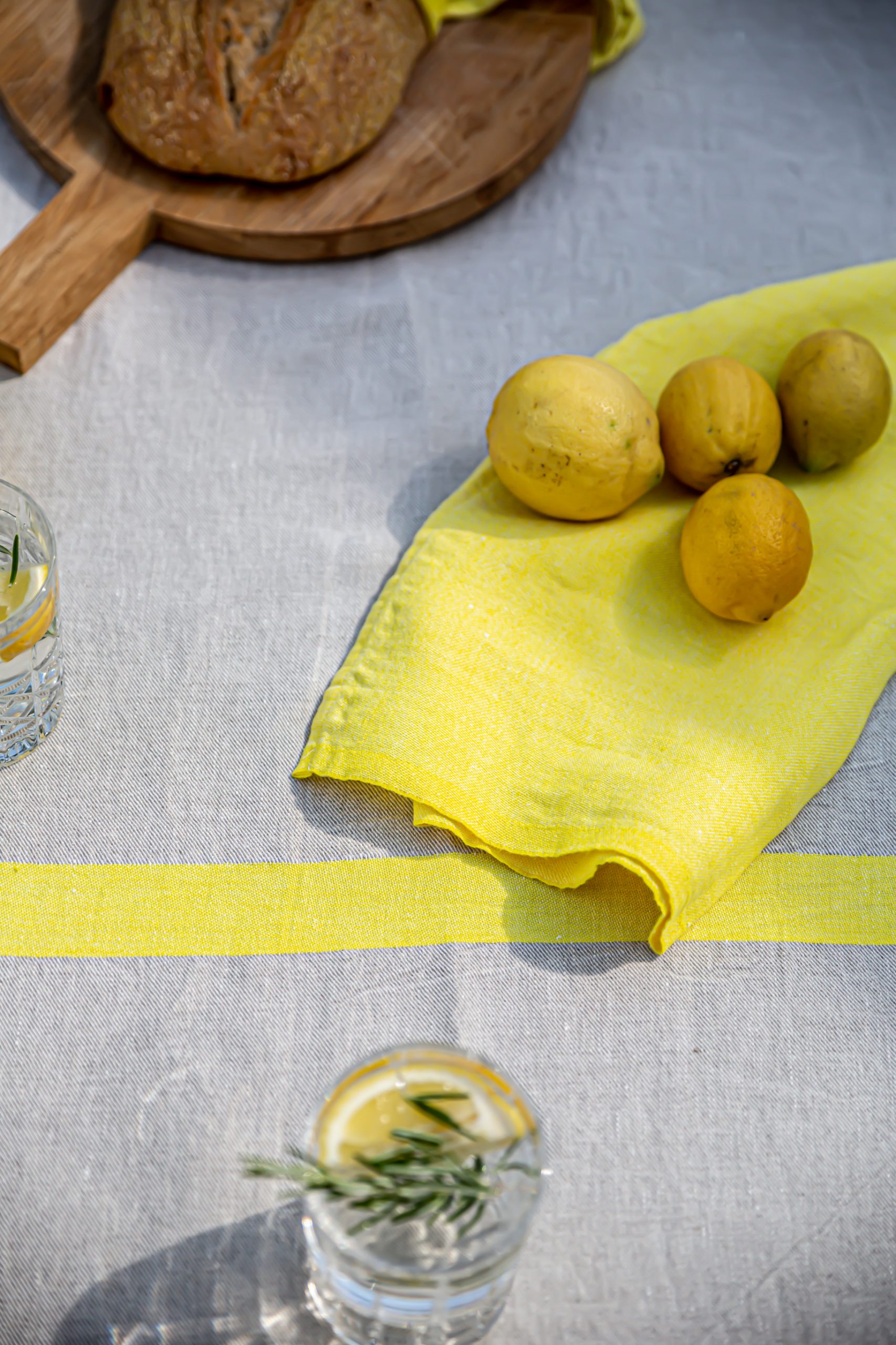 USVA as a picknick blanket:
(c) Styling and Photography by Valerie Schöneich in collaboration with Lapuan Kankurit