Valerie / Designsetter: Dear Kristina, I have been following your work since the beginning. Can you tell us more about the point when you evolved from graphic design to product and furniture? I started my design journey as a graphic designer as well, however felt after a while limited to design in a two dimensional matter. So I expanded to design in space and photography. What your motivation to expand?
Kristina Dam: Thank you for the question, Valerie. As a graphic designer, I started with illustrations and making art prints, and was actually one of the first designers out there to sell art prints. But when more and more companies started producing posters and art prints, I quickly realised that the competition would be too intense. Utilizing my past work within art and larger art exhibitions in both Denmark and Germany, I therefore looked beyond art prints and found inspiration in my philosophy, which has always been to create affordable art for everyman – and that is when I got the idea of designing sculptures instead, because it was a way to teach everyman the enriching value of having art in one's home. My first piece of furniture was actually the result of a frame that I had previously designed to hang on the wall as an art object, where one could study the shadows on the wall made by sunlight hitting the frame. The problem however was that, although I thought it was beautiful, it did not really resonate with the consumers. So instead I utilised this very unique frame for a different purpose, and that is how I came up with my iconic Cube Table for my first piece of furniture. And from that point on I really came to the realisation that furniture can have a sculptural function, which essentially encouraged me to focus on sculptures and furniture and not simply art prints.
Valerie / Designsetter: Your work has evolved from the limited edition illustrations to a collection of sculptural interior objects. How did you transit into working in a new medium, what were the first steps in this transition? How did you turned your ideas into reality and found the right people to collaborate with? 
Kristina Dam: The first step in the transition was to find manufacturers. I was lucky to find a contact in Portugal who, since then, has helped produce many of our sculptures. So finding the right manufacturers has been vital in getting our production up and running, and we did that step-by-step. And then we also have a talented in-house designer who helps sketch up all of my designs and who manages the contact with our manufacturers. In terms of how I turn my ideas into reality, this is also an area where we have really grown a lot. In the beginning, our production was very hands-on, and we actually did 1:1 prototypes for some of our first products. I remember this one funny episode in the beginning where I made a sculpture out of drinking straws, which was then sent to our manufacturer in Portugal, who eventually made the sculpture from that straw-prototype. So really a big contrast up to today, where our production is very advanced with 3D sketches etc.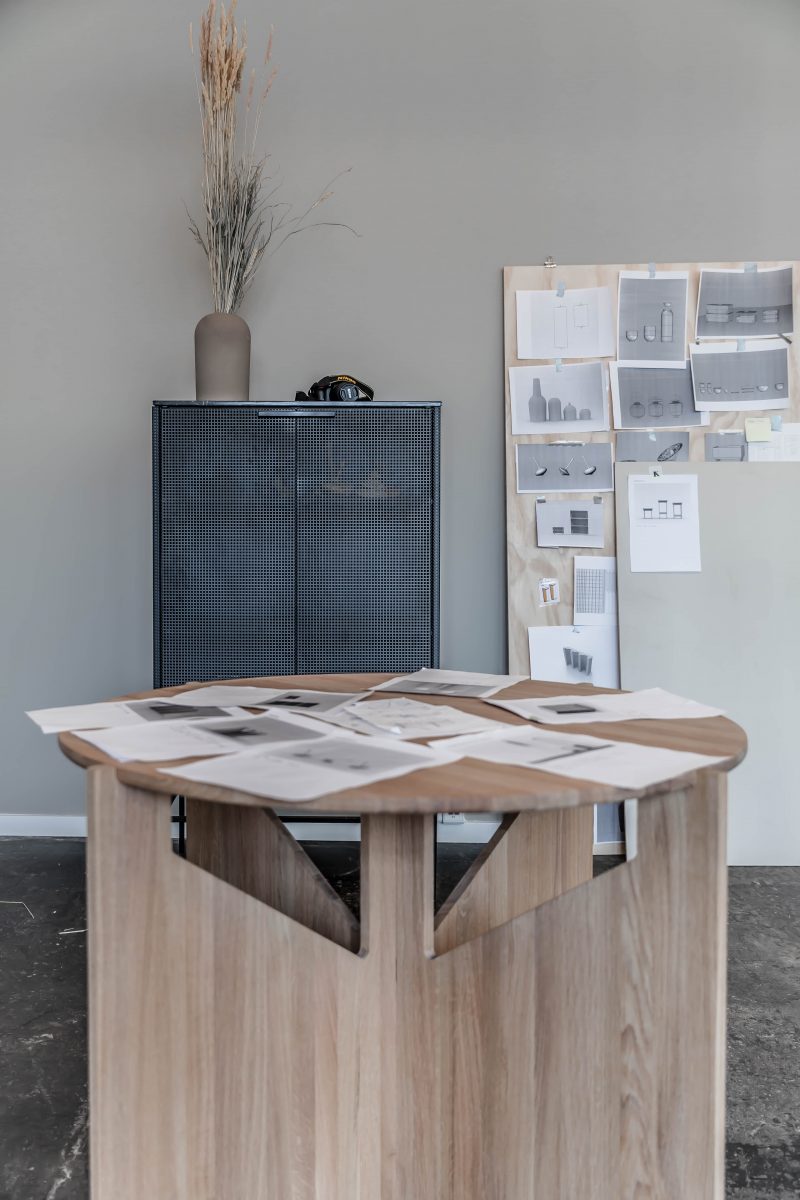 Valerie / Designsetter: What advice could you give to independent designers who are looking to expand and collaborate, transitioning into a new discipline or working with a completely new medium?
 Kristina Dam: First of all it is extremely important to find the right collaborators who you can trust and who you know are doing their very best to turn your vision into reality. And then of course it is essential to have an internal drive and a high work ethic, because if you do not, you will not go anywhere. So having that drive is absolutely essential, combined with a high sense of curiosity and a willingness to continually push your own limits for what you can achieve. So in that respect, being a designer and expanding your business definitely requires a specific type of mentality. And then my final piece of advice is to start out slowly and really just take it step-by-step.
Valerie / Designsetter: Lately we can notice more and more sculptural elements in interior design. You were actually one of the pioneers to develop this style. You call your collection "sculptural minimalism". How and when did you come up with this style? What inspired you? What does this term mean to you and how it's expressed in your work? '
Kristina Dam: My guiding vision is that more people around the world will live with art, and therefore I have always been focused on creating affordable art. Also, I have a desire to teach people to push the boundaries – which I think is quite absent from the market – and my Relief Mask is a great example of that. Here, I am trying to push limits by taking a new material, creating something else which is not just a poster, but actually a wall decoration which peaks your curiosity, and that is really my main goal – to always make people curious and create interest. Even our Dome vases are an example of this. Of course they are functional, but they are also designed to be small, sculptural pieces. I create all of my products so that they have some form of sculptural approach – whether it is a stool or a vase, I want it to add something sculptural to the room. Of course the minimalistic element stems somewhat from me being a Danish designer, and my inspiration is also very much related to Danish furniture classics and working with materials and the simplicity of a design detail. And what is interesting is that simple forms are often the most complicated to make, because you cannot hide behind a whole lot of details. So while my designs might seem very simple, they are in fact extremely difficult to produce and get right. So I think our tagline "Sculptural Minimalism" is really the essence of our brand, because the designs are so minimalistic while at the same time they always have some form of sculptural element – whether it is a small detail or the way you use the product. Lastly, I have this fundamental wish that incorporating any of my designs into a space with all kinds of different furniture will automatically add a unique and bold statement to the interior – much in the same way as an art piece.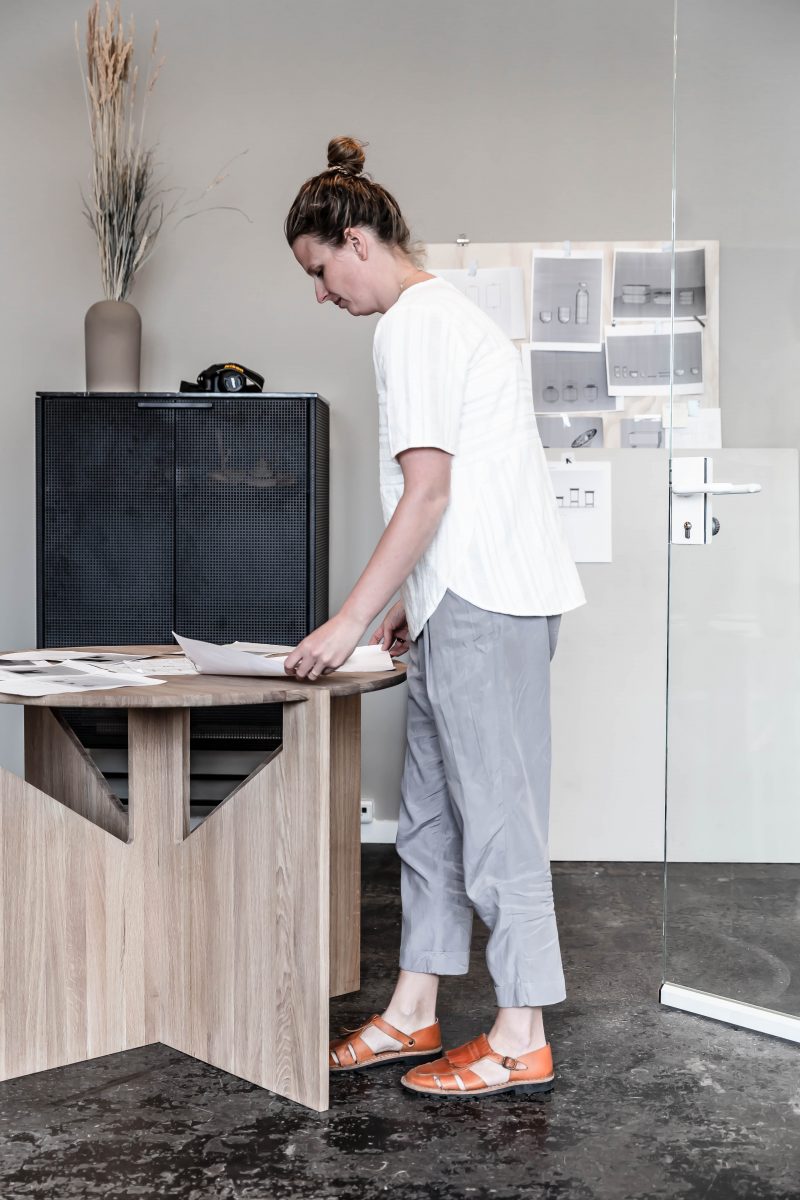 Valerie / Designsetter: Do you envision your products in certain interiors? If yes, how could the sculptural objects enhance an interior space?
 Kristina Dam: I am very inspired by Japanese interior and the Japanese aesthetic, and when we for example go to fairs, where it is typically very chaotic to organise our stand, I always think 'how would a Japanese person do it' – because I really love the Japanese, minimalistic approach to design. Simplicity is therefore also a defining feature in any one of my designs, and although my pieces are sold worldwide, I do think that they especially appeal to people who also have a minimalistic aesthetic. I also think combining my designs with old furniture classics is very interesting because it can help elevate the entire interior. So I really use myself as a starting point, channelling what I personally love. 
 Valerie / Designsetter: Your products are all made utilising honest, natural materials. You also make sure that the production is entirely European and all materials are locally sourced. What role environmental consciousness plays in your work and life?
 Kristina Dam: To me, there are several aspects to it. First of all, it is extremely important to us that we have a good relationship with our local manufacturers and know that our products are made under proper conditions; that they are treated well and grow with me. And because we have such a close contact with our manufacturers and they have followed me for so many years, it honestly feels like a family relationship. Second of all, it is also very important to us that our products are FSC labelled, so that the tree is FSC certified. Moreover, we have made an active choice to keep our entire production in Europe because we want to keep the transportation distance at a minimum. Our most recent focus concerns the longevity of our products and the active process of designing pieces that you can have forever. This we do in a bid to counteract the negative throw-away-culture filled, which is also why we place great value on using honest materials such as leather, marble and solid wood – all materials which only become more beautiful with time and with a few easy steps easily can be restored to their original condition, thus prolonging their lifetime. 
 Valerie / Designsetter: This year we celebrate 100 years of Bauhaus. Tell us more about the Bauhaus influence on your work. What attracts you to the Bauhaus style and philosophy? Did you think about collaborating with German designers on that? 
 Kristina Dam: I actually just came back from an inspiration trip to the Bauhaus School. The Bauhaus movement has a lot of the same values as I base my designs on – these incredibly simple shapes because of their honest lines. And what is really fascinating is that the designs from the Bauhaus era are still to this very day something you want to look at it. So Bauhaus is without a doubt a massive source of inspiration for me, especially Josef Albers and Walter Gropius.
Valerie / Designsetter: What do you envision to create in the next years to come? 
Kristina Dam: At this point in time, we have created a foundation for the direction that we want to go in the future. This includes continuing to develop new sculptures, and we actually have a principle of releasing at least one new sculpture a year. Moreover, we are also expanding more and more into furniture, and we are currently expanding our accessories- and furniture production simultaneously. We have also been successful in selling products to contract market, and think that it is a really interesting possibility to work with the contract market because we are in a setup where we can adjust our production according to that. 
Thank you Kristina!
Instagram: @kristinadamstudio
Photography by (c) Valerie Schoeneich (please do not use without a written permission)