The entrance hall sets the first impression for our guests. At the same time it also sets the mood for us when we come home. Creating a minimalist entrance hall can give us the feeling of calmness & clarity. In autumn, the entrance hall begins to come to use the most, when we need our first jackets, hats and autumn fashion accessories.
Today I would like to invite you into our minimalist entrance hall space and to demonstrate how it is possible to create a minimalist entrance hall with personality and storage elements.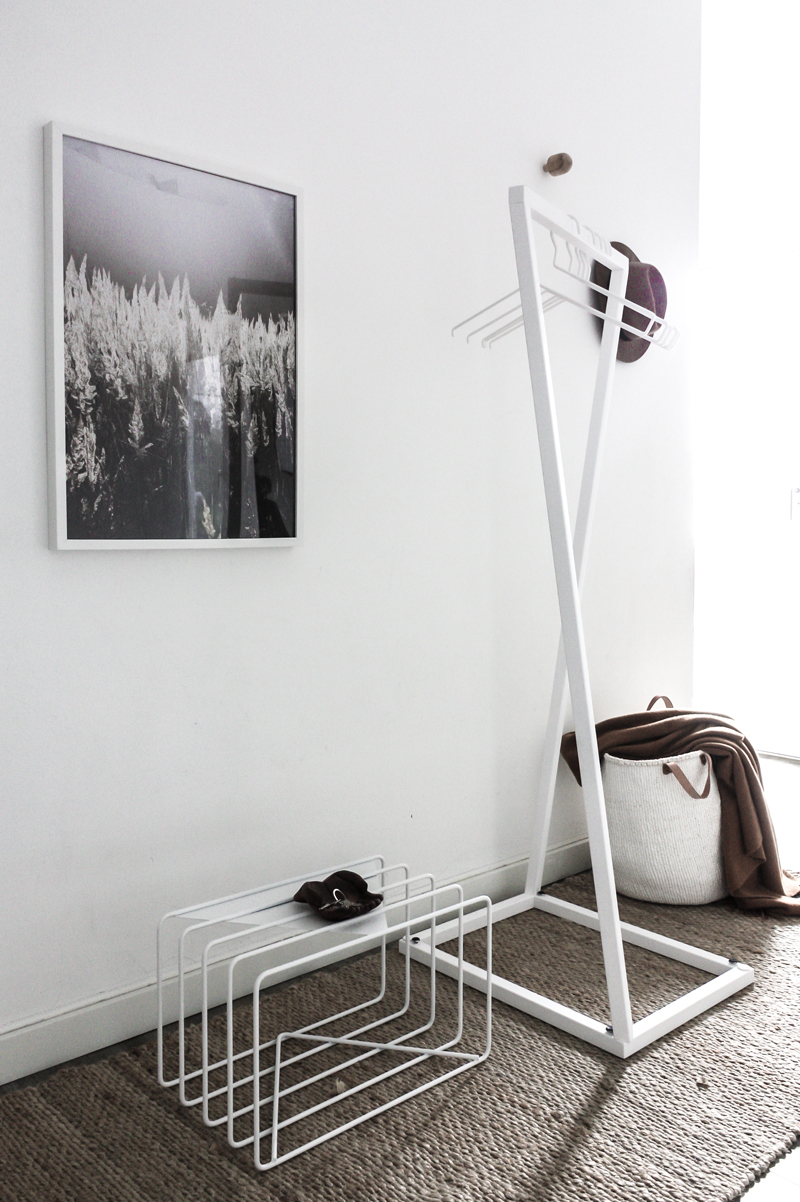 The minimalist entrance hall decor elements:
The Color Scheme. The maincolor for our entrance hall is white. Not only because white is the most sought out color for minimalists, rather also because there are no windows to let natural daylight in. The white paint and color of decor accessories fills the entrance space with a calm, white light.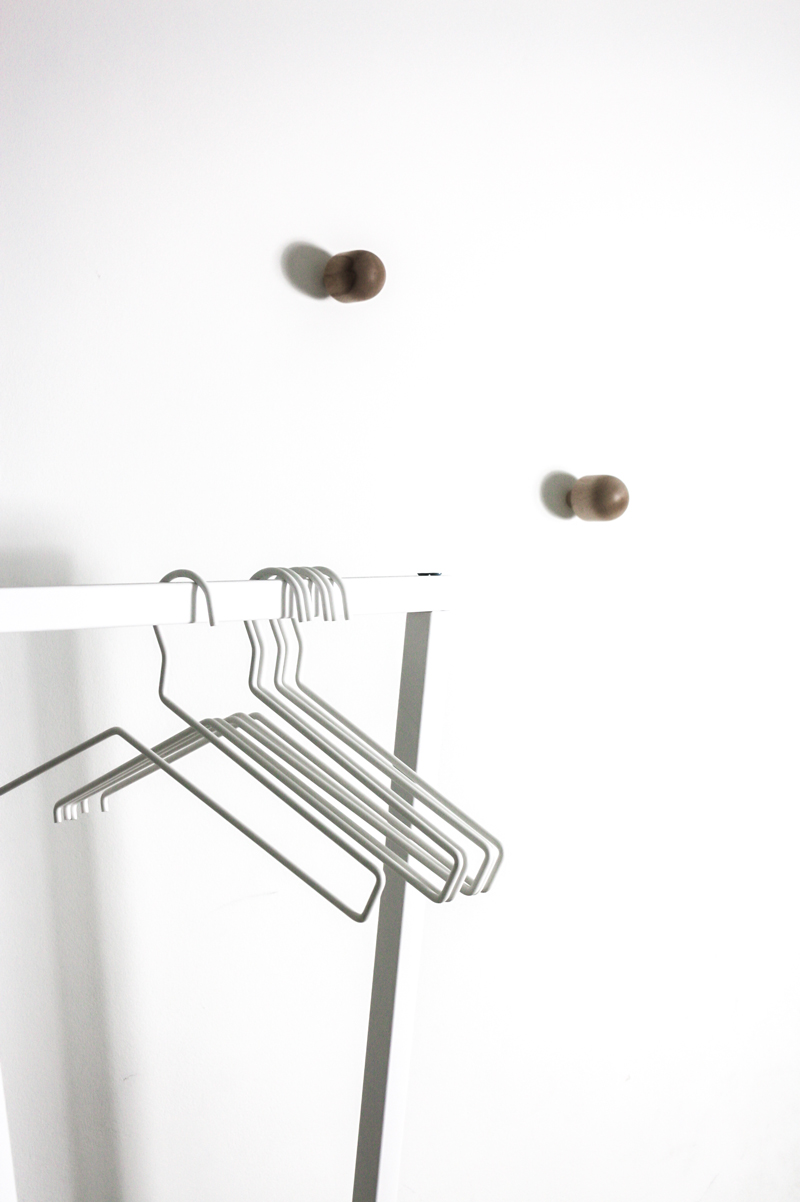 The Minimalist Coat Rack.
Generally an overfilled coat rack is the opposite of what minimalist entrance hall is. Isn't? When the space allows, I usually recommend my interior design clients to have a main closet for the storage of coats and shoes. In addition a minimalist coat rack can be used to hang the coat just for the time when we or guests come into the house. Later on, with some discipline and love for the harmony that comes with order, we can hide the coat into the main closet. For our entry, we chose the Lume collection in white by a Finnish brand Be Design as a minimalist coat rack, hangers and bench. The shape of these coat rack, hangers and bench are very interesting, whimsical and minimalistic.  The metallic frames contribute to the modern minimalist entrance hall design. Plus the design philosophy of the Be Design Brand – creating products that become cherished and a part of lasting, meaningful moments, as well as their slogan "let's never forget the first time we met" are in my opinion perfect analogy to the idea that the entry hall conveys.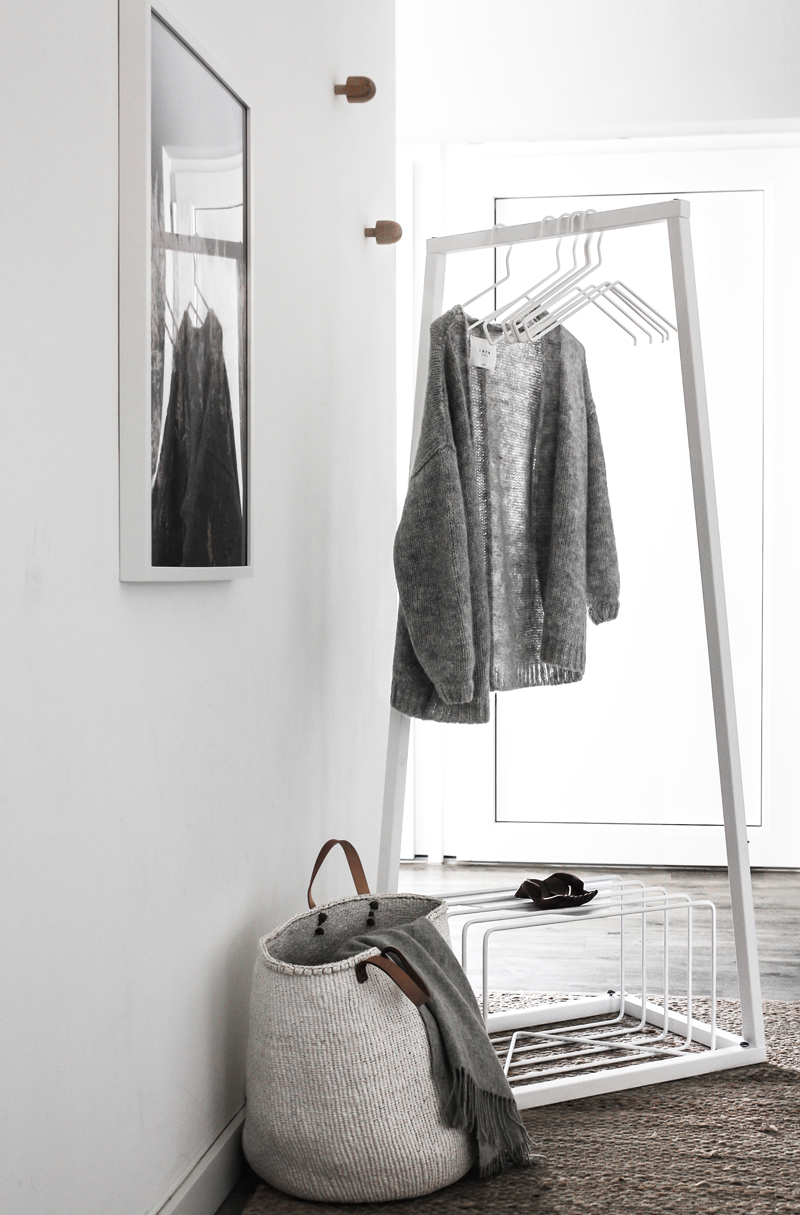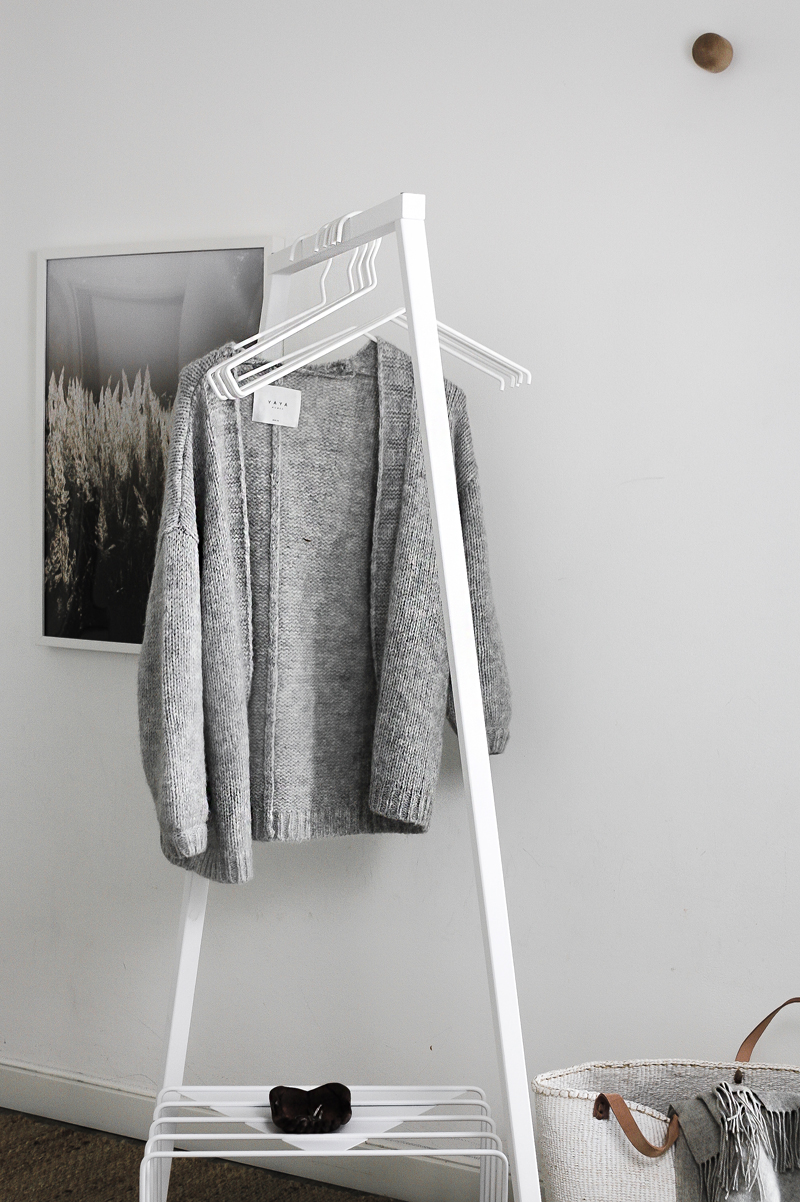 Minimalist Entrance Hall Storage. If we follow the principle of minimalism and truly ask ourselves the question "what objects do I really need handy in my entry hall", what would be your answer? For me comes the keys and scarfs as the first answer. To keep the favorite wool scarf handy I use a beautiful handwoven basket by Mifuko. Not only it is beautiful, the story of how it was made keeps me humble and full of gratitude each time I look at it. You can read the story behind Mifuko baskets on their website if you like. For the keys one can use a beautiful storage jar, a small deco-box or a deco-plate.  During our travel to Nerja, Spain, we found a hand made wooden art in form of open hands, it became the perfect emotional storage piece for the keys in our entry hall. The Wooden Wall Hooks – Dots are from Twelve Dots .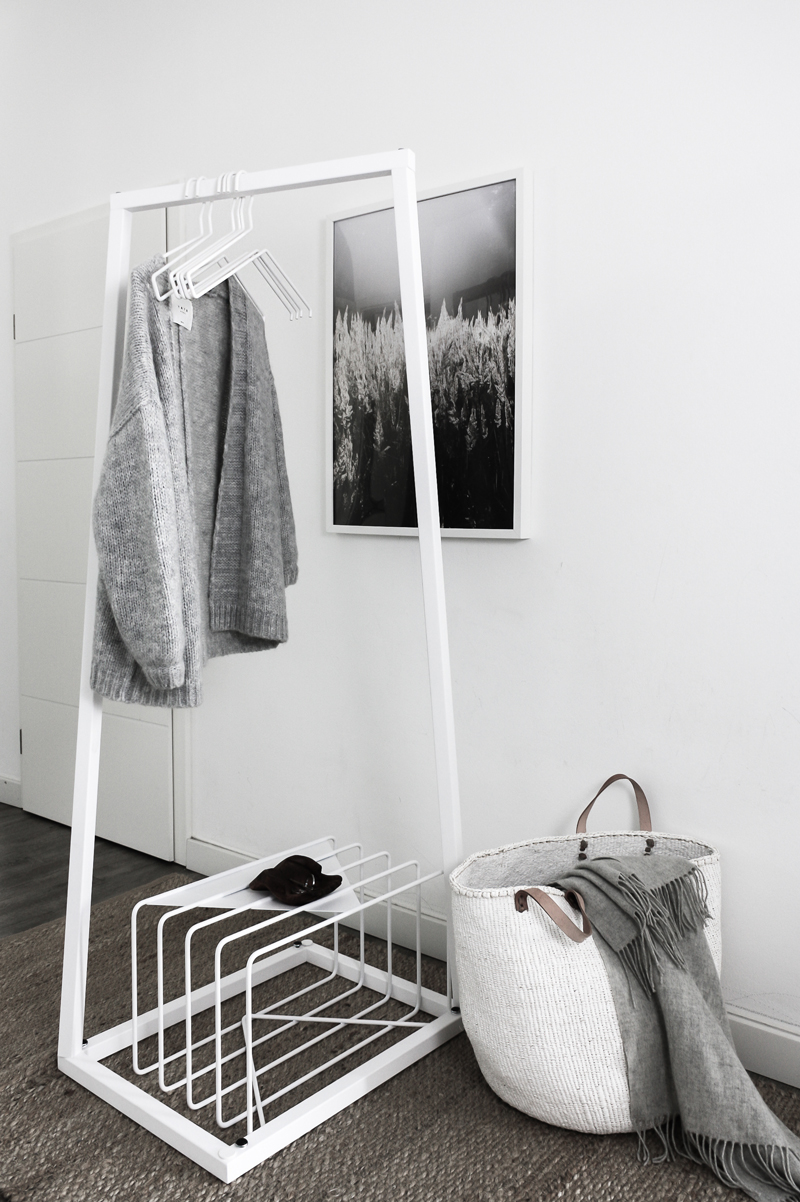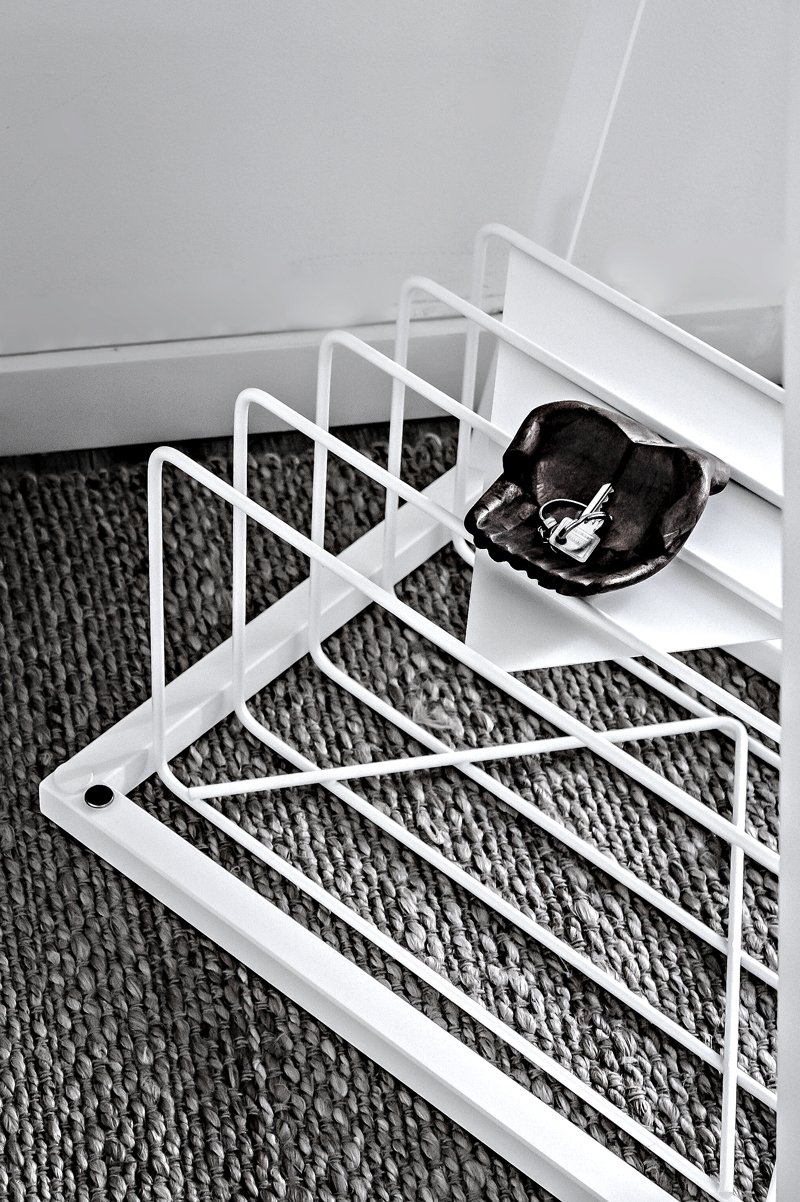 Wall Art for the Entry Hall. When choosing art for the home in general, we have the opportunity to infuse our living space with our personality. What feeling, believes, dreams do you want to express in your life? Surrounding us with imagery on these topics can give our homes individuality and inspire us to be ourselves. The entrance hall can be a perfect place to hang one key wall art piece or a small wall gallery. I love to bring the feeling of nature into indoors. Since I am a photographer and graphic designer as well, I love to capture during walks, the nature surrounding our home and make art prints with those photographs. Hence the main wall art piece in our entry hall is the photo art print of precious september sunset light pouring onto the field outside our home. Just a quick look at this print, inspires me to a walk in the nature. The other two prints are my typographic art of the words that represent the philosophy of our home: "Geborgenheit" – a word we use in German, which is similar to the meaning of the Danish word "Hygge" or Cosiness  in English, also referring to "feeling safe and loved"; "Achtsamkeit" – a german word for mindfulness. These are the main two feelings I strive to live by in our home.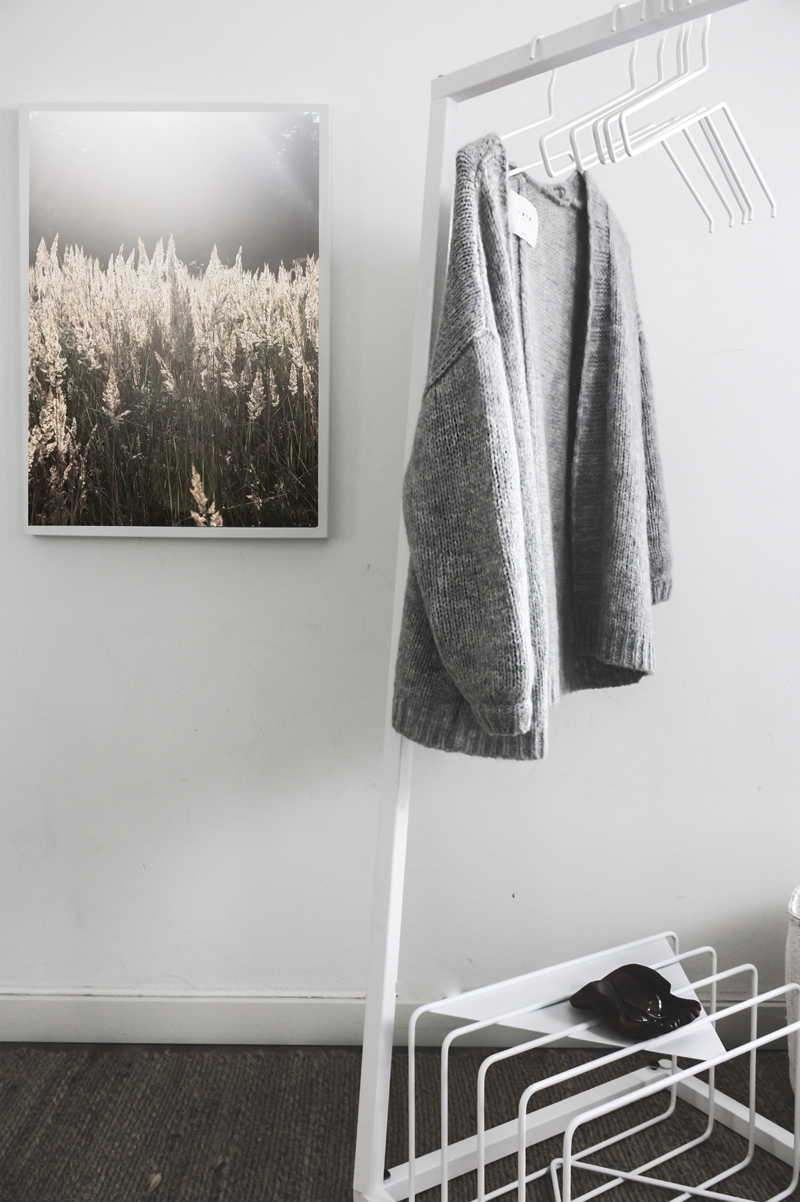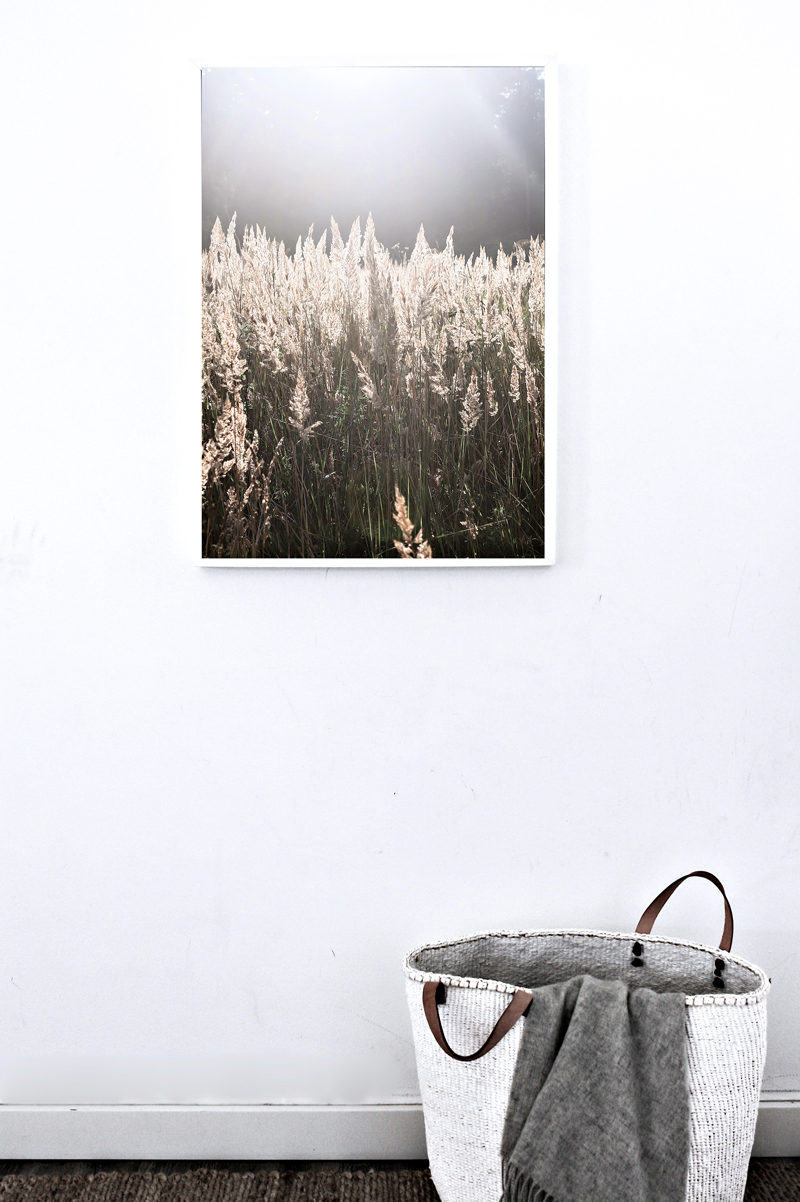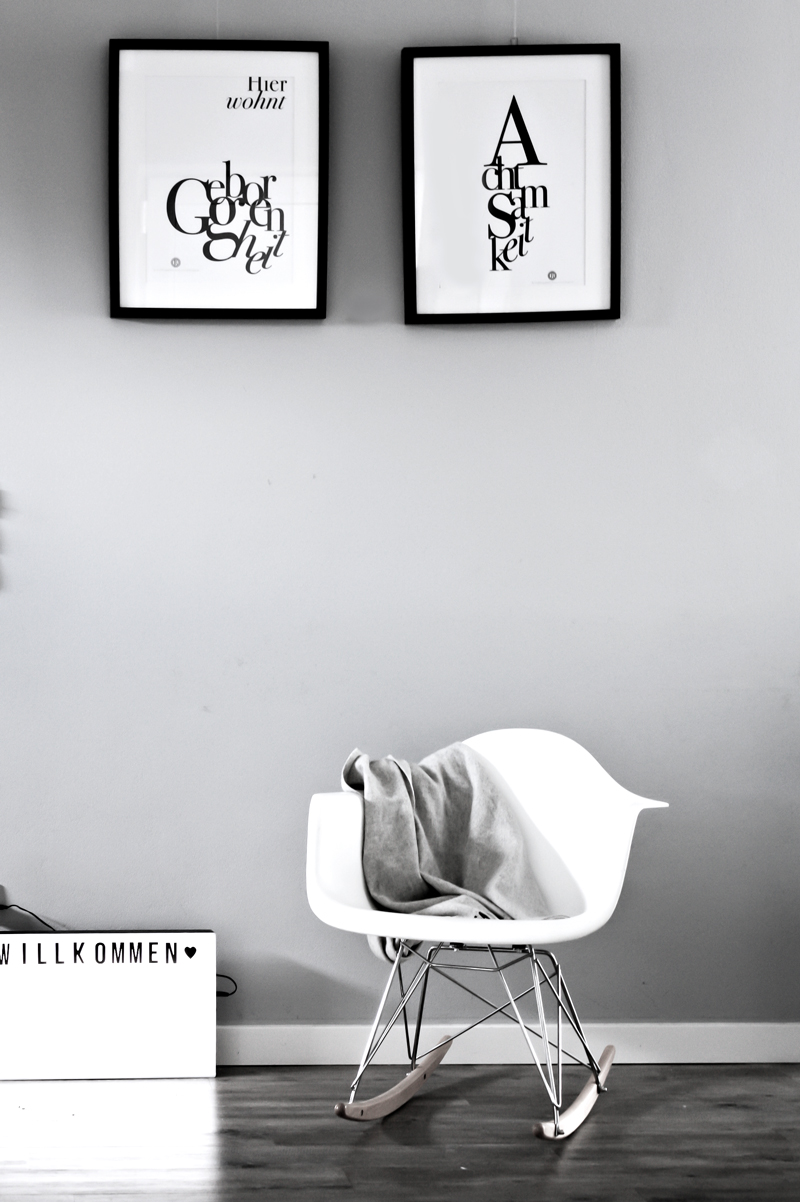 Hallway Runner Rug
To have a runner rug in the entry space is a choice to consider. For family with small kids who usually run into home with dirty shoes, it may be recommended not to place the runner rug right besides the door. I am speaking from experience here. Alternatively one can choose a special waterproof or outdoor rug for this area. However, especially in autumn, a natural runner in the middle of the entry hall can add a welcoming warmth to the space. Since we choose to use most of the fabric ecological in our home, the Finarte Harvest Runner made out of natural jute is the warming element in our entrance hall. Finarte is also a finish design brand that conveys that natural nordic feeling in their products, which also reflects the philosophy of our home.
Now the autumn can come and inspire us with its colors. Scarves and Coats are ready to be stored in a minimalist entrance hall. Your way to design the entrance hall space is your individual choice. The main guiding thought in decorating any space after all is "how do I want to feel in this space". Yes true, "less is more", nevertheless just follow your heart in decorating your own minimalist entrance hall.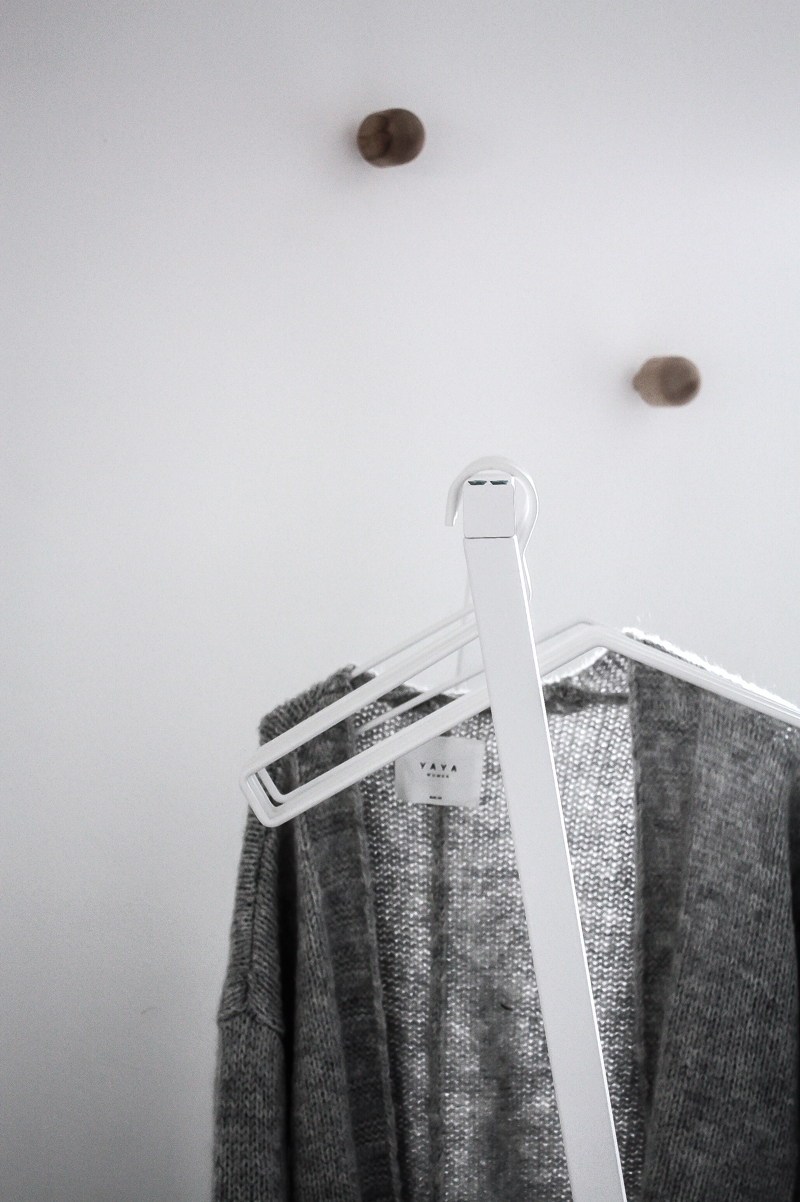 Concept, Text, Styling and Photography: (c) Valerie Schoeneich 2018. Please do not use without written permission
*Disclaimer: To create this interior styling I teamed up with a few brands who share my believes about eco friendly conscious, minimalist lifestyle. This article shows both styling samples and own purchased products to demonstrate the look. This is only an example and it is possible to recreate this look and styling concept also with your wished products. All images, concept, idea and words are by Valerie Schoeneich without any influence from brands or PR agencies.
Are you interested in interior design advice, product styling or mood pictures for your brand? Just contact interior stylist Valerie Schöneich for a customised project and consultation.
Here goes to the German Version of this article: Der minimalistische Flur