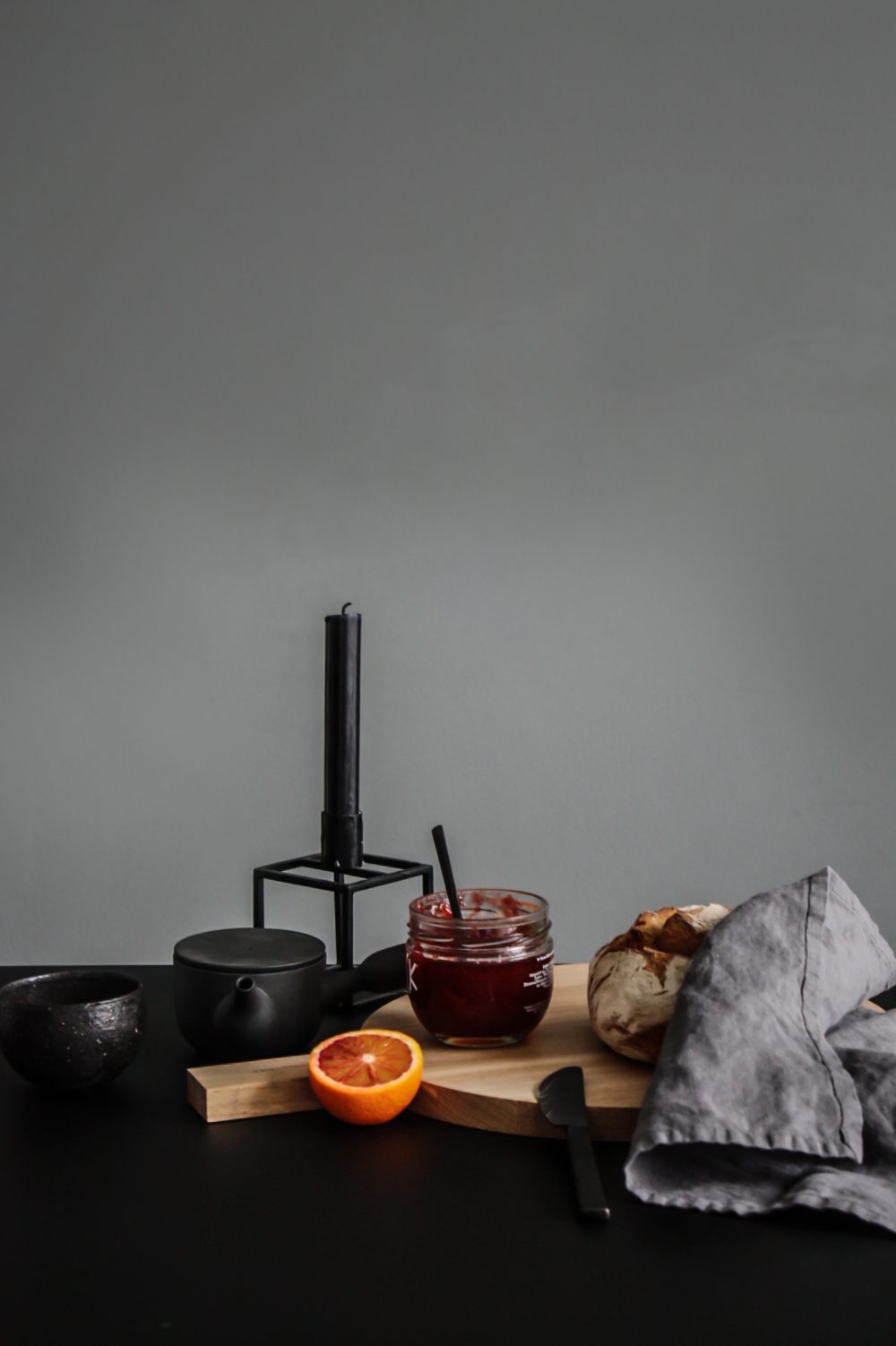 EN:
During my recent styling and photography project I got to think about the still life paintings. What was the reason for the fascination with daily life objects for the still life painters? Maybe it is the freedom in the arrangement or the symbolism of commonplace objects? Aren't a person's belongings speak of his character and values? Those were the questions raised in my mind when creating the recent photographic styling scenery.
It is the thought that the objects we surround ourselves with are more than merely functional objects we need for daily life which inspired me to this project.
Neither we surround ourselves with objects because of their pleasant aesthetics, rather because of the rich meaning they carry and remind us of. We surround ourselves with objects that reflect our experiences, encounters and passions.
In the following images of my currently most prized kitchen accessories which represent more than a mere decoration. These carefully selected objects are placed among each other to create a dialogue with the living space. They tell stories of craftsmanship and cultural heritages and remind us of the values we strive to keep alive in our lives.
One of the kitchen necessities is investing in a good cutting board. When I look and use the cutting boards designed by "Twelve Dots" I am appreciating the use of natural materials such as wood and the warmth it radiates but also the philosophy and the journey of the people who designed it as they overcome challenges of producing unique timeless daily objects to stand against massive production. Croatia based design studio Twelve Dots pride themselves on creating functional and simple handmade products that will stand a test of time. By paying attention to every detail, they are able to create products that are truly special, unique and timeless.
Despite all the challenges they meet as a small business owner, they found that working for themselves is a very rewarding experience. I find comfort and inspiration in the story that these cutting boards are reflecting. There is nothing better than creating something you are passionate about, which others appreciate too. Each time I look or use the cutting boards I am reminded of the philosophy of it's makers – "stop worrying about everything that could go wrong and start thinking about all the things that could go right. Make and make mistakes. Do what you love and success will come."
The handcrafted tea culture objects(found at P & T Berlin) remind me of the goal I am striving for: to find more conscious moments throughout the day and getting closer to the grounding tradition of Japanese tea ceremony. There is a strong sense of joy and connection to the Zen philosophies while using the traditional classic Japanese side-handled Kyushu pot for example.
The other kitchen necessities I chose are the circular tray, salt and pepper mill, storage jar and a water carafe. All these come from Scandinavian makers whose aesthetic and haptic of the products I find harmonising. (Tray by Cooee, salt and pepper mill, storage jar from Menu, water carafe from Mutto.)
Aiming to bring more of "slow living" in our lifestyle is a personal journey defined in different ways for each of us. A common element in reaching this goal however is being happy with less and decluttering our lives. Nevertheless, this does not necessarily mean throwing away all. It can merely mean creating a selection of daily objects which reflect our life fundamentals, make up the structure of our beliefs and tell us meaningful for us stories.
What stories and philosophies are your daily objects telling?
DE:
Bei meinen aktuellen Bildern fühlte  ich mich an Stilllebenmalerei erinnert und so fragte ich mich, was war wohl die Faszination der Maler damals, Gegenstände des täglichen Lebens zu malen? Vielleicht ist es die Freiheit in der Komposition oder das Symbolische von alltäglichen Objekten? Sind die Gegenstände eines Menschen nicht eine Spiegelung von seines Charakters und seiner Werte? Das waren die Fragen, die mir bei der Erstellung der aktuellen fotografischen Styling-Szenerie aufkamen.
Es ist der Gedanke, dass die Objekte, mit denen wir uns umgeben, mehr sind als nur funktionale Objekte, die wir für das tägliche Leben brauchen, und mich somit zu diesem Projekt inspiriert haben. Wir umgeben uns nicht mit Gegenständen nur wegen ihrer angenehmen Ästhetik, sondern wegen der reichen Bedeutung, die sie tragen und an die Geschichten, an die sie uns erinnern. Wir umgeben uns mit Objekten, die unsere Erfahrungen, Begegnungen und Leidenschaften widerspiegeln.
Die folgenden Bilder sind von meinen derzeit wertvollsten Küchenaccessoires, die mehr als nur eine Dekoration darstellen. Diese sorgfältig ausgewählten Objekte werden miteinander platziert, um einen Dialog mit dem Wohnraum zu schaffen. Sie erzählen Geschichten von Handwerk und kulturellem Erbe und erinnern uns an die Werte, die wir in unserem Leben lebendig erhalten wollen.
Eine der Notwendigkeiten für die Küche ist in ein gutes Schneidebrett zu investieren. Wenn ich die Schneidebretter von "Twelve Dots" anschaue und benutze, schätze ich ihr Verwendung natürlicher Materialien wie Holz und die Wärme, die sie ausstrahlen, aber auch die Philosophie der Menschen, die sie entworfen haben, die Herausforderungen der Herstellung von Unikaten als zeitlose Alltagsgegenstände, statt Massenproduktionen. Das in Kroatien ansässige Designstudio Twelve Dots ist stolz darauf, funktionale und einfach handgefertigte Produkte zu schaffen, die die Zeit überdauern. Indem sie auf jedes Detail achten, sind sie in der Lage, Produkte zu kreieren, die wirklich besonders, einzigartig und zeitlos sind.
Trotz all der Herausforderungen, die sie als Inhaber eines kleinen Unternehmens erfüllen, haben sie festgestellt, dass die Arbeit für sich selbst eine sehr lohnende Erfahrung ist. Ich finde Trost und Inspiration in der Geschichte, die diese Schneidebretter reflektieren. Es gibt nichts Besseres, als etwas zu schaffen, für das es sich lohnt sich zu begeistern. Jedes Mal, wenn ich die Schneidebretter betrachte oder benutze, werde ich an die Philosophie ihrer Macher erinnert – "hör auf, dich um alles zu kümmern, was schief gehen könnte, und fang an, über all die Dinge nachzudenken, die  funktionieren könnten. Machen, dazu gehören auch Fehler zu machen. Tu, was du liebst und Erfolg wird kommen. "
Die handgefertigten Objekte zur Teekultur (gefunden bei P & T Berlin) erinnern mich an das Ziel, das ich anstrebe: bewusste Momente während des Tages zu finden und damit der japanischen Teephilosophie näher zu kommen. Es gibt ein starkes Gefühl der Freude und Verbindung zu den Zen-Philosophien, während man zum Beispiel den traditionellen klassischen japanischen Kyusu-Topf mit Seitengriffen benutzt.
Die anderen Küchen-Gegenstände sind das runde Tablett, die Salz- und Pfeffermühle, das Vorratsglas und eine Wasserkaraffe. All diese stammen von skandinavischen Herstellern, deren Ästhetik und Haptik der Produkte in die Umgebung harmonisieren. (Tablett von Cooee, Salz- und Pfeffermühle, Vorratsdose aus Menu, Wasserkaraffe von Mutto.)
Das Ziel, mehr Achtsamkeit in unseren Lebensstil zu bringen, ist eine persönliche Reise, die für jeden von uns auf unterschiedliche Weise definiert und erreicht werden kann. Ein gemeinsames Element bei der Erreichung dieses Ziels ist jedoch, mit weniger zufrieden zu sein. Nichtsdestoweniger bedeutet dies nicht, alles wegzuwerfen. Es kann lediglich bedeuten, eine Auswahl von Alltagsgegenständen zu schaffen, die unsere Lebensgrundlagen widerspiegeln, die Struktur unseres Glaubens bilden und uns mit bedeutungsvollen Erinnerungen inspirieren..
Welche Geschichten und Philosophien erzählen Ihre täglichen Gegenstände?
Styling and Photography: Valerie Schoeneich
(c) Valerie Schoeneich All rights reserved please do not use images without designer's written permission