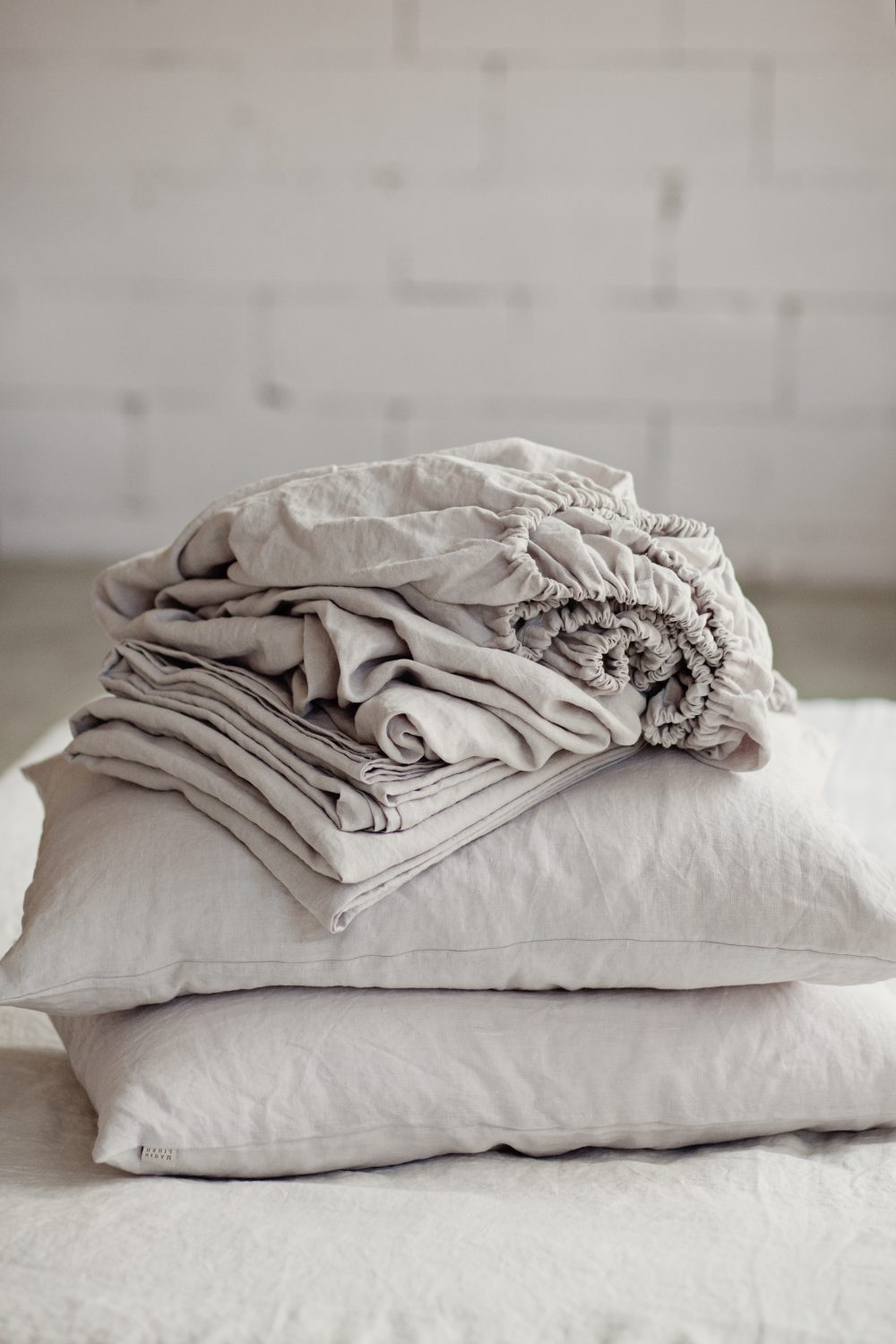 EN:
For some, choosing linen for the home might be inspired by the luxurious feelings one get, sleeping on linen bedding in a boutique hotel or in a charming French country house. For others it is the rich texture of a linen bath towel or table cloth, or the striving to create an eco friendly home – there are many reasons we love linen for our homes.
What are the special properties of linen, how it is made, how do we take care to assure it's longevity, how do we match linen textile colors to our interiors? And did you know that linen have healing and antibacterial properties? I spoke about these topics with Vita Murauskiene – owner of  Magic Linen a family business that creates handmade stonewashed linen home textiles. Born and raised in Lithuania, where linens growing, weaving and sewing traditions has roots from ancient times, Vita was impressed by the longevity of linen as she inherited her own linen home textiles made many generations before her. Vita wanted to recreate this fabric by adapting it to the modern interior. So, she started this small company and brought together the people in it, that make each linen item by hand.
Valerie: Dear Vita, what are the the special Attributes that linen home textiles have and how can they enrich our lives?
Vita: The rich texture and the pleasant feel to the touch makes linen a really special textile. Once you try to sleep in linen bedding or wear a linen dress for the first time it will be love from the first sight.
What I like the most about linen is that it creates a feeling of freshness in hot weather and comfort warmth in winter, whether sleeping in linen bedding or wearing linen clothes. The reason behind that is the natural properties of the flax fibers, which are hollow, wicking away moisture, moving air around easily and acting as a natural insulator. Not only that, but linen possesses rare bacteriological properties: it's naturally anti-allergenic, kills bacteria and reduces inflammation. It also doesn't retain odors, so it is perfect for bedding, kitchen accessories and bath towels.
Linen is also considered as one of the strongest fabrics, so you can be sure it will last for years. And the best of it is that after each wash it gets better and softer.
Linen is easy to care for, it is machine washable and there is no need to iron as the adorable wrinkles add a classic and sophisticated appearance.
Valerie:  You have been fascinated by Linen's History. How did linen win the image of being a luxury fabric throughout the history?
Vita: Actually, linen is one of the oldest fabrics in the world. Throughout history, it has been a favorite of those in the higher echelons of power. Priests would use it for their vestments. Egyptian mummies were often found wrapped in linen, archaeologists believe one reason being that it was a symbol of wealth. Linen fibers are so strong that they are used even in paper money production. And today, if you book a stay in a five-star hotel, the chances are you'll be sleeping on linen bedding, because many high-profile guests such as celebrities and business people demand that feeling of luxury that you only get with linen bed sets.
Valerie:  What are the similarities and differences between cotton and linen? (health properties, sustainability, texture)
Vita: The main similarities would be that both fabrics have been commonly used in clothing, bedding, bath and table items production for many years. Both fabrics are versatile, absorbent and nice to the touch. Unlike cotton, as mentioned before, linen possesses rare bacteriological properties: it's naturally anti-allergenic, kills bacteria and reduces inflammation, what makes it perfect for anyone with sensitive skin. Also, linen is a more eco-friendly option than cotton as the flax plant is very hardy, and requires little water, pesticides or fertilizer when compared to the cotton plant, so it's better for the planet. Talking about the texture, cotton feels soft and fluffy to the touch immediately, while linen takes time to lose its crispness and feel more subtle in your hands. This is one of the reasons why linen items will often stay in a family for generations, growing softer and softer down through the years.
Valerie: Linen are more expensive to produce than cotton, right? Is it because linen thread is more difficult to weave? How is the process you are using in your studio sets the difference to the linen that are mass produced?
Vita: Yes, it is much more difficult to process and extract linen than cotton. First, the flax has to undergo a process called retting. This separates the fibres from the stalk by leaving them to soak. This process takes days or weeks, but it's essential for good-quality linen. After the flax is dried and 'dressed' by pulling them through a series of metal combs, called heckles and only then they are ready for spinning and weaving.
What differentiates us from the mass production is that all our products are made of European high-quality linen fabric which is OEKO-Tex®-certified. Most of the items are made of stonewashed linen. It is the modern way of softening the fabric without any harmful chemicals and making it extremely soft. Also, each item is made by hand by professional tailors who do their best to obtain the highest quality.
DE:
Leinen – magisches Heimtextil und umweltfreundliches Dekoelement.
Für einige könnte die Wahl der Bettwäsche für das Haus von den luxuriösen Gefühlen inspiriert werden, die man bekommt, wenn man auf Bettwäsche in einem Boutique-Hotel oder in einem charmanten französischen Landhaus schläft. Für andere ist es die Textur eines Leinenbadetuches oder das Streben nach einem umweltfreundlichen Zuhause – es gibt viele Gründe, warum wir Leinen für unsere Häuser lieben.
Was sind die besonderen Eigenschaften von Leinen, wie wird es hergestellt, wie sorgen wir dafür, dass es langlebig bleibt, wie passen wir die Leinenfarben unserem Interieur an? Und wussten Sie, dass Leinen heilende und antibakterielle Eigenschaften hat? Ich sprach über diese Themen mit Vita Murauskiene – Besitzer von Magic Linen, einem Familienunternehmen, das handgefertigte Stonewashed-Leinen-Heimtextilien herstellt. Geboren und aufgewachsen in Litauen, wo die Traditionen des Leinens, Webens und Nähens einem starken Brauch entstammt, war Vita von der Langlebigkeit der Bettwäsche beeindruckt, als sie ihre eigenen Leinentextilien geerbt hat, die viele Generationen vor ihr hergestellt wurden. Vita wollte diesen Stoff neu gestalten, indem sie ihn an das moderne Interieur anpasste. Also gründete sie diese kleine Firma und brachten Leute darin zusammen, die jeden Leinenartikel von Hand herstellen.
Valerie: Liebe Vita, was sind die besonderen Eigenschaften, die Leinen-Heimtextilien haben und wie können diese unser Leben bereichern?
Vita: Die reichhaltige Textur und die angenehme Haptik machen das Leinen zu einem besonderen Textil. Sobald sie in Leinen-Bettwäsche zu schlafen oder ein Leinenkleid zum ersten Mal zu tragen, wird es Liebe vom ersten Augenblick sein.
Was ich an Leinen besonders mag, ist, dass es bei heißem Wetter ein Gefühl von Frische und im Winter Wohlfühl-Wärme erzeugt, egal ob man in Leinen-Bettwäsche schläft oder Leinenkleidung trägt. Der Grund dafür sind die natürlichen Eigenschaften der Fasern, die hohl sind und die Feuchtigkeit transportieren, die Luft leicht bewegen und als natürlicher Isolator wirken. Nicht nur das, auch besitzt Leinen seltene bakteriologische Eigenschaften: Es ist von Natur aus antiallergisch, tötet Bakterien ab und reduziert Entzündungen. Es speichert auch keine Gerüche, daher ist es perfekt für Bettwäsche, Küchenaccessoires und Badetücher.
Leinen gilt auch als einer der stärksten Stoffe, so dass Sie sicher sein können, dass es für Jahre hält. Und das Beste daran ist, dass es nach jedem Waschen besser und weicher wird.
Und es ist so einfach, sich um Leinen zu kümmern, es ist maschinenwaschbar und es gibt keine Notwendigkeit zu bügeln, da die entzückenden Falten eine klassische und anspruchsvolle Erscheinung hinzufügen.
Valerie: Du warst von Linen Geschichte fasziniert. Wie hat Leinen im Laufe der Geschichte das Image eines luxuriösen Stoffes gewonnen?
Vita: Eigentlich ist Leinen einer der ältesten Stoffe der Welt. Im Laufe der Geschichte war es ein Favorit der Mächtigen. Priester haben es für ihre Gewänder benutzt. Ägyptische Mumien wurden oft in Leinen eingewickelt gefunden, Archäologen glauben, dass ein Grund dafür war, dass es ein Symbol des Reichtums war. Leinenfasern sind so stark, dass sie sogar in der Papiergeldproduktion verwendet werden. Und heute, wenn Sie einen Aufenthalt in einem Fünf-Sterne-Hotel buchen, sind die Chancen groß, dass Sie auf Bettwäsche schlafen, denn viele prominente Gäste und Geschäftsleute verlangen dieses Gefühl von Luxus, den Sie nur mit dieser Bettwäsche bekommen.
Valerie: Was sind die Ähnlichkeiten und Unterschiede zwischen Baumwolle und Leinen? (Gesundheitseigenschaften, Nachhaltigkeit, Textur)
Vita: Die wichtigsten Gemeinsamkeiten sind, dass beide Stoffe seit vielen Jahren in der Herstellung von Kleidung, Bettwäsche, Bade- und Tischartikeln verwendet werden. Beide Stoffe sind vielseitig, saugfähig und angenehm im Griff. Im Gegensatz zu Baumwolle besitzt Leinen, wie bereits erwähnt, seltene bakteriologische Eigenschaften: Es ist von Natur aus antiallergisch, tötet Bakterien ab und reduziert Entzündungen, was es für jeden mit empfindlicher Haut perfekt macht. Außerdem ist Leinen eine umweltfreundlichere Option als Baumwolle, da die Flachspflanze sehr robust ist und im Vergleich zur Baumwollpflanze wenig Wasser, Pestizide oder Dünger benötigt, also ist es besser für den Planeten. Wenn man über die Textur spricht, fühlt sich Baumwolle sofort weich und flauschig an, während Leinen Zeit braucht, um seine "Flauschigkeit"zu verlieren und sich subtiler in den Händen zu fühlen. Dies ist einer der Gründe, warum Leinenartikel oft über Generationen in einer Familie bleiben und so über die Jahre immer weicher und weicher werden.
Valerie: Leinen ist teurer zu produzieren als Baumwolle, oder? Liegt es daran, dass Leinenfäden schwieriger zu weben sind? Wie ist der Prozess, den Ihr in Eurem Studio verwenden, in Unterschied zu Leinentextilien, die in Massenproduktion hergestellt werden?
Vita: Ja, es ist viel schwieriger, Leinen zu verarbeiten und zu extrahieren als Baumwolle. Zuerst muss der Flachs einen Prozess durchlaufen, der als Rosten bezeichnet wird. Dies trennt die Fasern vom Stil, indem sie sie einweichen lassen. Dieser Prozess dauert Tage oder Wochen, aber er ist wichtig für eine gute Qualität der Bettwäsche. Danach wird der Flachs getrocknet und "angezogen", indem er durch eine Reihe von Metallkämmen gezogen wird, die "Häckchen" genannt werden, und erst dann sind sie zum Spinnen und Weben bereit.
Was uns von der Massenproduktion unterscheidet, ist, dass alle unsere Produkte aus europäischem hochwertigem Leinengewebe bestehen, das OEKO-Tex®-zertifiziert ist. Die meisten Artikel sind aus Stonewashed Leinen. Es ist die moderne Art, den Stoff ohne schädliche Chemikalien zu erweichen und extrem weich zu machen. Jeder Artikel wird von professionellen Schneidern hergestellt, die ihr Bestes geben, um höchste Qualität zu erzielen.
Valerie: Please tell us more about the method – how are stonewashed linen made?
Vita: Stone washing is the modern way of softening the linen without any harmful chemicals and making it extremely soft and flexible. This washing also prevents shrinkage of the linen items.
Valerie: You offer beautiful color variations for linen bedding sets and table cloths. Could you give some tips on combining colors and which colors to fit into various interior styles?
Vita: The best thing about linen is that it suits any home. From rustic,  industrial to Scandinavian. It fits any style that values the naturalness. Especially it looks good when combined with natural wood.
We do have a large range of colors and sometimes coordinating different bedding pieces into a harmonious arrangement can seem to be challenging. However, a mix of bed linen colors and textures in bedroom decorating can actually bring unexpected results. If you want something bright and friendly, purple charcoal and wood rose are the perfect colors to be combined. We do have many variations of shades and textures in blue color. Blue does not only add a sense of calm but keeps the bedroom fresh and sophisticated. A mixture of grey blue, blue melange and white/blue striped bed linens is an incredibly stylish color scheme. For a more calm and tranquil vibe, pastel colors can be mixed one with each other, for example: white/natural striped bed linens with white, wood rose and light pink, aquamarine and grey blue and so on.
Valerie: How do you suggest to care for linen so that they behold their longevity and colors?
Vita: My advice would be to carefully follow the washing instructions. Linen items do not require any special care. It is important to wash it in warm water, do not exceed 40°C/104°F and just hang it to dry or tumble dry on low heat. Naturally dried linen will last longer, but you can tumble dry without any problem. It is important to wash it separately from other laundry, that will prevent from coloring. And of course, no bleaching or detergents with color brighteners can be used.
Valerie: What do you love the most about your craft, working with linen and what are the challenges?
Vita: I love linen in general, its natural wrinkles, that it's so pleasant to the skin and to the touch, its healing properties and how beautiful and cozy it looks into any home.
Talking about challenges that we face, we are continually growing and our small team is also growing and it is not easy to find good tailors who know how to work with linen. For the moment we did not had many difficulties with that, but every year we need new tailors. In general, sewing with linen is very difficult, it's a flexible fabric, so sewing needs a lot of attention and concentration.
Valerie: What goals and dreams do you have for your studio in the next years?
Vita: Our goal is to make it always better than yesterday – that means always better quality, prices, service, design, customer satisfaction. Positive feedbacks that we get are our fuel and the young talented team is the powerful engine. In the next years, we would love to not only have an online store, but also open a small cozy physical shop somewhere. For the moment that is just a dream that does not have a plan yet.
Because Magic Linen can make linen tablecloths in custom made sizes, I already ordered some fitting ones to our dining table. How I create some interior scenes with them, I will show you soon in an article about it. You can find Magic Linen in their online shop and on Etsy
Valerie: Bitte erzähl uns mehr über die Methode – wie werden Stonewash-Leinen hergestellt?
Vita: Stonewashing ist die moderne Art, die Wäsche ohne schädliche Chemikalien weich zu machen und extrem weich und flexibel zu machen. Diese Wäsche verhindert auch ein Schrumpfen der Wäschestücke.
Valerie: Ihr bietet schöne Farbvariationen für Leinenbettwäsche und Tischdecken an. Kannst du Tipps geben, wie man Farben kombiniert und welche Farben in verschiedene Einrichtungsstile passen?
Vita: Das Beste an Leinen ist, dass es zu jedem Wohndesign passt. Von rustikalen bis hin zu industriellen und skandinavischen Designs. Es passt zu jedem Stil, der die Natürlichkeit schätzt. Besonders gut sieht es aus, wenn es mit natürlichem Holz kombiniert wird.
Wir haben eine große Auswahl an Farben und manchmal scheint es eine Herausforderung zu sein, verschiedene Bettungsstücke zu einer harmonischen Anordnung zu koordinieren. Allerdings kann eine Mischung aus Bettwäsche Farben und Texturen in Schlafzimmer Dekoration tatsächlich zu unerwarteten Ergebnissen führen. Wenn Sie etwas hell und freundlich wollen, sind lila Holzkohle und Holzrose die perfekten Farben, die kombiniert werden können. Wir haben auch viele Variationen von Schattierungen und Texturen in blauer Farbe. Blau wirkt nicht nur beruhigend, sondern hält das Schlafzimmer frisch und raffiniert. Eine Mischung aus graublauer, blau melierter und weiß / blau gestreifter Bettwäsche ist eine unglaublich stilvolle Farbgebung. Für eine ruhigere und ruhige Atmosphäre können Pastellfarben miteinander gemischt werden, zum Beispiel: weiß / naturfarben gestreifte Bettwäsche mit weiß, "holzrosa" und hellrosa, aquamarin und graublau und so weiter.
Valerie: Wie schlägst du vor, Leinen zu pflegen, damit es seine Langlebigkeit beibehält?
Vita: Mein Rat wäre, die Waschanleitung sorgfältig zu befolgen. Leinenartikel erfordern keine besondere Pflege. Es ist wichtig, es in warmem Wasser zu waschen, nicht über 40 ° C / 104 ° F. Natürlich getrocknetes Leinen hält länger, aber Sie können problemlos im Trockner trocknen, an aber nur bei schwacher Hitze. Es ist wichtig, es separat von anderer Wäsche zu waschen,um ein Abfärben zu verhindern. Und natürlich können keine Bleichmittel oder Reinigungsmittel mit Farbaufhellern verwendet werden.
Valerie: Was liebst du am meisten an deinem Handwerk, mit Leinen zu arbeiten und was sind die Herausforderungen?
Vita: Ich liebe Leinen im Allgemeinen, seine natürlichen Falten, dass es so angenehm ist für die Haut und die Berührung, seine heilenden Eigenschaften und wie schön und gemütlich es in jedes Zuhause aussieht.
In Bezug auf die Herausforderungen, mit denen wir konfrontiert sind, wachsen wir kontinuierlich und unser kleines Team wächst auch und es ist nicht einfach, gute Schneider zu finden, die wissen, wie man mit Leinen arbeitet. Im Moment haben wir nicht viele Schwierigkeiten damit, aber jedes Jahr brauchen wir neue Schneider. Im Allgemeinen ist das Nähen mit Leinen sehr schwierig, es ist ein "gehendes" Gewebe, so benötigt das Nähen viel Aufmerksamkeit und Konzentration.
Valerie: Welche Ziele und Träume hast du in den nächsten Jahren für dein Studio?
Vita: Mein Ziel ist es, das zu tun, was wir gut machen, und immer mehr zufriedene Kunden mit positivem Feedback zu gewinnen. Das ist es, was uns am meisten antreibt, um höhere Qualität und Service zu erreichen. Das angenehmste Gefühl ist, eine Nachricht von einem Kunden zu erhalten, der unser Produkt liebt.
In den nächsten Jahren möchten wir nicht nur einen Online-Shop eröffnen, sondern auch irgendwo ein paar Ladengeschäfte haben. Für den Moment ist das nur ein Traum, aber wir arbeiten daran.
Da "Magic Linen" Linen-Tischdecken in jeder Größe anfertigen können, habe ich bei dennen schon schöne Tischdecken passend zu unserem Esstisch Größe bestellt. Wie ich mit den eine Interieurszene kreiere, zeige ich Euch bald in einem Artikel darüber. Schöne handgemachte Linentextilen findet Ihr bei Magic Linen's Online Shop und Etsy.
In collabortation with Magic Linen
Images: Magic Linen