EN:
As a child, Catrine Åberg was occupied with sorting her pencils in colour coordinated lines. I have to think about this when I look at the products from Cooee Design, which became one of my favorite decor objects at home.
When you look at the Decor Objects from Cooee Design collections you will notice how harmoniously all the colors from the cooee product pallets fit together. This and other special design properties fascinate me and inspire me to style, decorate and photograph on a regular basis. Nevertheless it is also Catrine's story of growing up in a family with a long time creative biography which inspires me to share this story today. I met Catrine from Cooee Design during my latest visit in Stockholm's Formex Fair for Nordic Design. You can get to know more about it by reading our interview.
Established in 2005 Cooee Design is Catrine's contribution (see her Interview) to her family creative heritage. Since then the Decor objets by Cooee Design are to be find in New York, they have been bought for the home of Swedish Prince Carl Philip and his Princess Sophia, as well as, at the Modern Museum in Stockholm. Nevertheless, the timeless pieces that fit in any environment are also to find in most scandinavian homes and this year also gradually in the homes of German speaking countries.
One of the highly admired Cooee products are probably the Ball Vases. Their timeless minimalistic shapes and the velvet like matt finish texture is almost irresistible to the senses. The vases come in various shapes and let you combine them as you wish, always creating a new interior mood. Besides the velvety silk finish, I would say the color themes that Catrine carefully chooses for Cooes collections are what makes them so special. I think it does not matter what color, size or shape from Cooes collections one chooses, together you can playfully combine them and always get a harmonious decor concept. Even though Cooes products are thought to warm up the monochrome palette of minimalistic style environments, I styled them in an old style Hamburg apartment as well and loved the result. Here is the result:


DE:

Als Kind war Catrine Åberg viel damit beschäftigt, Ihre Farbstifte so zu sortieren, dass sie zusammen ein farbpassendes harmonisches Arrangement kreieren. Daran muss ich sofort denken, wenn ich die Produkte von Cooee Design betrachte, da alle Cooee Designprodukte unglaublich harmonisch zusammenpassen.
Diese Eigenschaft der Cooee Produkte zeichnen sie so besonders aus und inspirieren mich auf Dauer neue Arrangements und Fotografien mit diesen zu kreieren. Darüber hinaus inspiriert mich auch Catrine's Geschichte vom Grosswerden in einer Familie mit einer langen kreativen Biografie. Diese Geschichte und Catrine's Designkreationen, möchte Ich heute mit Euch zu teilen.
Ich habe Catrin auf der Formex Messe in Stockholm in diesem Jahr getroffen und unser kleines Interview ( auf Englisch ) geführt. Cooee Designprodukte, von allem die Ball Vasen sind mittlerweile ein Hype in Skandinavien. Jetzt möchte Catrine mit Cooee Design auch in in Deutschland uns anregen  unsere Wohnungen mit ihren Produkten zur dekorieren. Und so geht sie auf Ihrer Designmessentour auch zum ersten Mal nach Deutschland. Dazu habe ich am Ende dieses Artikels für Euch eine schöne Überraschung.
2005 wurde Cooee Design geboren. Es ist Catrine's Beitrag zu ihrem Designfamilienerbe. Mittlerweile sind Cooee's Decorobjekte auch in New York und Scandinavien zu finden. Sogar die schwedische Prinzessin Sophia und Ihr Ehemann Prince Carl Philip richten ihr Zuhause mit Cooee Designprodukten ein. Dank der zeitlosen minimalistischen Ästhetik wirken ihre Designs auch etwas bodenständig und inspirieren fast jeden Haushalt in Skandinavien damit zu dekorieren.
Was macht es so besonders? Eines der bekanntesten Cooee Produkten ist sicher die "Ball Vases". Deren minimalistische Form, die miteinander kombinierbaren Farbpalette und diese Velvet / Satin-Beschichtung ist was diese Vasen unwiderstehendlich für alle unsere Sinnen macht. Darüberhinaus inspirieren die kombinierbaren Farbpaletten, die Catrine methodisch für jede Saison auswählt und auch die zueinander passenden Formen immer wieder dazu eine neue Atmosphäre im Interior zu erschaffen. Ich denke egal welche Farbe oder Grösse wir von Cooee Produkten zusammenstellen, sie werden harmonieren. Geht es ist nicht darum Spass und Verspieltheit am Einrichten zu haben? Ich habe es ausprobiert, verschiedene Interiors damit zu stylen und war von dem Ergebnis positiv überrascht. Obwohl Cooee Design DNA "new nordic und minimalistisch" ist, habe ich die Produkten in einer Hamburger Altbauwohnung mit Mixed Style inszeniert. Hier ist die Ergebnis: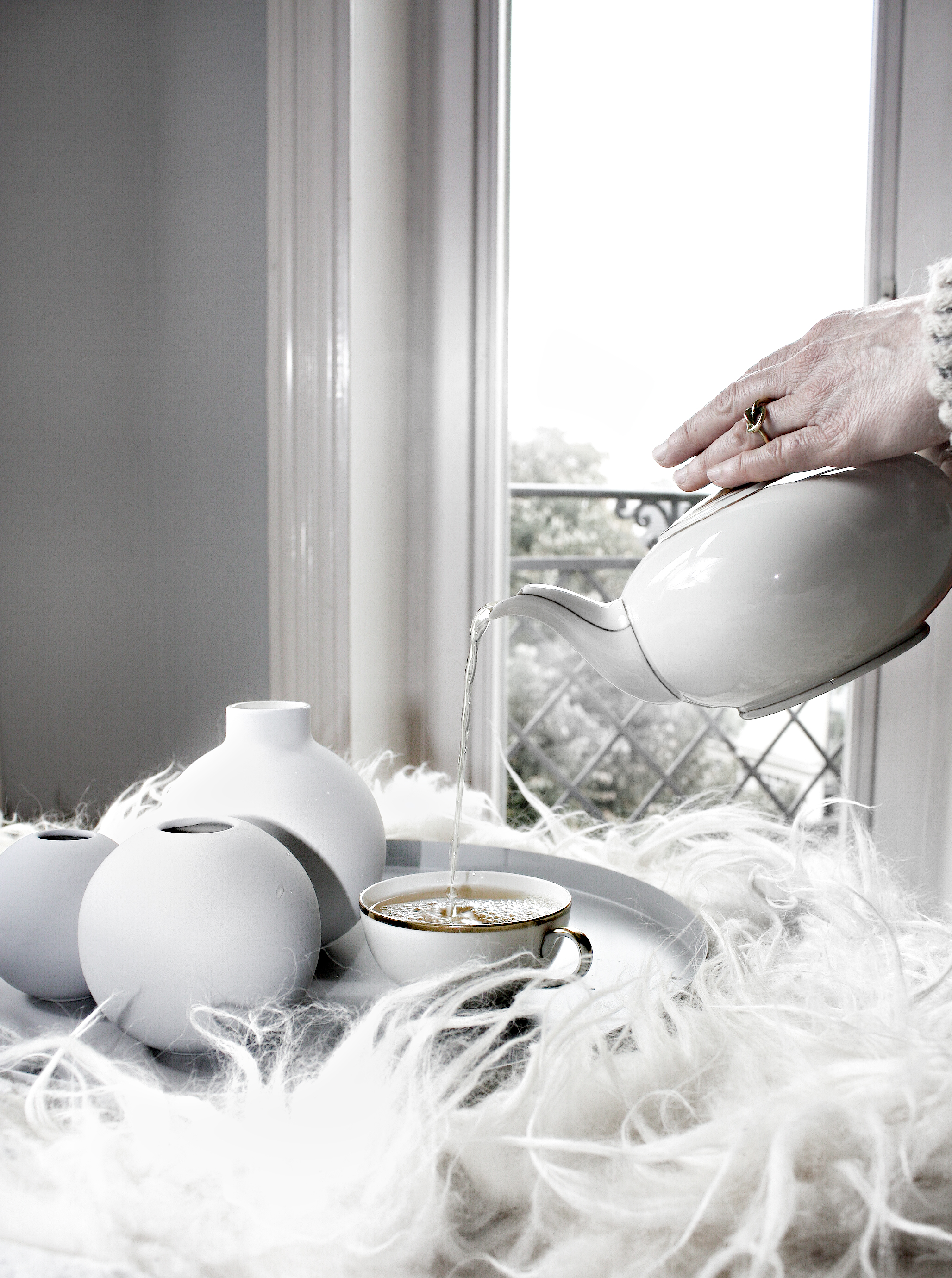 For our minimalist style home, to match our gray walls, I chose from Cooees collections, the combination of dark blue and grey hues. I love the calming effect that both colors combined create. Having the vases inspires me to alway have flowers to decorate the home, even when it is just one branch I bring from my walk in the forest near my home, it always warms up the home. Catrine shared with me that there are so many inspired products are in the planning for Cooee, I am looking forward that and seeing her creations in stores here in Germany as well this year. I live you with some styling photos from my home, enjoying the aesthetic that Cooees product allow me to create.
Für unser eigenes minimalistisches Zuhause, passend zu den grauen Wänden, habe ich aus der Cooee Kollektionen eine Kombination von dunkelblauen "Midnight Blue" und die Grautönen ausgewählt. Ich liebe diesen beruhigenden Effekt, dass diese beide Farbtönen erschaffen. Der schöne Nebeneffekt bei diesen Vasen ist auch, dass ich jetzt jede Woche mit Blumen oder sogar mit einfachen Sträucher aus dem Wald den Haus dekoriere. So schaffe ich etwas schönes ins tägliches Leben zu bringen. Ich freue mich auch auf alle neue Kreation von Cooee Design, die auf den Markt kommen.
Da wäre es doch schön, wenn viele von Euch die Freude am Dekorieren teilen würden. Und mit dieser Idee kam ich auf eine Kooperation mit Erkmann.de und Cooee. Ab jetzt gibt es bei Erkmann 15% auf Cooee Design-Produkten mit dem Gutschencode: Designsetter 
Hier sind ein paar Bilder, um Euch weiter zu inspirieren.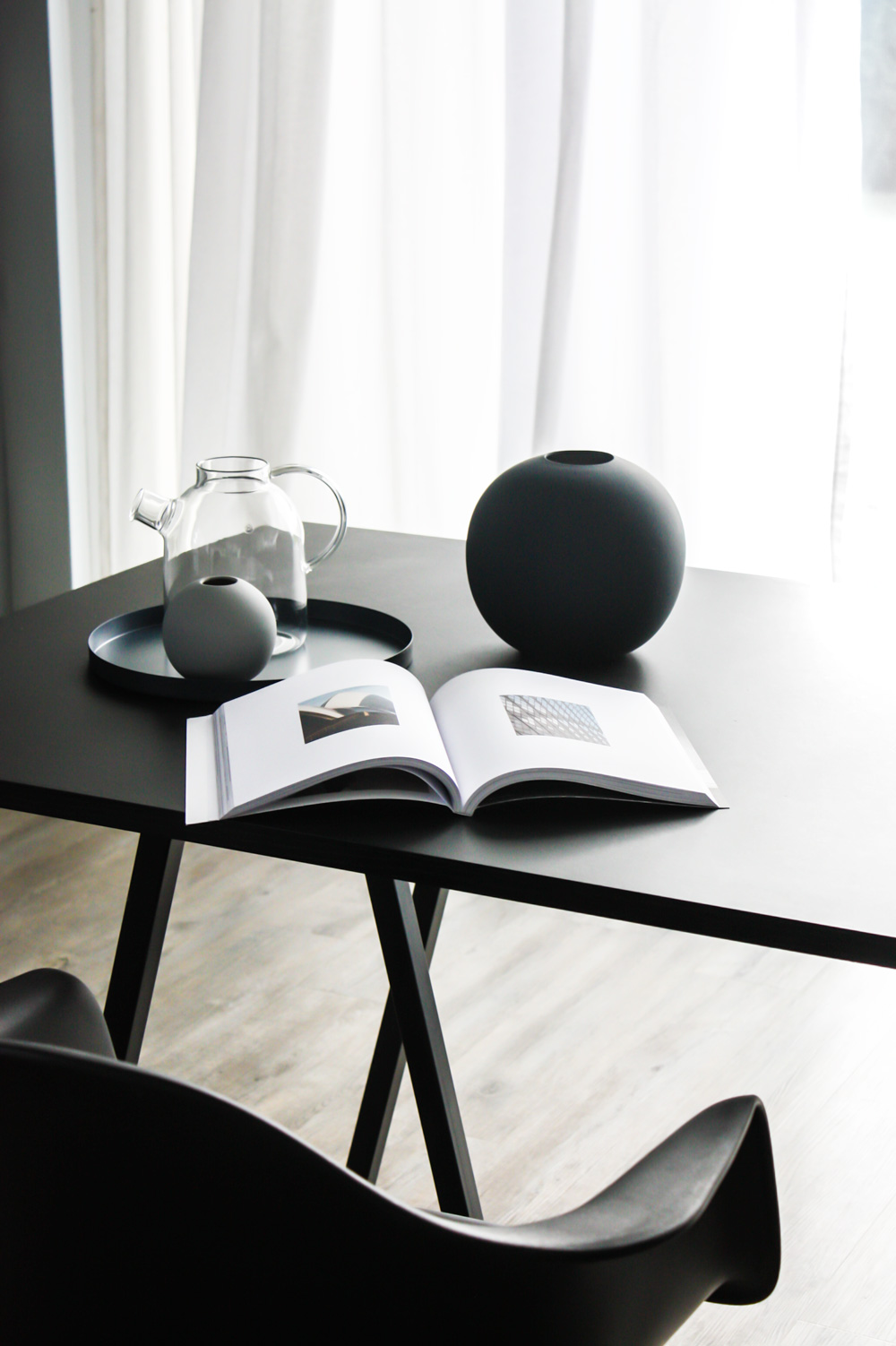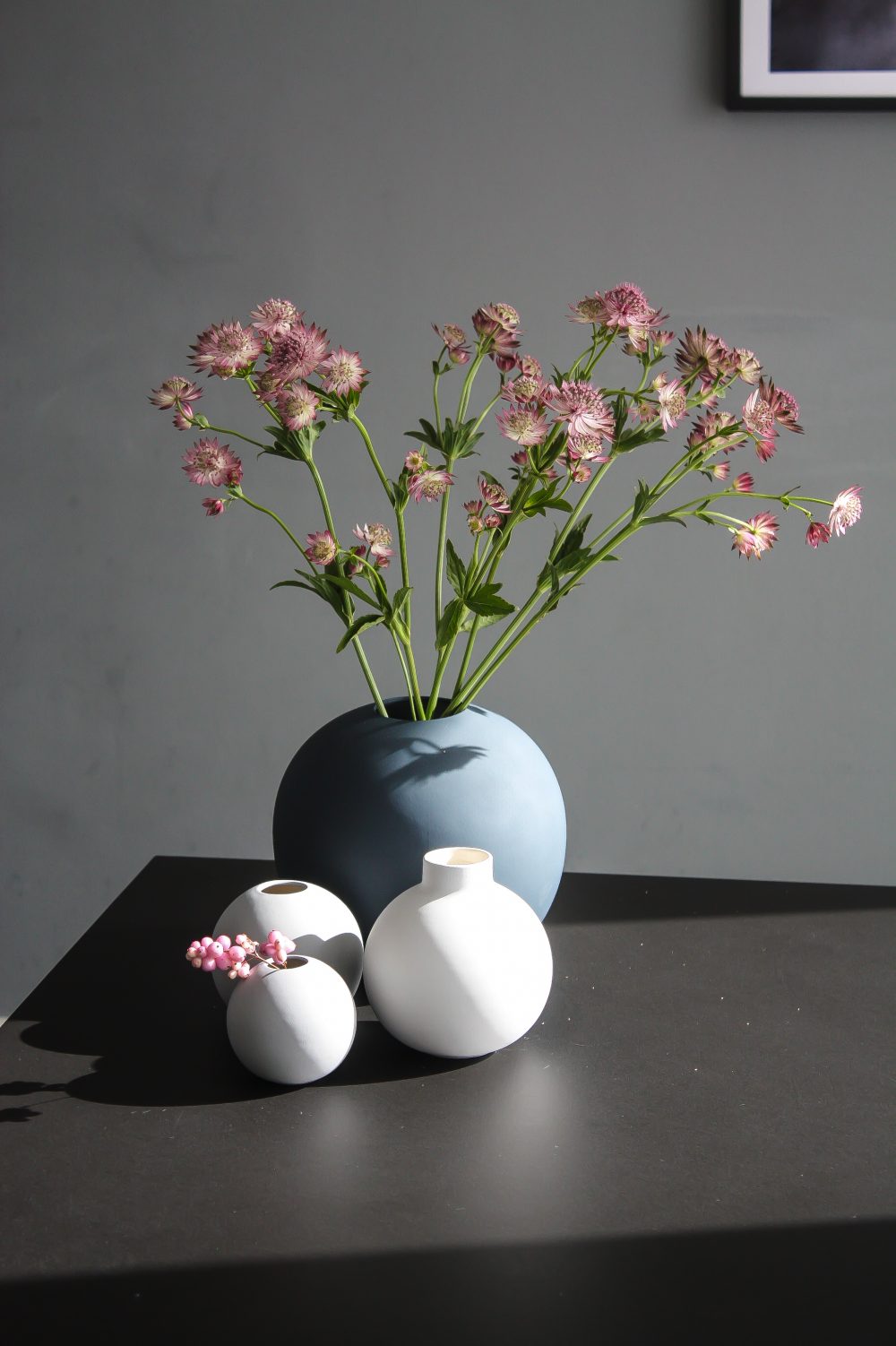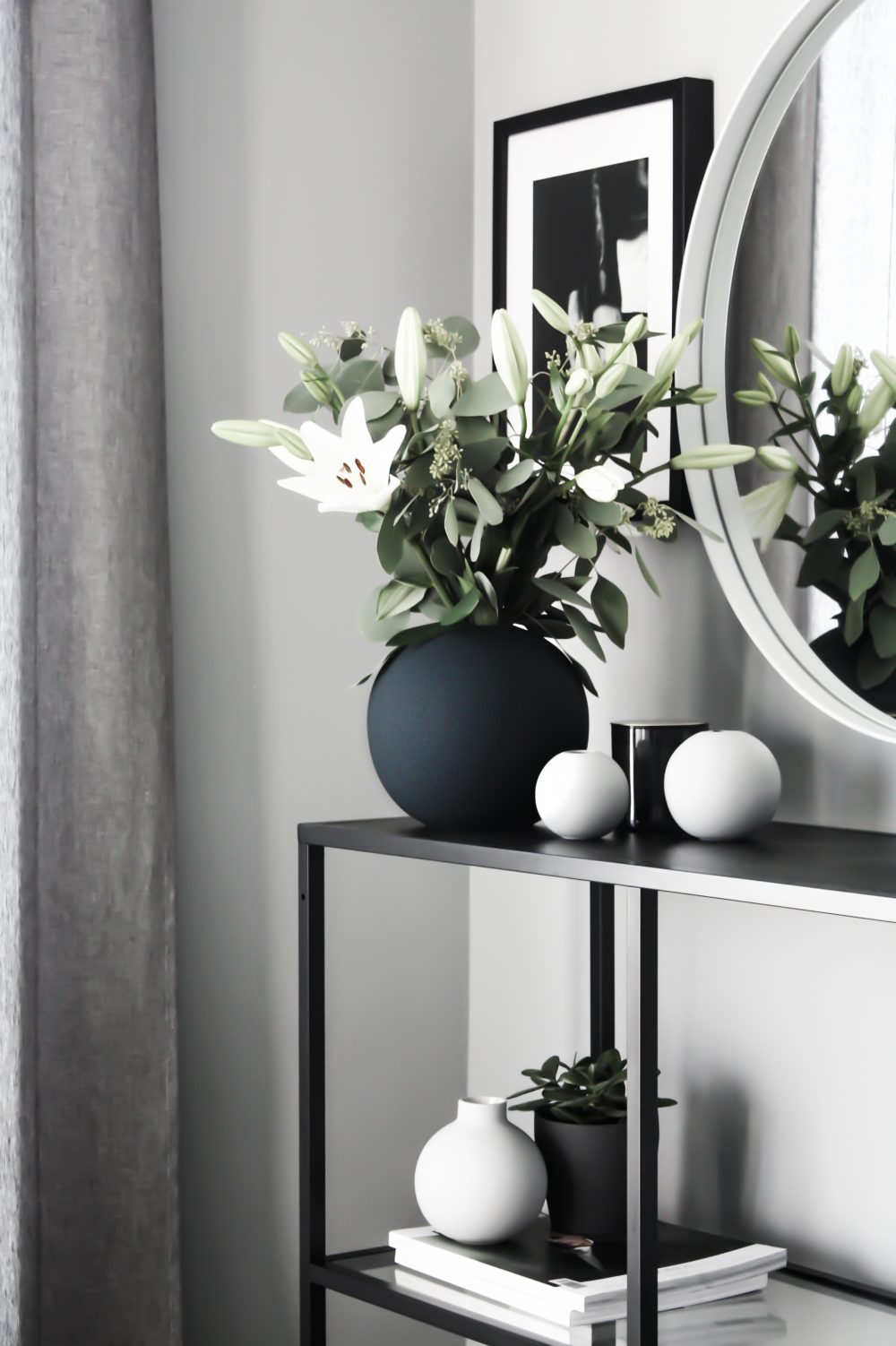 Styling & Photography: Valerie Schoeneich (c) All Rights Reserved