EN:
One of the interior design studios who's work I really admire is Studio Loft Kolasiński. Besides their minimalist subtle monochrome color palette with the warm touch of brown, I love the fact that they oft use furniture they design and create in a befriended carpentry. This brings the individual, bespoke touch to their interiors. Their projects carry a beautiful closeness to nature and history.
One of their projects I could savor in for hours of staring at the images is probably "HOUSE NEAR BERLIN". Berlin area apartments and houses are usually what I call "modernized parts of history" – rebuilding and modernization of houses after the fall of NDR (DDR). As you know Berlin went through a transformation from bevor and after NDR (DDR) times. This interior project is one of these rebuilding and restoration works built upon this history. This building's history shows its transformation – from a hospital during NDR (DDR) times, a ruin after the fall of NDR and a gorgeous interior space full of life after it was bought and renovated.
The main element here is probably beautiful oak wood covered in special oil used both in the floors and the furnitures designed  by Jacek Kolasiński. Much of the furniture consists of antique auction finds which were renewed by a carpenter. Ceramic figurines from the 50's, vintage chairs, art and lamps create a link to the past in this modernized interior space.
Studio Loft tells: "The concept was to use classic elements from the 20's (Bauhaus) combined with scandinavian elements and some polish accents. "
DE:
Eines der Interior-Design-Studios, deren Arbeit ich wirklich bewundere, ist Studio Loft Kolasiński.
Neben deren minimalistisch subtilen monochromen Farbpaletten mit einem warmen Hauch von braun, liebe ich die Tatsache, dass sie oft Möbel in deren Interieur verwenden, die sie bei einer befreundeten Zimmerei entwerfen und erstellen lassen. Dies bringt die individuelle, maßgeschneiderte Note in ihre Räume. Und – ihre Projekte transportieren eine schöne Nähe zur Natur und Geschichte.
Eines ihrer Projekte, auf deren Bilder ich für Stunden starren könnte, ist das "Haus in der Nähe BERLIN". Wohnungen  und Häuser in Berlin und Umgebung sind in der Regel, was ich "modernisierte Teile der Geschichte" nenne – Wiederaufbau und die Modernisierung von Häusern nach dem Sturz des DDR. Wie Sie wissen, ist Berlin durch eine Umwandlung von "Bevor und Nach" gegangen. Dieses Interieur Projekt reprüsentiert einen solchen Umbau – und Renovierung, die auf Geschichte gebaut sind. Die Geschichte dieser Gebäude zeigt ihre Transformation – von einem Krankenhaus während DDR Zeiten, in eine Ruine nach der Wende und zu einem wunderschönen Innenraum voller Leben, nachdem sie renoviert wurden.
Das wichtigste Element hier ist wahrscheinlich das schöne Eichenholz mit Spezialöverarbeitung, um sowohl in den Böden und den von Jacek Kolasiński entworfenen Möbeln präsent zu sein. Ein Großteil der Möbel besteht aus antiken Auktion-Funde, die von einem Schreiner erneuert wurden. Keramikfiguren aus den 50er Jahren, Vintage-Stühle, Kunst und Lampen schaffen eine Verbindung zur Vergangenheit in einem modernisierten Innenraum.
Studio Loft sagt: "Das Konzept war, klassische Elemente aus den 20er Jahren (Bauhaus) in Kombination mit skandinavischen Elementen und im Spiel mit einigen polieren Akzenten zu verwenden. "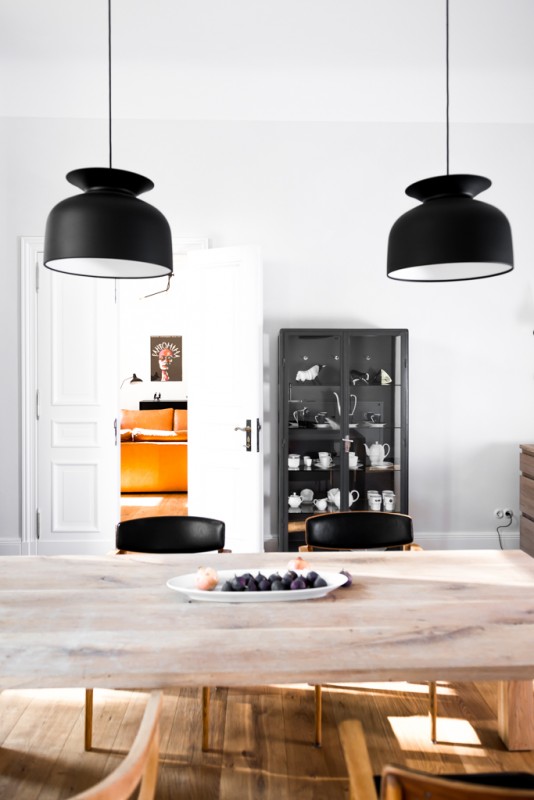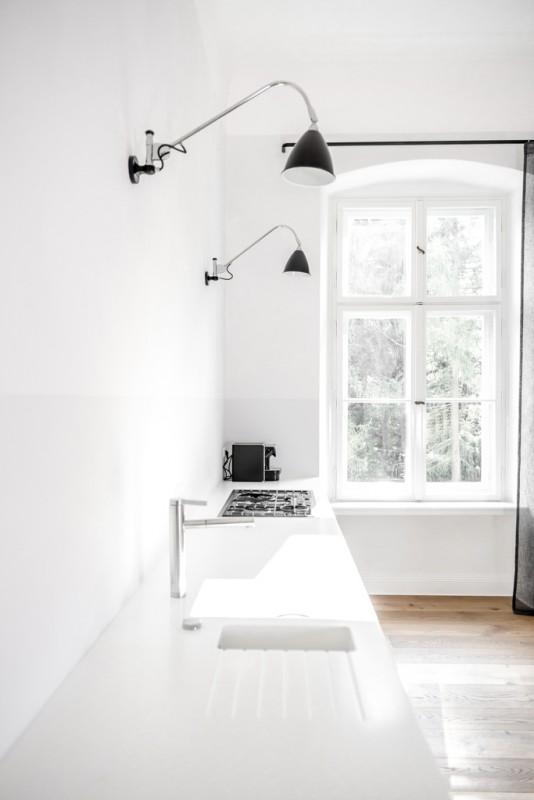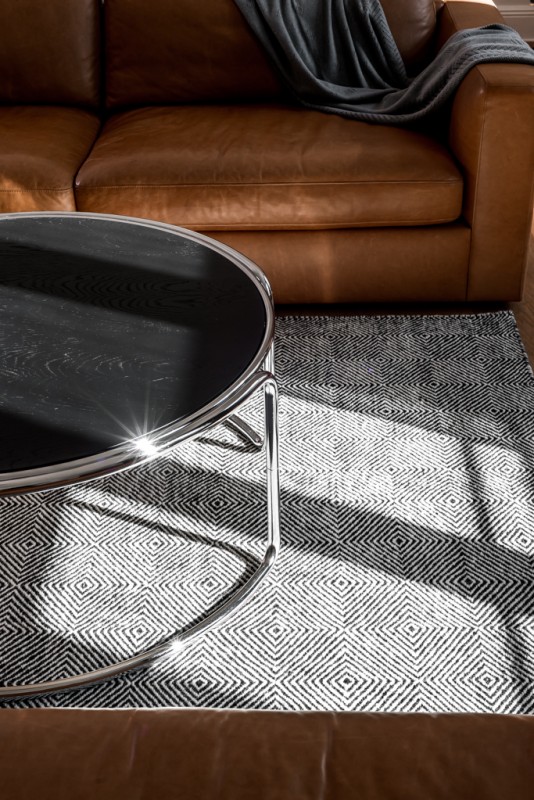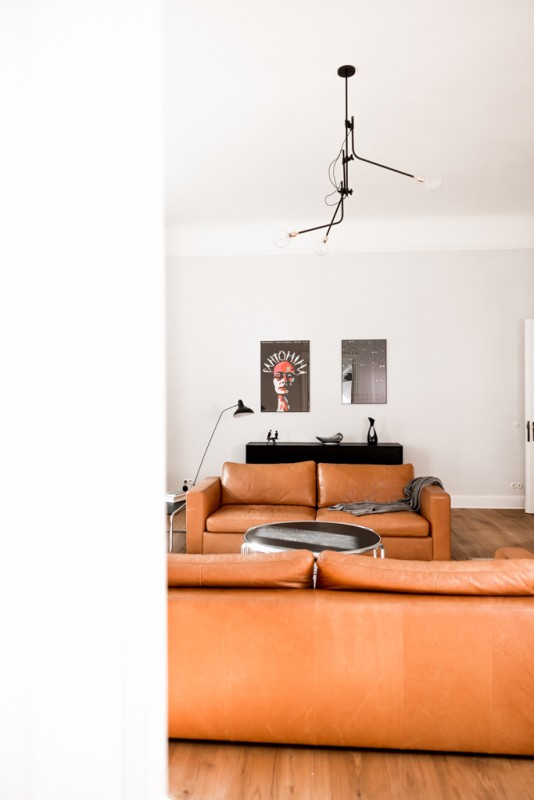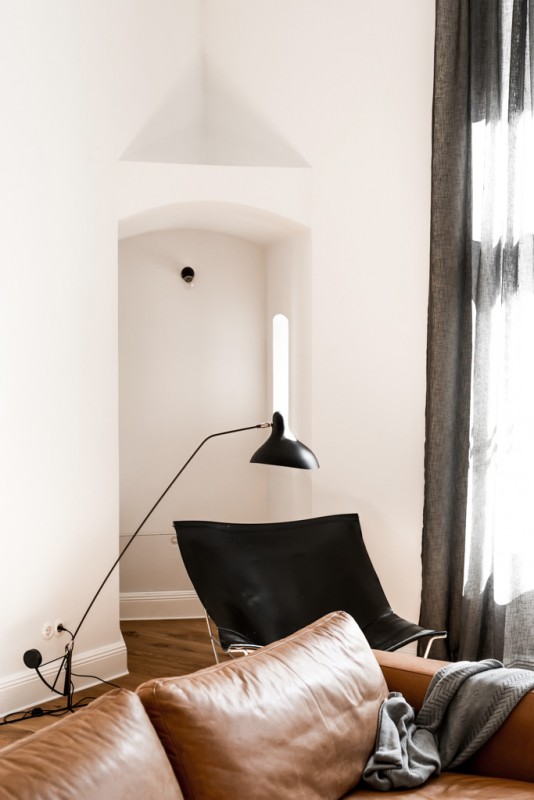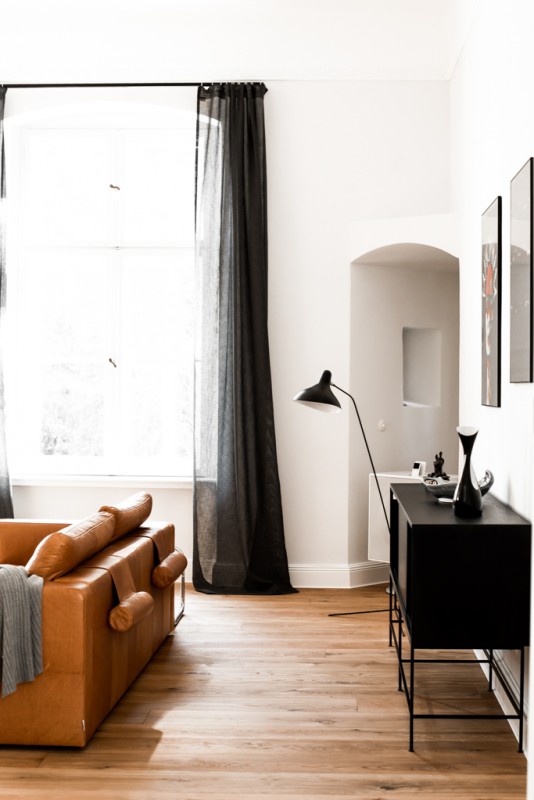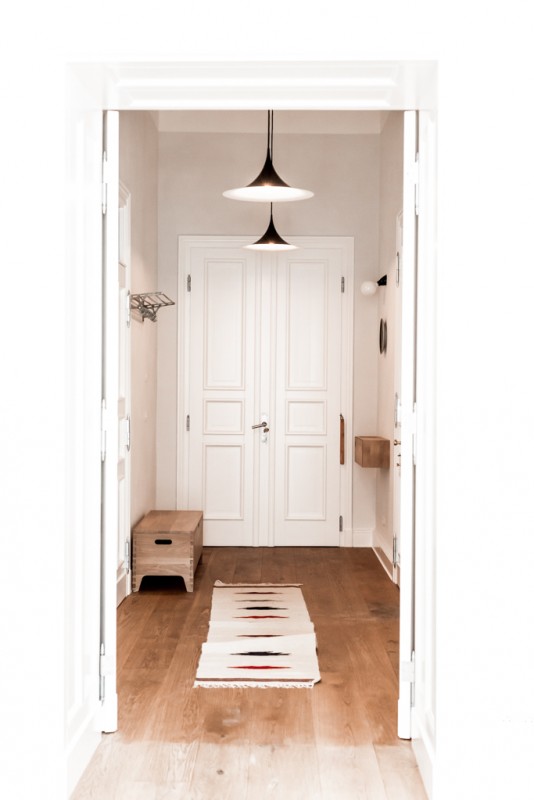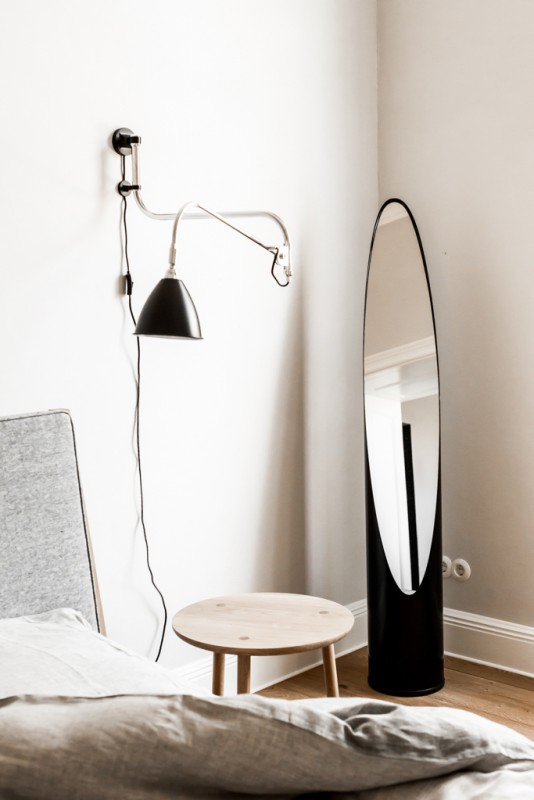 One of the stunning interior settings for me is definitely the bathroom of this house. Its minimalism and cosiness are in perfect balance. I can imagine myself bathing by the window and then taking a nap on the day bed. Its a dream, an interior sanctuary, don't you think?
And what do you love the most about this interior space? Let me know in the comments bellow.
Eines der beeindruckenden Interieurs ist für mich auf jeden Fall das Bad dieses Hauses. Sein Minimalismus und Gemütlichkeit sind in perfekter Balance. Ich kann mir bildlich und sinnlich vorstellen, bei diesem Ausblick zu baden und dann ein Nickerchen am Tag im Bett zu haben. Es ist ein Traum, ein minimalist Paradies, oder?
Und was lieben Sie am meisten an diesem Projekt?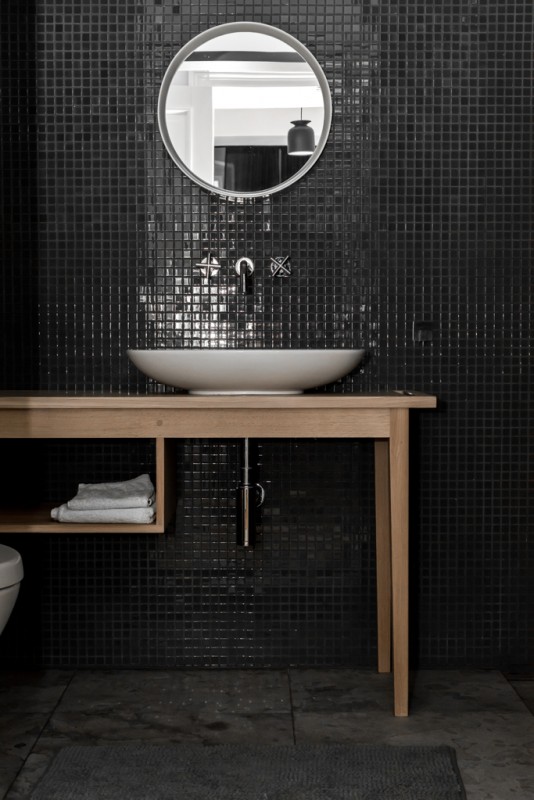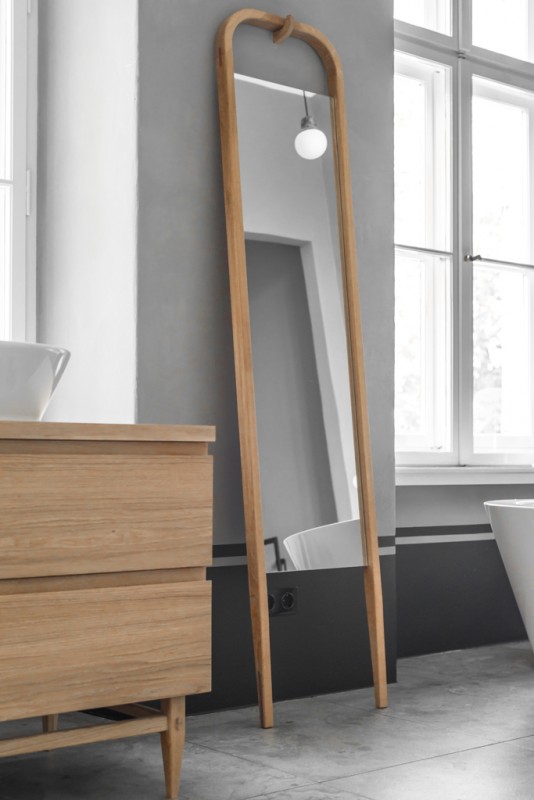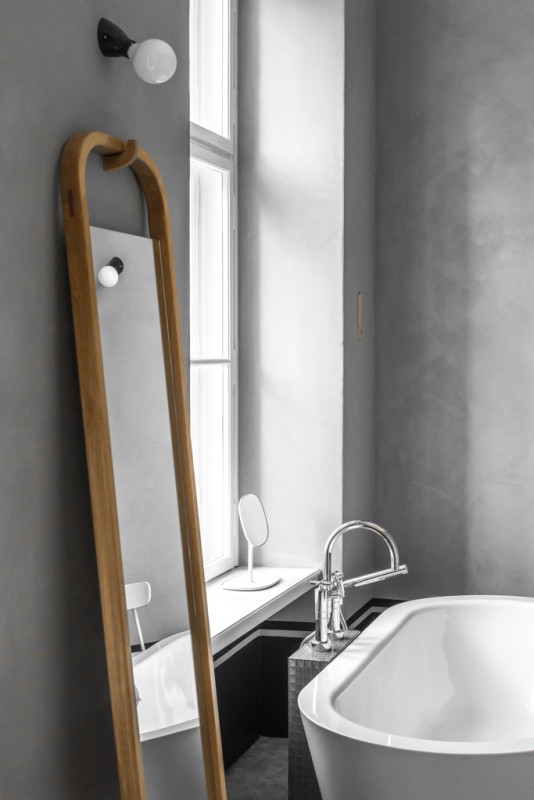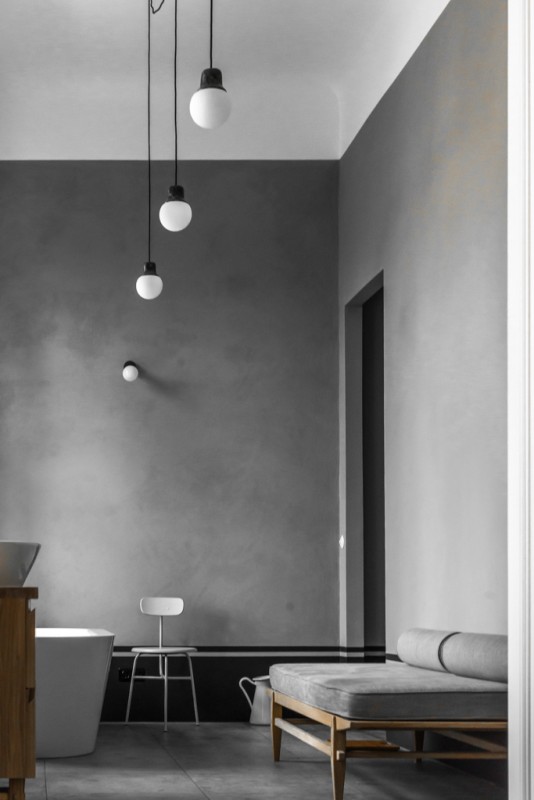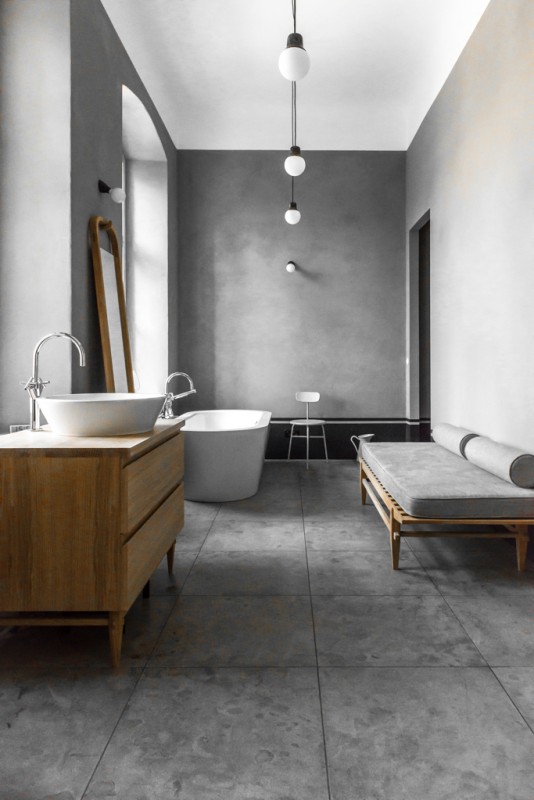 Have a calm and warm weekend!
Images/Bilder via  Studio Loft Kolasiński