EN:
HANDMADE MINIMALISM FOR THE KITCHEN
Preparing food has been one of the most important daily rituals since ancient times, celebrated around the whole world. With a selective mix of design products in our kitchens, this ritual gets more fun factor and enjoyment. Besides renown design brands kitchen objects, having a hand made whimsical object is a beautiful parallel to the hand made element in cooking. Luckily there are quite a few gorgeous hand made finds. Not only this design objects are affordable, they are not mass production objets, rather carefully made with love objects with a story behind them.
Here is an inspiring  Designsetter selection of trendy hand made finds to create a playful, visually peasant kitchen.
DE:
HANDGEMACHTES MINIMALISMUS FÜR DIE KÜCHE
Die Zubereitung von Mahlzeiten war einer der wichtigsten täglichen Rituale seit der Antike. Heutzutage bekommt dieses Ritual mit einer selektiven Mischung aus Design-Produkten in unseren Küchen einen ganz besonderen Spaß- und Genussfaktor.
Neben Produkten von etablierten bekannten Designern, gibt es seit längerer Zeit mehr und mehr eine Auswahl an frischen Produkten, handgemacht von neuen, unabhängigen Desigern.
Zum Glück gibt es durchaus ein paar wunderschöne handgemachte Funde. Und nicht nur sind diese Designobjekte erschwinglich, auch sind diese mit Liebe gemachte, transportieren eine  Geschichte Ihrer "Macher" und setzen sich so stark von Massenprodukten ab.
Hier ist eine inspirierende Designsetter Auswahl von trendingen handgemachten Objekten, um Ihnen eine Inspiration zu geben, Ihre Küche modern, minimalistisch zu gestalten.
1. Handmade Ceramics in Organic Shapes. The organic shaped ceramics give us this "living" feeling with their texture and form. Abstract colouring elements like splashes add even more playfulness. The geometric shapes are also a stylistic element trending currently by ceramics.
1. Handgefertigte Keramik in organischen Formen. Durch ihre Textur und Form geben uns die organisch geformten Keramiken ein "lebendige" Gefühl. Und abstrakte Färbung, Elemente wie Spritzer bringen noch mehr spielerische Note dazu. Die geometrischen Formen sind auch ein Stilelement und schaffen mit der Farbpalette, Monochromie den minimalist Look.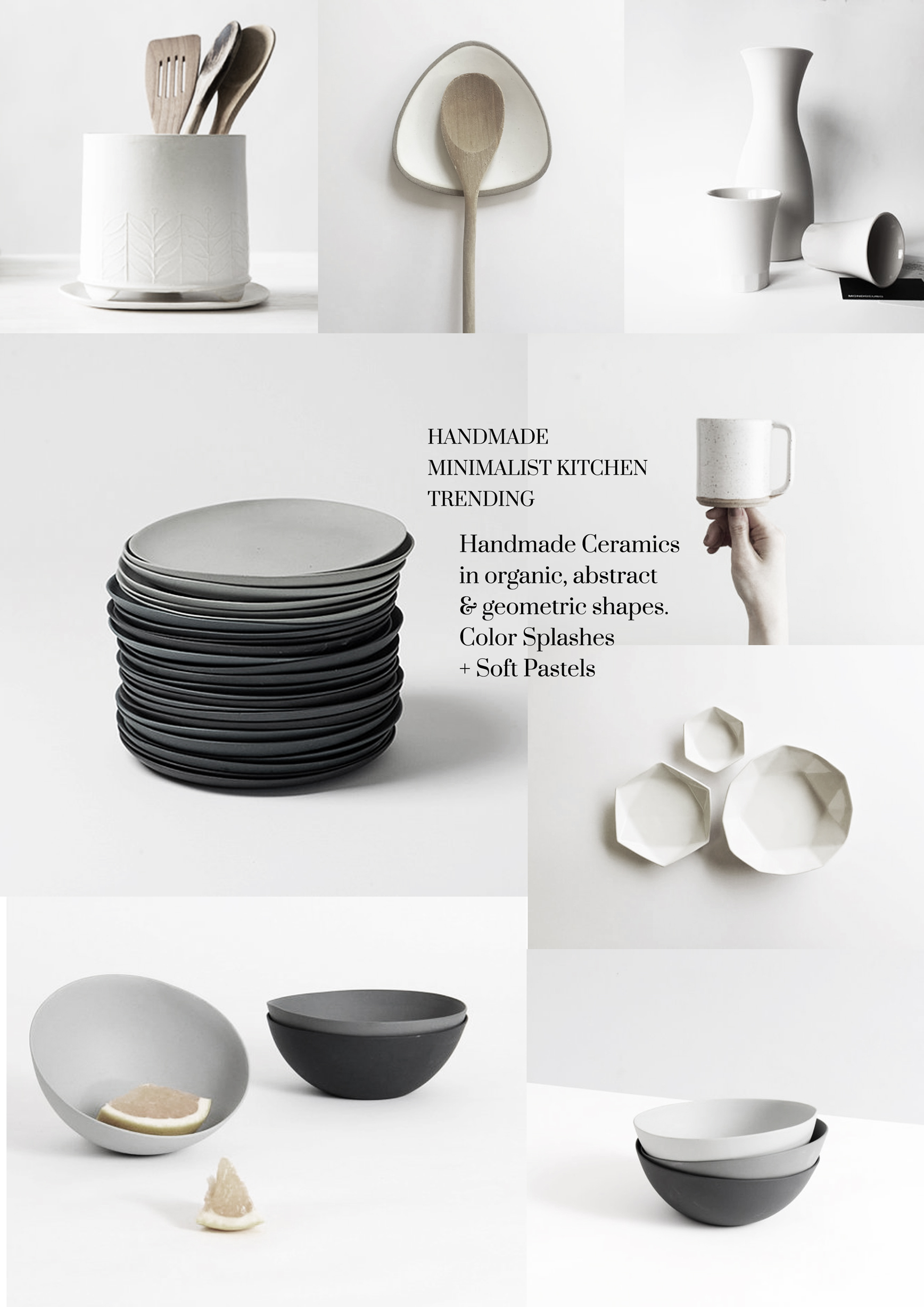 Featured products in the collage (from top left): 1 / 2 / 3 / 4 / 5 / 6 / 7 / 8 /
The handmade ceramic collection by the italian designstudio
MONDOCUBO
who are currently working from Berlin, are using for example a casting technique in handmade chalk moulds: drilling, grinding and assembly by hand to create the handmade ceramics collection
POSITANO
. I especially love there beautiful matt finish that their POSITANO ceramics have.
Another beautiful example of handmade ceramics with a minimal, nordic feel are those created by
Laima Grigone
from Latvia. She heats up her ceramic work by 1.260 C which creates a not porous, rather strong durable to be enjoyed for a long time. I love her dark colours and the flat dinner plates.
Laima Grigone aus Lettland gestaltet einzigartige und wunderschöne handgefertigte Steinplatten, matte Tee- und Kaffeetassen aus Stein und andere bezauberndere Keramik in minimalistischem Stil. Ihre Keramik wird bei 1.260 C erhitzt, so dass ihre Erzeugnisse nicht porös, sondern stark und haltbar für den regelmäßigen Gebrauch werden. Final werden diese mit einer schwarzen, lebensmittelechten Glasur belegt.
2.  Creative Salt & Paper Mill. Some are made of ceramic, some of wood, some colored with soft pastels and all are with a personality. Adding such a playful element spices up the cooking atmosphere. Organic and geometric shapes are also here a leading trend.
2. Kreative Pfeffer- und Salzmühlen. Einige sind aus Keramik, einige aus Holz, teilweise gefärbt mit weichen Pastelltönen und alle drücken eine Persönlichkeit aus. Solchen spielerischen Elemente belebenden die Koch-Atmosphäre. Organische und geometrische Formen sind auch hier ein führender Trend.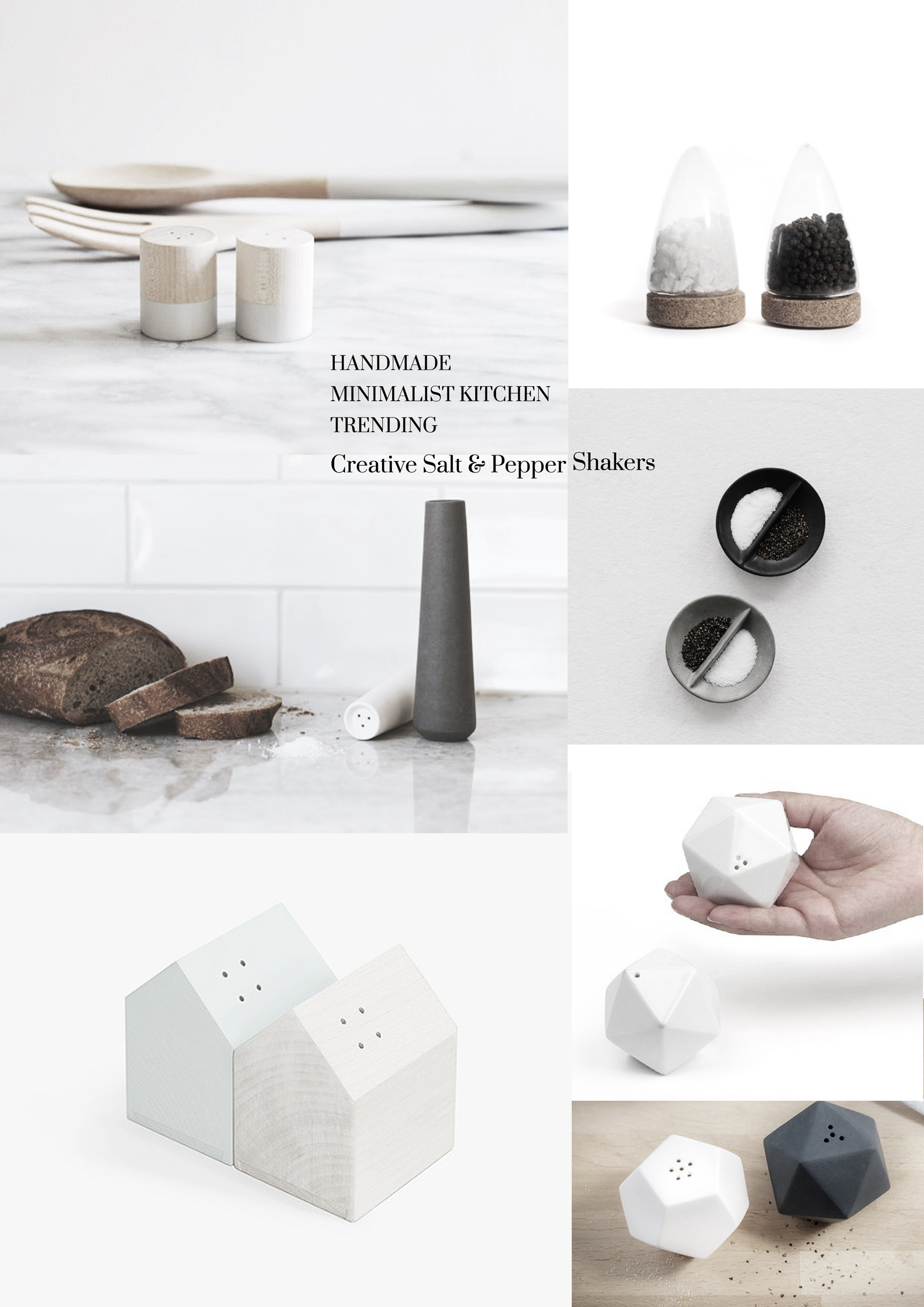 Featured products in the collage (from top left): 1 / 2 / 3 / 4 / 5 / 6 / 7
3.  Whimsical Shaped Cutting Boards & Coasters. Either they come in cutest forms like clouds & trees, bringing us a smile, or in a geometric interesting form adding a modern look. They bring a whimsical fun while we are cutting bread or serving our sandwich on it. Mix and match them to add fun to your kitchen.
3. Verspielt geformte Schneidebretter & Untersetzer. Entweder kommen diese in niedlichsten Formen wie Wolken und Bäume, um uns ein Lächeln zu entzaubern, oder in strengen, geometrischen Formen, als interessantes, modernes Accessoire. Sie bringen uns wunderlichen Spaß, während wir Brot schneiden oder unserer Essen servieren.
Featured products in the collage (from top left): 1 / 2 / 3 / 4 / 5 / 6 / 7
4. Setting a colourful accent with kitchen cloths.  In a minimalist kitchen setting we can set an accent with colourful and geometrically shaped kitchen towels and oven mitts. The currently popular silk-screen printing used for kitchen cloths brings even more of the hand made feeling to the kitchen.
Many etsy shops like for example EarthCadets offer a variety of organic, screen printed kitchen towels in an abundant selection of design. In confettiriotshop you can find delicious designs of watermelon and ananas for you kitchen cloth. And yes, also in kitchen mitts the cloud shape is making her presence. The marble and metallic trends are also present in the kitchen, for example with the minimalist style pot mitts from HelloDelicious store. And if you like nordic minimalist patterns, take a look at Colashome shop where you can mix and match your kitchen towel with a matching kitchen apron.
4. Bunte Akzente, hier durch KüchentücherIn einer minimalistischen Küche können wir einen Akzent mit bunten und geometrisch geformten Küchentüchern und Topflappen setzen. Besonders populäre sind derzeit durch Siebdruck gestaltete Küchentücher, die eine sehr verspielte, farbenfrohe und persönliche Note in die Küche bringen.
Online, wie auf Etsy finden sich diese zahlreich, ein gelungenes Beispiel ist  "EarthCadets", die eine Vielzahl von organischen Siebdruck- Küchentücher anbieten. Oder im "confettiriotshop". Dort können Sie köstliche Designs von Wassermelone und Ananas für ihr Küchentuch finden. Und ja, auch in der Küche sind Fäustlinge in Wolkenform beliebt.
Auch die Marmor-und Metallictrends sind in der Küche angekommen. Zum Beispiel mit  minimalistischen Topfhandschuhen aus dem "HelloDelicious" Shop. Und wenn Sie nordische minimalistische Muster mögen, werfen Sie einen Blick auf "Colashome", hier können Sie eine Vielzahl verschiedener Designs für Küchentücher finden.
I am very fancied by the variety of choice available today for handmade products in minimalist and nordic look today. These objects are truly one one of the kind exemplars which makes a pleasure to have them around and feel the handmade work behind them. And what do you like about handmade deco accessories? Tell me about the ways you are inspired to decorate your kitchen with handmade design objects.
Ich bin von dieser Fülle an handgemachten Designobjekten für die Küche sehr begeistert. Es bereitet so eine Freude, umrahmt von solche einzigartigen, lebenden Objekten während des Essens und zuvor deren Zubereitung zu sein. Und was liebt Ihr am meisten an handgemachten Geschirr und Küchenaccessoires?