How do we create nordic, warming, nurturing kitchen space? For architect Jeppe Dueholm this expresses itself in good crafmanship, thoughtful details, natural, durable materials that harmonize with the soul of the house.
In a cosy townhouse in northern Europe's most eligible residential area Nordiska Kök has designed a kitchen for architect Jeppe Dueholm and his family. All choices have been made with great respect for the history of the house and the design is inspired by the building's brick-cladded facade and the organic shape of the staircase that connects the three storeys.
"It was paramount that natural, durable and sustainable materials would be the foundation of the renovation of our townhouse. Our ambition was that the additions we made would feel as natural to the building as the 150 year old brick facade and the wooden beams. We have focused on good craftsmanship and put a lot of thought into the details, we wanted each material to harmonize with the house and it's soul." — Architect Jeppe Dueholm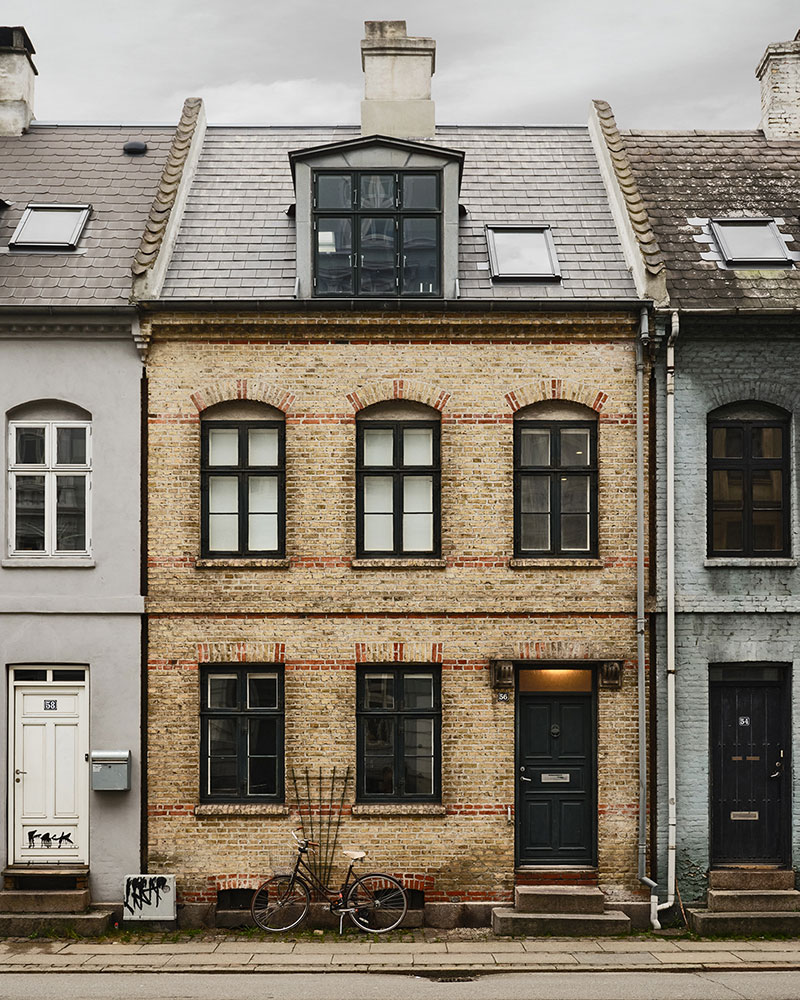 A short walk from Copenhagen's Botanical Garden and next to one of the three popular inner city lakes you find Kartoffelraekkerne, likely northern Europes most coveted residential area.
Nordiska Kök designed the kitchen that organically fits and  reflects the architectual elements of the building. A durable steel table top borders between the white painted top shelves above and the stained oak cupboards below. The kitchen layout and mix of materials make the room a place not only to cook and dine in, but also a space for everyday life.
The asymmetrical shelves resemble the facades of the surrounding buildings in the iconic Kartoffel- rækkena area. There all houses have the same size and shape but all with their own personal details which makes the overall impression of the area very artistic.
Above the sink you find a simple shelf that is painted in the same creme white tone as the wall. Here you can store your favourite wine glasses, plates or wine.
The rectangular room is harmoniously designed with the kitchen at one end and the dining area on the opposite side. A durable steel table top borders between the white painted top shelves above and the stained oak cupboards below. The table and chairs were designed by David Thulstrup for Noma, and are produced by BRDR. Krüger, and the ceiling lamp is handmade by Tom Rossau.
Stained oak, stainless steel, limestone and cream- colored joinery have been blended in a harmonious mix in the well planned kitchen which is tailor-made for the house.
Danish stylist Marie Graunbøl has chosen kitchen accessories that have a beautiful tactility. A warm beige-brown palette blends in perfectly with the interior, while a mix of styles adds to the overall charm of the space.