EN:
Especially during the winter months I love to cuddle on the sofa with a good book, good tea, a scented candle and my journal. Our living room is quite minimal, featuring the white leather sofa, the hay side table and the calmness of the grey walls. I have been looking for a certain interior detail to live up the corner and to add a spotlight for reading. I was pleasantly surprised to discover the OSRAM Edition 1906 pendant lights and tried them out as the interior solution for this living room corner. The reduced design combined with golden coloured matt aluminium details adds exactly the right portion of noble detail, making our living room modern and inviting. LED pendant lightbulbs have been a growing lighting trend for the past two years, often seen in hotel and restaurant interiors. OSRAM, whom I knew before for high quality light bulbs suggested to try this trend as a DIY with many options for the living room. Here is my tried out arrangement. What do you think?
DE:
Vor allen in den Wintermonaten liebe ich es, auf dem Sofa mit einem guten Buch, einem guten Tee, einer Duftkerze und meinem Tagebuch zu kuscheln. Unser Wohnzimmer ist ganz minimal gestaltet – mit dem weißen Ledersofa, dem Hay Beistelltisch und der Ruhe der grauen Wände. Ich habe nach einem bestimmten Interieur-Element gesucht, um die Ecke zu beleben und ein "Spot-Licht" zum Lesen hinzuzufügen. Ich war angenehm überrascht, die OSRAM Edition 1906 Pendelleuchten zu entdecken und versuchte diese als Interieur-Lösung für diese Wohnzimmerecke umzusetzen. Das reduzierte Design der Lampen, kombiniert mit goldfarbenen, in matt gehaltenen Aluminiumdetails, mit genau dem richtigen Grad edler Details, setzt so unser Wohnzimmer modern und einladend in Szene. Diese LED-Vintage-Birnen mit Ihren Fassungen sind ein wachsender Beleuchtungstrend, der immer öfter in Hotel-und Restaurant-Interieur gesehen wird. OSRAM, die bisher vor allem durch ihre hochqualitativen Glühbirnen bekannt sind, setz- ten auf diese Entwicklung und schlugen mir vor, diesen Trend als DIY für den Innenraum auszuprobieren. Das Verlockende an dem OSRAM System sind die vielen Varianten, die Fassungen zu arrangieren. Wir standen stundenlang auf Leitern und haben verschiedenste Arrangements ausprobiert und uns mal für diese entschieden. Wie findet Ihr unser Arrangement?
Danke OSRAM für die Inspiration.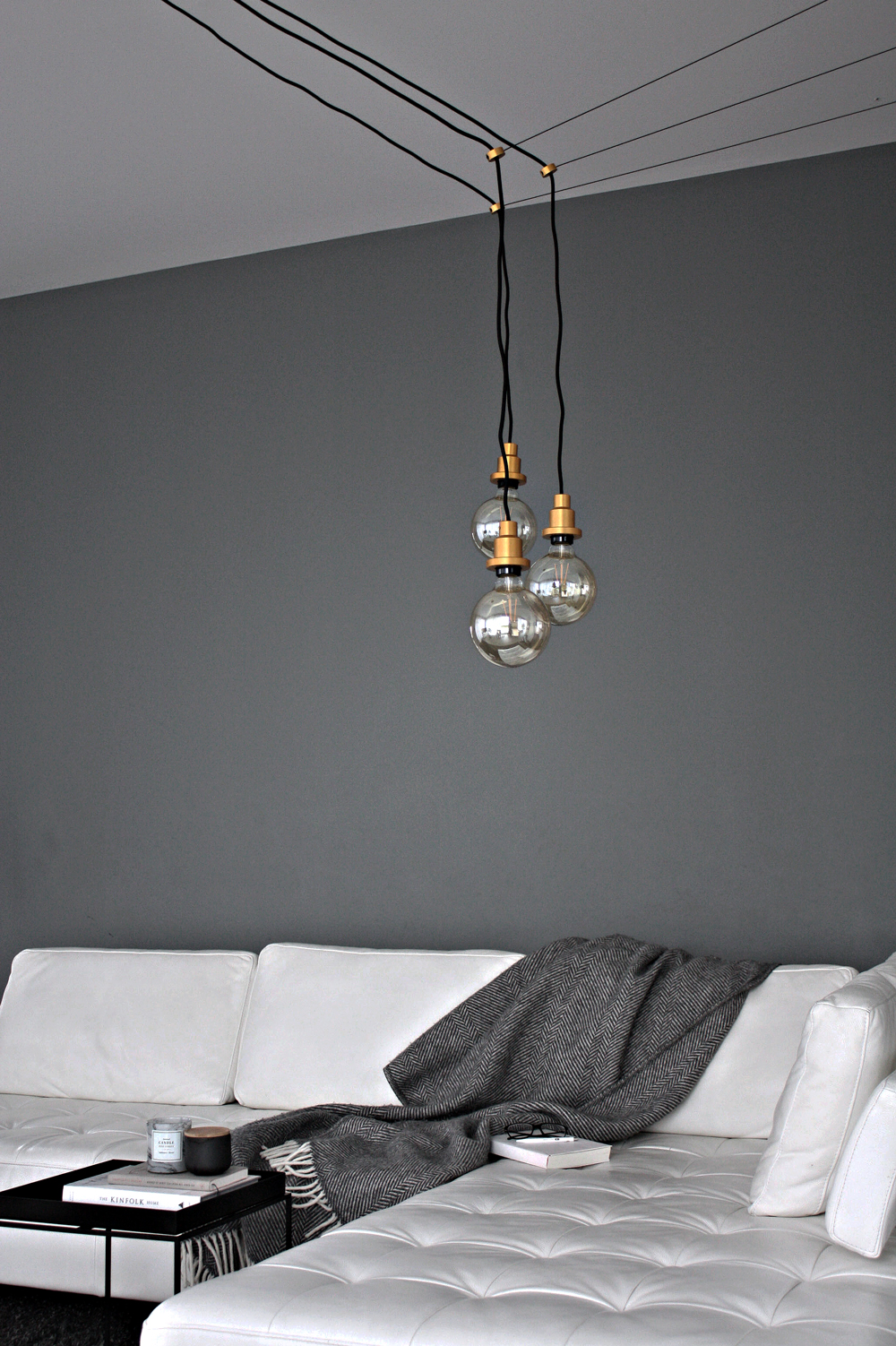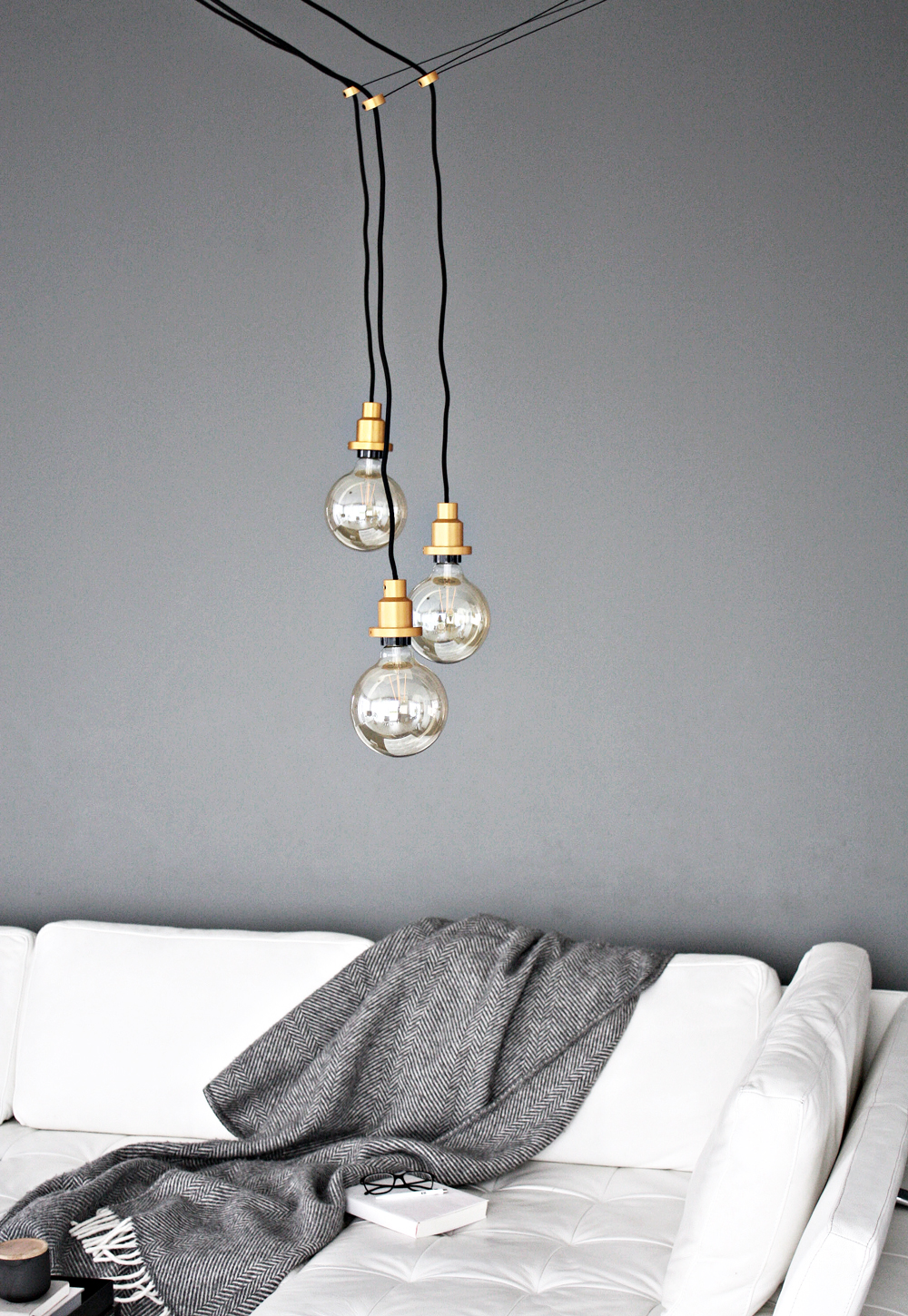 Interior Styling & Photography: (C) Valerie Schoeneich