What characteristics distinguish Design made in Germany the most? Today, I would like to introduce you to a beautiful showcase of a German minimalist product design company Blomus and the esthetic result of their nordic expansion.
It is always a great pleasure for me to find design companies from Germany who remain true to their regional identity and basic principles while at the same time expanding into the international design scene.
One such brand is Blomus – a family business from North Rhine-Westphalia, a region that was originally a center of a thriving steel and coal industry. Initially in their early days, Blomus began to design bicycle parts, then to continue to experiment with stainless steel design and to develop gift and design items made of copper, brass, tin. When working and designing with stainless steel, highly innovative product development and quality play a very important role. These characteristics have become the basic principles of the company.
"Function in perfection"
Now we have heard so often that functional design is the feature that distinguishes Design Made in Germany the most. I am always looking for examples that show that German Design actually has a lot to do with our principles of aesthetics such as minimalism, restrained forms and functionality as well as sustainability.
In my view, as someone who works with design every day, German design is both – aesthetic and smart.
The German design values ​​are in my opinion an uncompromising quality claim and the search for simple perfection in form. Luckily I could find exactly these qualities in the new Blomus collection at a press event in Hamburg.
"International orientation – German design with nordic influences"
When I visit a design museum that displays Design Made in Germany of the Art Nouveau and Bauhaus eras, I easily recognize many of the features and shapes that are oft beeng seen in current collections of Nordic design brands. Isn't this a small reminder about Germany sharing a unique design history with their Scandinavian neighbors.
This history comes into its own realisation when we choose the idea of ​​cooperation over pure competition as a guiding philosophy. That's exactly what happened to Blomus and the result is impressive. The beautiful collection of home accessories, impress both by their practicality, as well as by their attractive and striking design.

Recently, Blomus opened a branch in Copenhagen and brought a Danish creative director on board. Charlotte Thorhauge Bech enriches Blomus' new product ranges with her understanding of the Scandinavian aesthetic.

In the following pictures of the Danish stylist Marie Monrad Graunbøl  and photographer Line Thit Klein, the aesthetic highlights of the new collection from Blomus impressively come into light.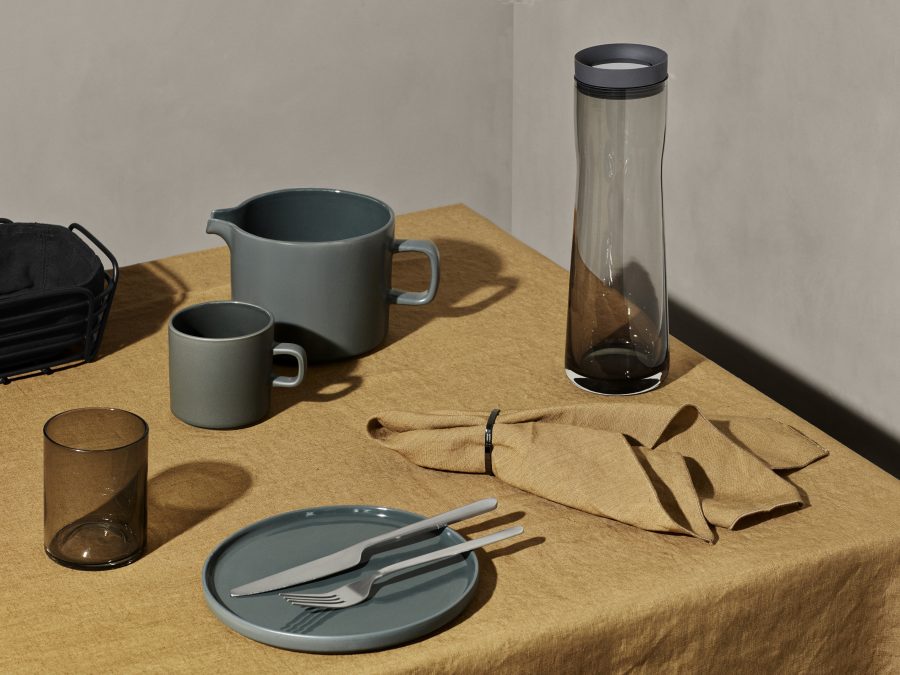 Here are the current design elements inspired by the new Blomus collection:
Materials:
Ever since the company was founded, stainless steel has been the material for which Blomus was known. Stainless steel, which could be perceived by some as a cold material, can still be transformed into organic forms full of feminine gentleness and grace. Blomus still appreciates this special material and creates wonderful products with it. The more variety of materials are combined, the more the properties of stainless steel come into life. Therefore Blomus extends its product range to elements such as stoneware, cork, linen, concrete and wood.
Expressive colors with an influence from Nordic Design
At the heart of Blomus's design philosophy is modern simplicity, which is based on restrained forms with warm and sensual details. So far we know Blomus in terms of color, as a somehow monochromatic brand, which shows the beauty of light and shadow. Nevertheless, the modern color palette of Nordic design has now embraced Blomus. It's the warm, understated yet expressive colors that are matched with seasonal trends that underline the timeless elegance of the stainless steel.
Scandinavian influence that fits our German heritage.

The result of the combination of Nordic minimalism and German sense of quality and craftsmanship, a new series of Blomus products, which will certainly give many people around the world much joy."

"If you don't know
your past, you will get
lost in the future"

– We are grateful for our history and use it as a guide in today's era of great opportunity and exciting innovation. "

– Willo Blome, CEO Blomus
About Blomus:  German Consumer Goods & Product Design  Brand Run by the fourth generation of the Blome family in the town of Sundern in the North Rhine-Westphalia region of Germany. The family business was established in 1921 as a manufacturer of bicycle parts, and in 1961 they branched out into gifts and design items, locally produced from copper, brass, pewter, and stainless steel. Year 2000 marked another shift in the history of Blomus Brand, when the name blomus was chosen, and the visionary design brand of today was born.  www.blomus.com
Text: Valerie Schoeneich / Images: stylist Marie Monrad Graunbøl and photographer Line Thit Klein
German Version – New Blomus Collection – Design Made in Germany with" nordic influences