Insta Home #2 : @zweidesign comfortably luxurious home with a touch of architecture and sophistication.
Many of us hold that dream of a perfect apartment / home for us. Many factors such as the overcrowded real estate market, finances, life circumstances may pave our way to find that dream home as a somehow long path to follow. Some of us settle for what we can get. And some of us turn what we can get into a comfortable beautiful home with the fitting interior design. Today I spoke with Talitha Baindridge from the interior and product design duo ZWEI Design about interior design ideas that help us turn a small simple apartment into a comfortable design home. One of Thalithas ideas for a small apartment for example, is "zoning" – setting inviting comfort areas with the right accessories and furnitures. Join our conversation below to discover more.
Designsetter: Dear Talitha, thank you for sharing your home story with us. Would you like to shortly introduce yourself?
Talitha Baindridge: Of course, I would love to. My name is Talitha Bainbridge and I am part of the interior and product design label ZWEI Design. I am 29 years old and married to Michael Bainbridge. I grew up in the tri-border region and love this region very much. The tri-border region and above all Basel (CH), the Black Forest (D) and the Alsace (F) are very influential in my work.
Designsetter: Please tell us the story of your current home. How did you find / build it? What drew you to it? How long do you live in this house / apartment?
Talitha Baindridge: When I started studying at the age of 20, Michael and I were looking for a shared first flat, which was central enough between my college and Michael's work. As a student, our budget was more than limited. We were looking for a small apartment, which was a bit outside in the nature. At that time we did not have the luxury to choose an apartment to our liking. We found a 45 sqm ground floor apartment with a small garden, built in the typical style of the 90s. Few windows, woodchip wallpaper and laminate floor. Actually, in no way was this what design lovers would imagine as a "beautiful" apartment. However, since Michael and I are both very creative, we took these circumstances rather as a creative challenge.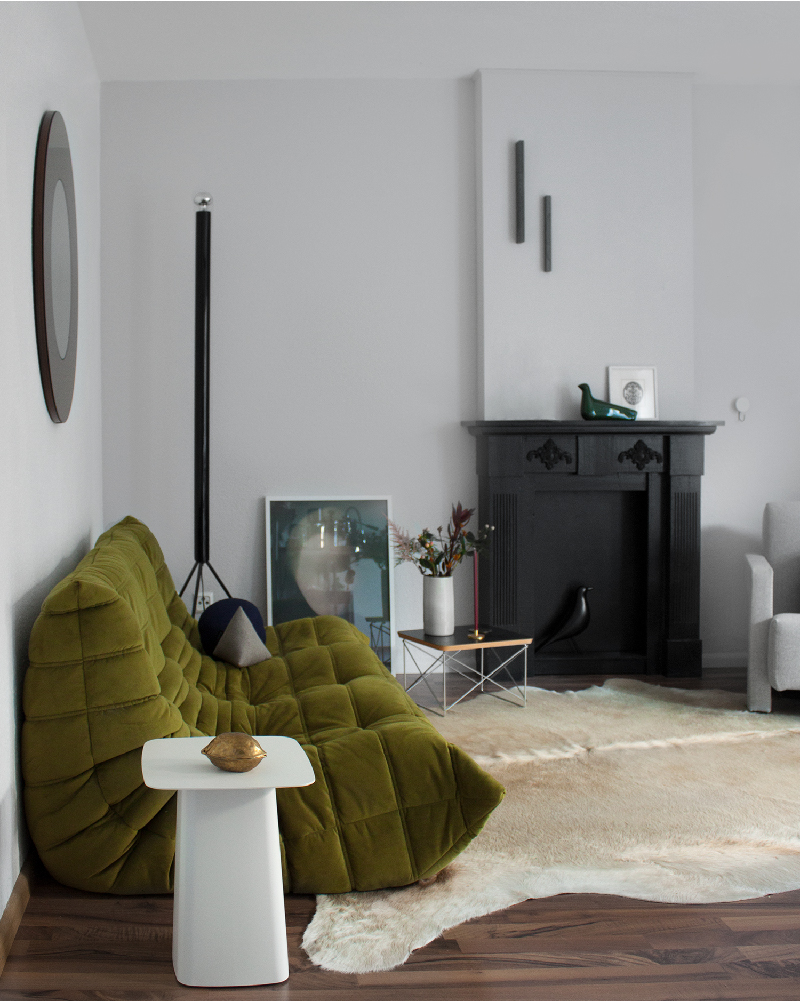 Designsetter: Can you describe the layout of the home?
Talitha Baindridge: Our apartment has a relative simple layout. We have a corridor in which most of our storage space is located, a spacious bathroom a living / kitchen / dining room and a bedroom. Everything framed in 45 sqm.
Designsetter: How would you describe your living style and design philosophy?
Talitha Baindridge: Oh, that's not an easy question. I think in the first place it is my desire to turn a living space into a home. Our home is my retreat for me. I need an environment where I feel good and that inspires me. I am an extremely visual person, meaning that my surroundings must inspire me visually and tactfully. In our own home, we try to achieve this by creating "zones" and using textures and materials. "Zoning" means to create different areas in a small space that serve specific purposes. From the reading corner to the coffee station, we try to create a clear division of a space to make this comfortably luxurious. It was very important to us to give our home a touch of architecture and sophistication. For this purpose, we have built a "fake" fireplace and created several levels with a curtain wall in the room. So it would appear more complex and interesting. In terms of color, I like to think that I am a bit more neutral with gray, white and beige and natural tones. However, I love the punctually used contrast. Here is our black fireplace and green velvet Togo sofa. In a small space both are true "focal points" for me. In addition, I try to use materials that are rich in texture in order to create a layered feeling in the room. Of course there are also things that I do not like about our apartment. For example, I would like to exchange our floor. I usually find the floor (and the light) the most important design aspect of a room. The floor creates a basic feeling in the room. He is, so to speak, the stage on which everything else is built up. However, since we are so slowly looking for a slightly larger apartment, we have come to terms with our current ground. All the more I am happy to be able to lay a wooden floor in our future apartment.
Designsetter: And what "zone" in your home is your favourite?
Talitha Baindridge: My favourite corner at home at the moment is definitely our Utrecht Chair – I love to sit and read or curl up with a cup of coffee here. I love starting my day here as a morning ritual.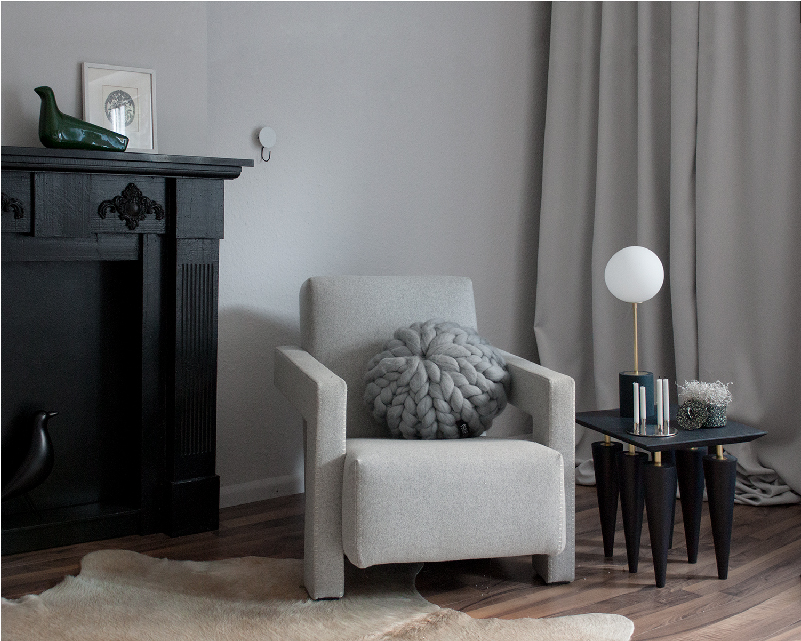 Designsetter: What atmosphere do you like to create at home with your interior styling?

Talitha Baindridge: I try to create with a combination of rich textures, inspiring clear shapes and calm colors. A home that visually rich but atmospheric soothing. A place that inspires on the one hand and creates space for rest on the other. I am interested in finding objects, materials and colors that harmonise but have individual expression. Whenever I buy a piece of furniture or an object, it is important to me that it can work alone in a room and yet integrate itself well and harmoniously into an overall structure.
Designsetter: How do you achieve the desired feeling with your interior?
Talitha Baindridge: More and more I realise that I am not interested in trends but in a style. Of course every season I like new colors, shapes and objects. However, I deliberately often decide against buying "nice things" and wondering "how long will I like that?" In a small apartment you do not have the luxury of having many things around. Therefore, everything that moves in with us must be really and for a long time! I decided to invest rather than buying mass. Especially in interior design, one trend chases the other. The mass of products that come on the market every year slays me! So I try to reflect exactly what my style is and what colors and materials have been pleasing me for years. Meanwhile, I know exactly which design language suits me, with which colors I feel comfortable and which materials tactically and visually inspire me. So I have a kind of control mechanism after which I pick out new furniture or objects.
Designetter: Where do you draw inspiration?
Talitha Baindridge: The origin of my inspiration is often what I deal with in everyday life. The four walls we live in is ultimately a reflection of ourselves. Therefore, taste and style evolve constantly. The choice of my clothes, for example, is an indicator of the colors and patterns that I like in the interior. Also, there are often current topics I deal with that serve as inspiration. Be it traveling, crafts, music, etc. Different topics automatically influence my design decisions in my own four walls. And of course Instagram, blogs and podcasts are a great source of inspiration for me. I have also discovered completely new Japanese and Spanish films. The spatial language in these films is often something completely new to us and very inspiring.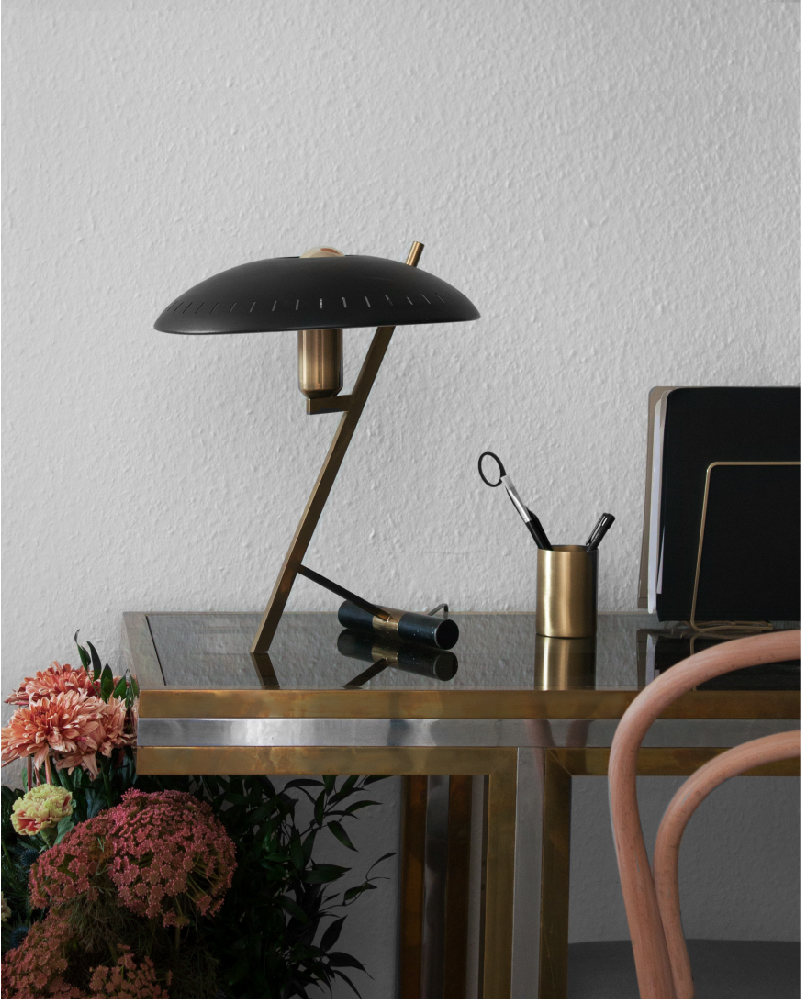 Designsetter: Talitha, your home is filled with your own designed objects. Where some of the designs first developed for your own home before you made them available for the market?
Talitha Baindridge: All of our products have started like this. We are, so to speak, the product design so stumbling upon it. It all started with our AC Globe lamp. In 2016, we wanted to buy a table lamp and just did not find anything that appealed to us. That's why we just tried it ourselves with a design. After a year of prototyping and trial and error, we then produced our first small-time edition at the end of 2017. After this process we were eaten. After the lamp had then also the right table to the lamp ago, which has led to the B-A-L Occasional Table. Our stand-up candlesticks were inspired by a trip in southern France where we found hand-drawn thin stick candles. I was very excited about the thin and elegant candle shape, so I had to take it with me. Arriving home, we noticed that there are no candlesticks for such candles. So we just designed one ourselves … You see, each of our designs is very personal and very much reflects our personal life.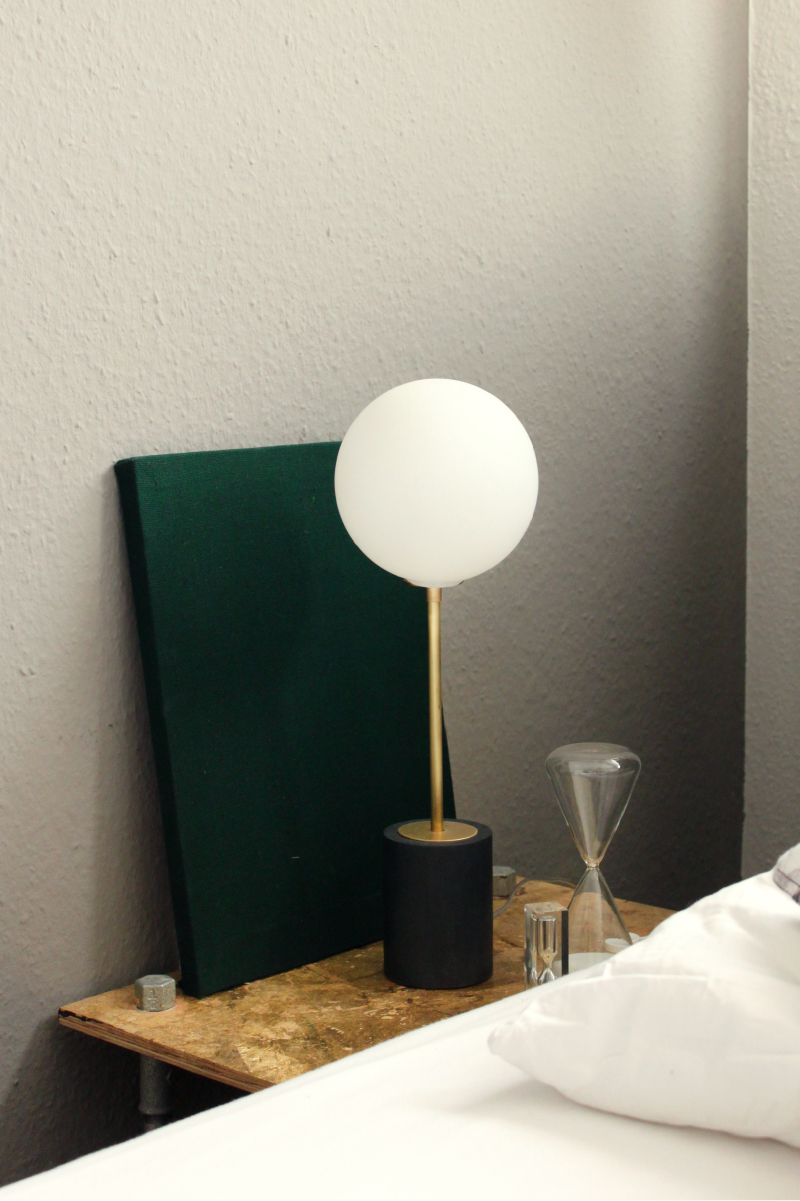 Designsetter: What are the other sources for your decor objects/furniture? Favorite pieces to achieve this look?
Talitha Baindridge: Of course, as a designer you have your own favorite designers. I love pretty much all the designs of Gerrit Rietveld, Jean Prouve, Pierre Jeanneret, Charlotte Perriand and Serge Mouille.
I believe what distinguishes all these designers is the lightness of their objects, a reduced clear design language and the deliberate use of materials. Also, all of these designers seem to have chosen a rather reduced and natural color palette. I think fascinating designs that are not too loud. They do not scream for attention but radiate a certain calm and restraint. Incidentally, my favorite furniture is our Utrecht Chair, which was on my wish list for a very long time. And one day I would like to have a picture of On Kawara. One may still have dreams 🙂
Designsetter: You have a subtle and creative Christmas decor at home. Can you tell us more about it? Do you experiment each year with new Christmas decor ideas or stick to one favourite look?
Talitha Baindridge: This year we decided against a Christmas tree. Because we have so little space we would have to put away a few pieces of furniture. Therefore, we decided to build a kind of "wall hanging" out of branches. We have placed this installation next to our fireplace to keep a "focal point" in the room. We then decorated this installation with our minimalist tree decoration. I do not know yet if I try something new every year, but it will definitely continue to be reduced and focused. I'm not a friend of it at Christmas time to "redecorate" the house I love our apartment as it is, so why should I change it so much 🙂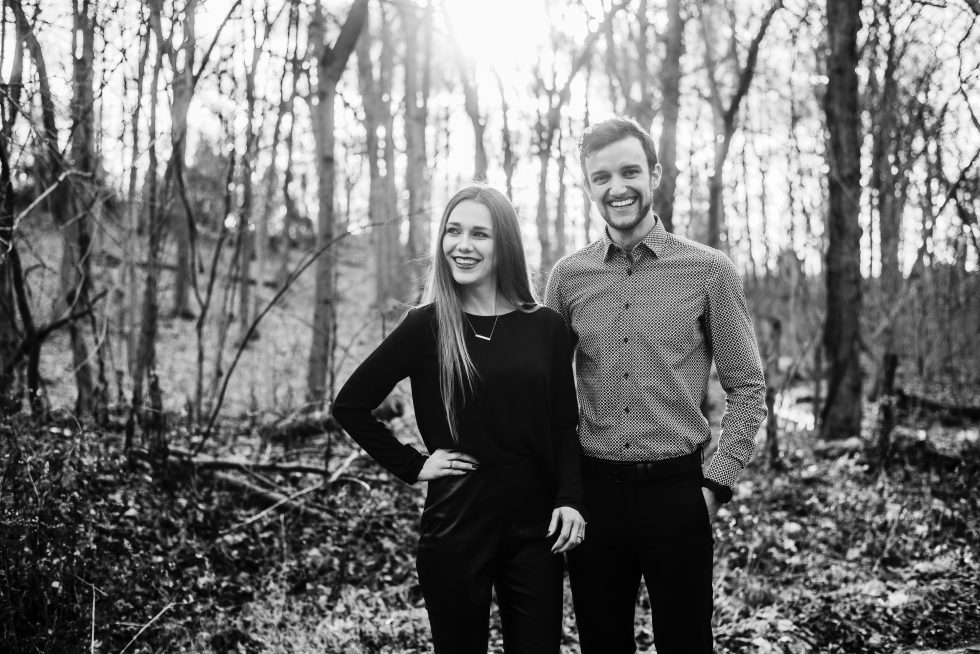 Talitha and Michael Bainbridge are a German and American design couple working in the fields of interior design and small furnishings. You can find Talitha and her Michel in their studio, on instagram and the ZWEI Design Products in their shop.
Interview and Text: Valerie Schöneich /Images (c) ZWEI Design