EN:
The philosophy of Dieter Rams has been shaping the minimalist design culture worldwide for a long time. Fortunately, it has also created a legacy for German design as well. Nowadays this philosophy of reduced design is being celebrated by young companies in Germany with products created for the new generation of the modern minimalist design trendsetters. The Kapten & Son Pure watch is both beautiful and practical at the same time, adapting itself to every outfit and interior scene.
"Can you please tell me what time is it?" An elderly lady asked me on the street. With her question, she shook me out of a thought cloud in which I was while being glued to my smartphone screen. "Oh you're not wearing a watch, sorry, did not see it," she said with a smile and wanted to leave. "Wait, I have the time on the smartphone, it is quarter past 3" I answered. "Oh, what strange things are possible today, seeing the time on a screen" she smiled. At that moment, for the first time, I consciously noticed that I have not worn a wrist watch for a long time. Why? Previously, watches were considered as a beautiful accessory, almost like a piece of jewellery. Perhaps because the beautiful wrist watch with golden elements I got as a present for the birth of my child, engraved with  "in good times arrived" felt a bit over decorated to be worn everyday? Or perhaps because I belong to this generation, which is characterised by the urban lifestyle in the big cities, a generation which spends much time in the digital world. In this world, the time seems to be raging.
I'm glad that much have been changing in the design world and in addition to the luxury watches, there are also brands exist today, who individually design products for the minimalisticly conscious aesthetes for a price one can afford. And I am even more glad that these brands where born here in Germany and that the legacy of the philosophy of Dieter Rams gets a modern interpretation these days.
I remember the Saturday when I was waiting with anticipation for the post to come and bring me the package from Kapton & Son. I was excited to try this Kapton & Son Pure watch and to wear it to the planned city trip, matching it to my minimalistic wardrobe. The enthusiasm increased as I discovered the black packaging and the minimal black clock with the reduced to the essentials design in it. I like the idea of ​​this design – the clock is just there to tell us the time. It does not dictate what we have to wear to match to it, neither it dominates the room when it is left on the side table. It adapts to my minimalist space atmosphere and to everything I wear. Maybe psychologists helped to develop the design? It is perfectly unisex – so I can share it with my partner now and then. As it is said: "sharing is caring" – an attitude which strengthens the human relationship.
For me, every time I look at this watch, it reminds me of what time really means to me nowadays – to focus on the essentials and to leave a lot of space for new ideas and adventures.
What are your thoughts about time? Do you still wear a wrist watch these days?
DE:
Die Philosophie von Dieter Rams hat die minimalistische Designkultur weltweit geprägt. Dies hat auch zum Glück ein Erbe des deutschen Designs hinterlassen. Heutzutage zelebrieren diese Philosophie von reduziertem Design auch junge Unternehmen in Deutschland mit Produkten für die neue Generation des Minimalismus der modernen Trendsetter. Die Kapten & Son Pure Uhr ist wunderschön und praktisch zugleich, passt sich zu jedem Outfit und Interiorszene an. 
"Kannst Du mir bitte sagen, wie spät es ist?" hat mich eine ältere Dame auf der Strasse gefragt. Mit Ihrer Frage hat sie mich wie aus einer Gedankenwolke rausgerissen, in der ich zu meinem Smartphonescreen geklebt war. "Oh du trägst keine Uhr, entschuldige, habe es nicht gesehen" hat sie mit einem Lächeln gesagt und wollte schon weitergehen. "Warten Sie, ich habe hier die Uhrzeit auf dem Smartphone, es ist viertel vor drei " rief ich hinterher. "Oh was es heutzutage nicht gibt" lächelte Sie weiter. In dem Moment habe ich es erst bewusst bemerkt, dass ich seit langem keine Uhr mehr trage, warum eigentlich? Früher waren Uhren ein schönes Accessoire, fast ein Schmuckstück. Vielleicht weil die wunderschöne Uhr mit Goldelementen, die ich als Stolz zur Geburt meines Kindes mit einer Widmung "in guten Zeiten angekommen" bekommen habe, mir für jeden Tag manchmal eiwenig zu dekorativ ist? Oder vielleicht, weil ich zu dieser Generation gehöre, die vom urbanen Lifestyle in den Großstädten geprägt und viel in der digitalen Welt Zeit verbringt? Hier scheint die Zeit oft davon zu rasen.
Da bin ich froh, dass vieles sich verändert. Zusätzlich zu den Luxusuhren gibt es heute auch Marken, die individuell auf die minimalistisch bewussten Ästheten, für einen Preis den man sich leisten kann, Uhren gestalten. Und ich bin vor allem froh, dass diese Brands hier in Deutschland entstanden sind und das Erbe der Philosophie von Dieter Rams eine moderne Interpretation schenken.
Ich erinnere mich an den Samstag, als ich mit Vorfreude auf die Post gewartet habe, um mir diese Kapton & Son Pure Uhr anzuprobieren und zu dem geplanten Stadtausflug passend zu meiner minimalistischen Garderobe zu tragen. Die Begeisterung steigerte sich, als ich die schwarze Verpackung öffnete und die Uhr in der Box, wie aus einem geschmolzen, mit dem reduzierten Zifferblatt und auf das Wesentliche reduziert, entdeckte. Ich mag die Idee dieses Designs – die Uhr ist einfach da, um uns die Zeit zu sagen. Sie diktiert nicht, was wir passend dazu anziehen müssen oder dominiert nicht den Raum, wenn sie auf dem Beistelltisch liegt. Sie passt sich zu meiner minimalistischen Raumatmosphäre und zu allem was ich anziehe an. Vielleicht haben da auch Psychologen bei dem Entwurf mitgeholfen? Das Design ist perfekt Unisex – so kann ich es mit meinem Partner ab und zu teilen und wie man es auf Englisch so sagt "sharing is caring" – was die menschliche Beziehung stärkt.
Für mich, jedesmal wenn ich diese Armbanduhr ansehe, erinnert sie  mich an dass, was Zeit für mich heutzutage bedeutet – auf das Wesentliche sich zu fokussieren und viel Raum für neue Ideen und Abenteuer zu schaffen.
Und wie es ist für Euch? Welchen Gedanken habt Ihr bezüglich der Zeit? Tragt Ihr noch eine Armbanduhr?
Text, Styling & Images: Valerie Schoeneich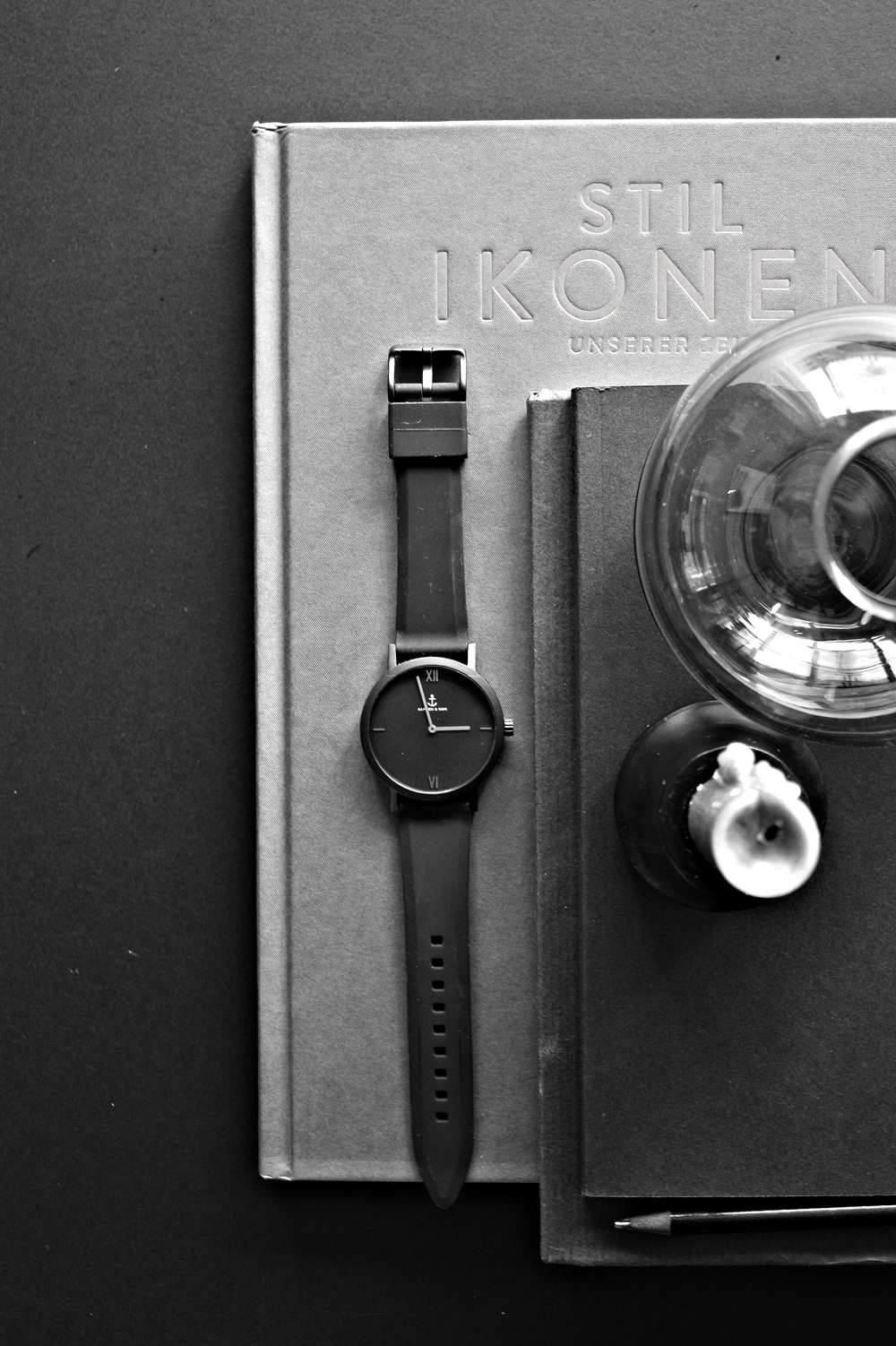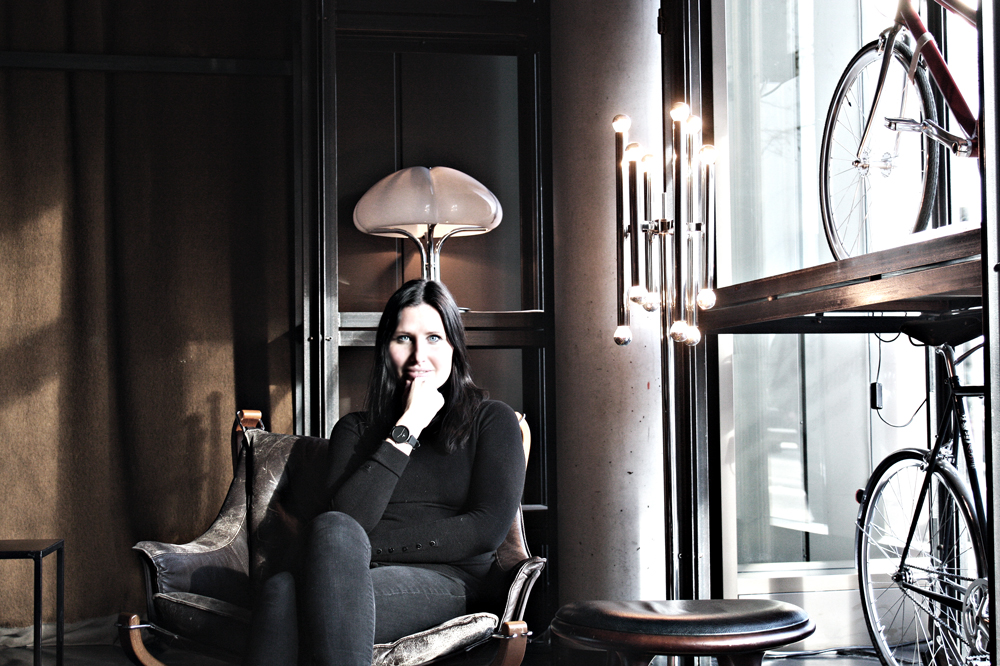 Don't be perfect. Be pure!
In Collaboration with Kapten & Son – Concept, Art Direction, Styling, Images, Text: Valerie Schoeneich