EN:
This dwelling is located in the city of Vaasa, Finnland. From here starts the ferry to Umea representing the shortest boat connection between Finland and Sweden. The city itself is bilingual  where 69.8 % of population are speaking Finnish and 25.8 % speak Swedish. A city filled with many preserved turn of the century European old buildings, old trees, parks and a small lake. Located in such a turn of the century building is this apartment and presents a very interesting mix of interior elements. I chose this apartment as the interior inspiration for this week because it shows us an example of bold freedom to mix styles with the right amount of elements. It also shows us that relatively a small interior space (this apartment has a living room, one bedroom, kitchen and balcony) using the harmonizing elements can be turned into a cosy, chic living place.
The dark walls and floors are setting a wonderful background to the shining deco elements and the contrasting white features and furnishings.  Small flacons, vases, candleholders, lamps and set an atmosphere of an old Hollywood glamour but in unobtrusive restrained way. The amount of furniture is minimal but just right, giving this apartment more free space. Each element here has a purpose and the perfect visual stimuli.
For me personally the highlight ist the built in wardrobe space within the bedroom. How clever and beautiful this built in shelf for bags, decor and bags?
DE:
Diese Wohnung befindet sich in der Stadt Vaasa, Finnland. Von hier aus startet die Fähre nach Umea als kürzeste Schiffsverbindung zwischen Finnland und Schweden. Die Stadt selbst ist zweisprachig, wo 70% der Bevölkerung Finnisch und 26% Schwedisch sprechen. Es ist eine Stadt mit vielen erhaltenen Gebäuden aus der Gründerzeit, alten Bäumen, Parks und einem kleinen See. Und in einem solchen alten Gebäude findet sich diese Wohnung mit einer sehr interessanten Mischung aus Interieur-Elementen. Ich habe mich für diese Wohnung als Inspiration der Woche entschieden, weil es ein Beispiel für mutige Freiheit ist, verschiede Stile mit der richtigen Menge an Elementen zu mischen. Es zeigt uns auch, dass sich auch relativ kleine Innenräume, diese Wohnung verfügt nur über ein Wohnzimmer, Schlafzimmer, Küche und Balkon, unter Verwendung der richtigen harmonisierenden Elemente, in eine gemütlichen, schicken Wohnort verwandeln kann.
Die dunklen Wände und Böden setzen einen wunderbaren Hintergrund für die glänzenden Deko-Elemente und die kontrastierenden weißen Funktionen und Ausstattung. Kleine Flakons, Vasen, Leuchter, Lampen stellen eine Atmosphäre im Stil des Hollywood-Glamours her, das aber in sehr unauffälliger, zurückhaltender Weise. Die Menge der Möbel ist minimal, aber genau richtig, um dieser Wohnung mehr Freiraum zu geben. Jedes Element hat hier einen Zweck und erzeugt den perfekten visuellen Reiz.
Für mich persönlich ist das Highlight das in die Wand eingepasste Regal im Schlafzimmer. Wie klug und schön dieses für Taschen, Dekor und Schuhe ist.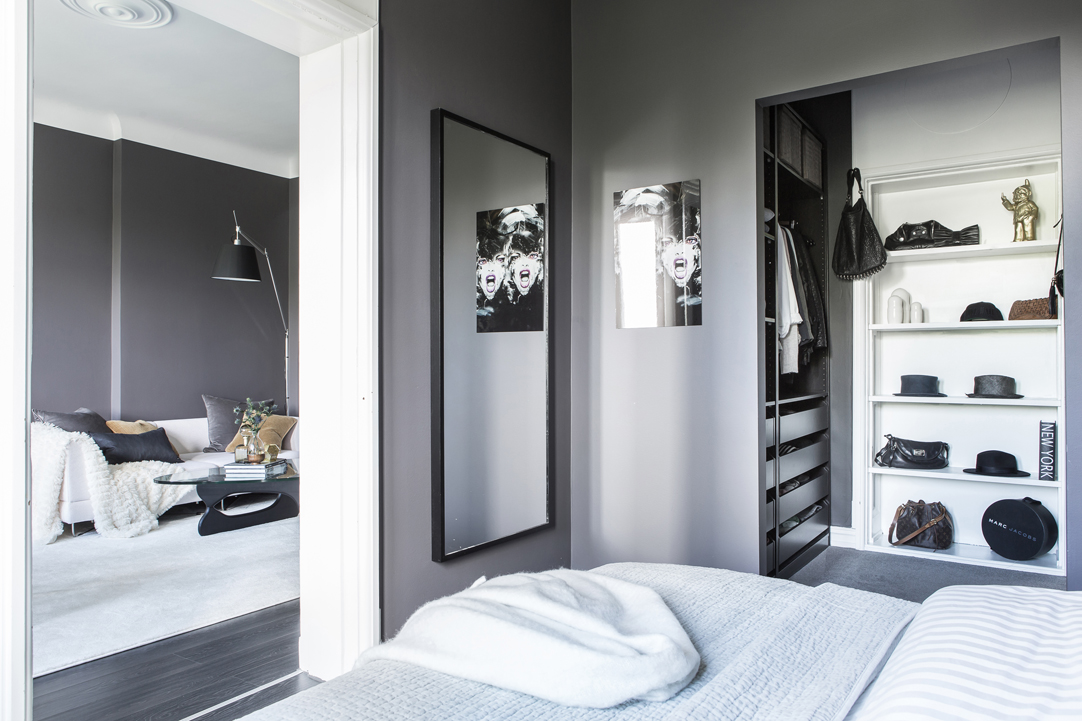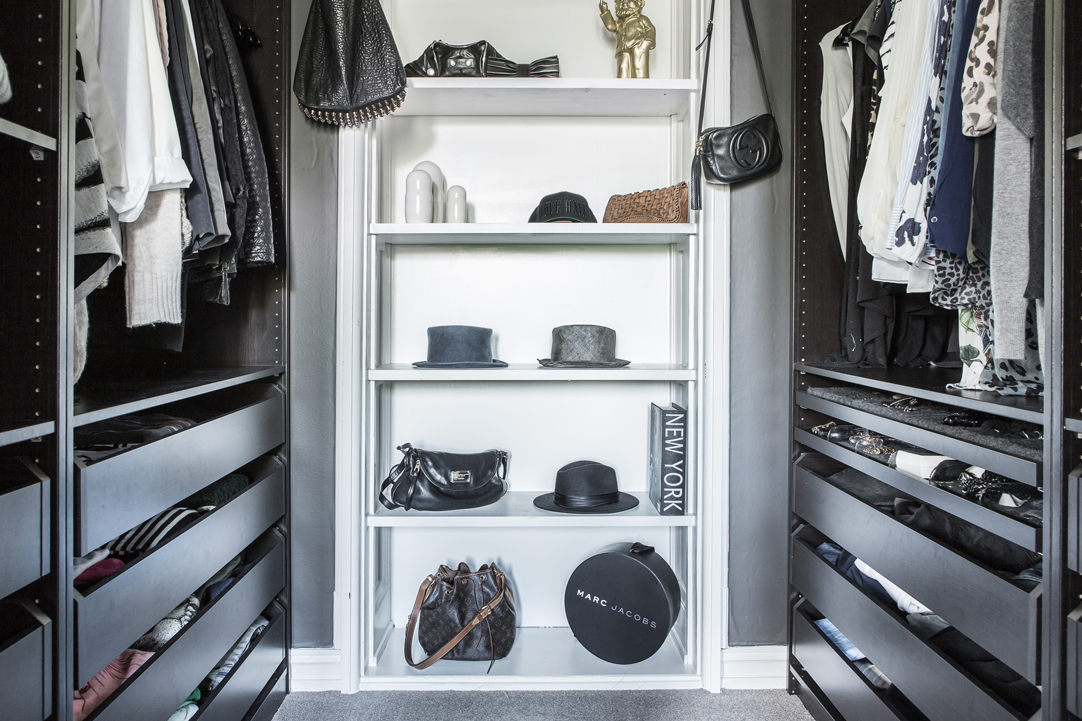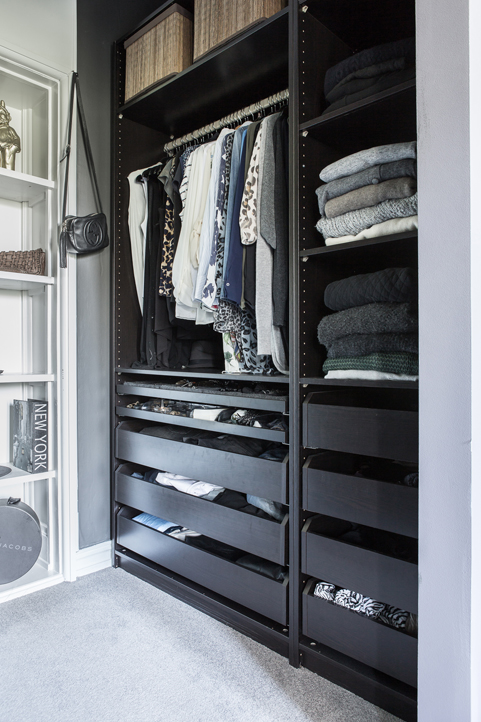 What do you like the most in this deco arrangement? What inspiration would you apply from this styling for your own living space if you could? Feel free to share in the comments section bellow or on
designsetter facebook page
.
Was gefällt Ihnen am meisten in dieser besonderen Interior/ Dekorationsanordnung? Welche Inspiration  nehmen Sie mit, könnten Sie ihren Raum so gestalten? Seien sie inspiriert und teilen Sie offen Ihre Eindrücke. Teilen Sie gern hier in Kommentarren oder auf
Designsetter Facebook Seite
.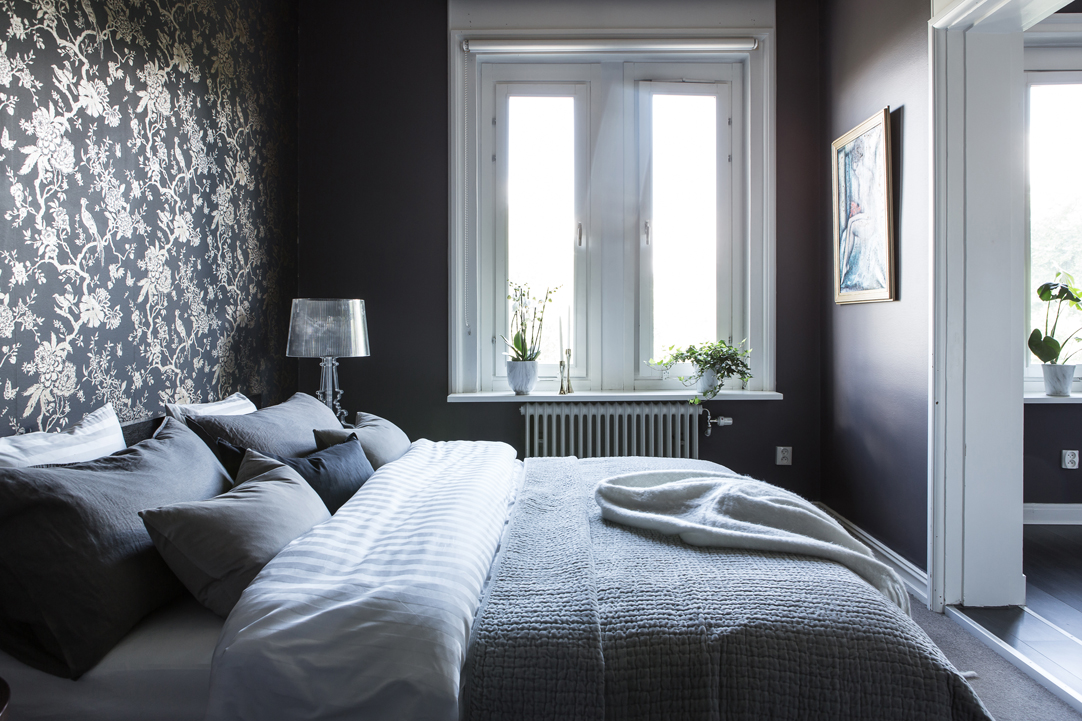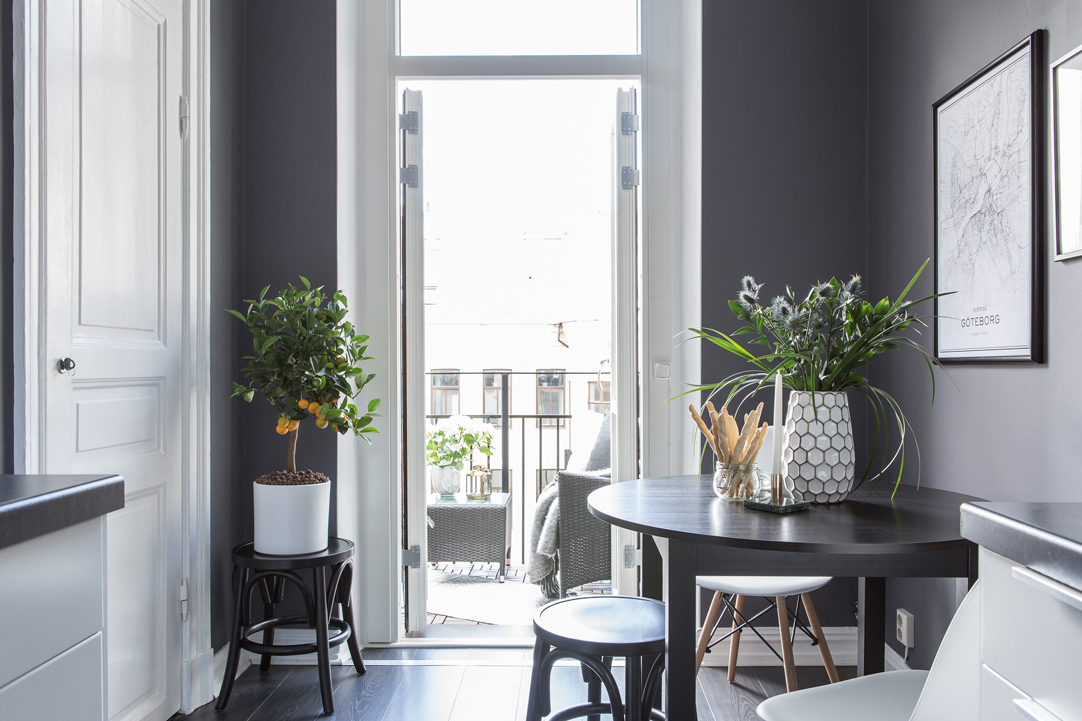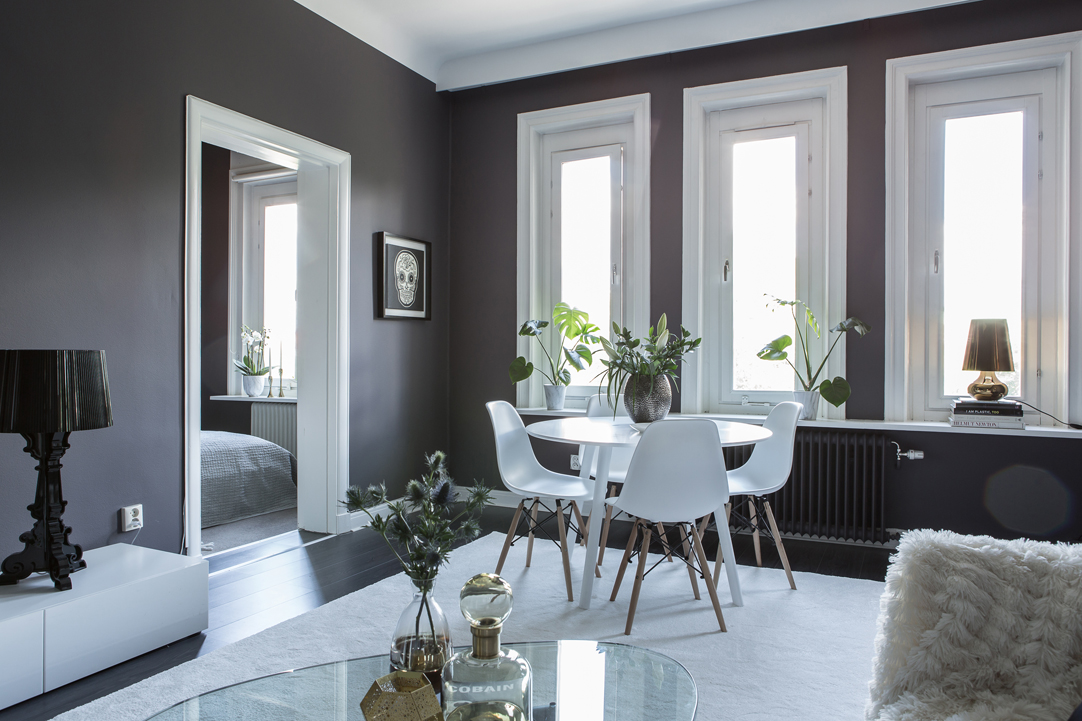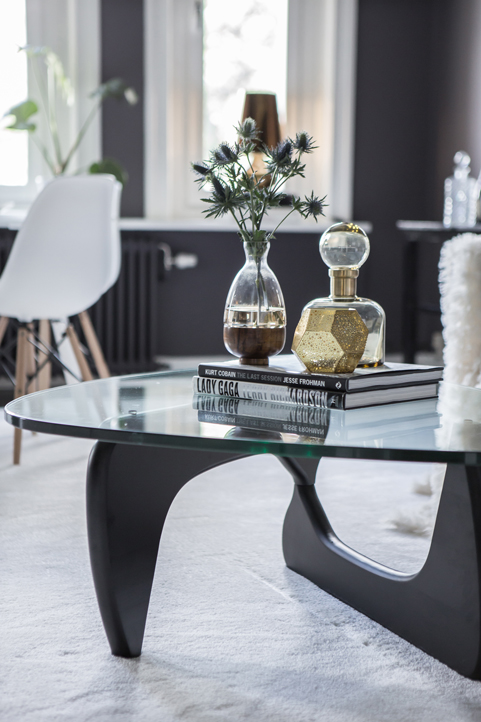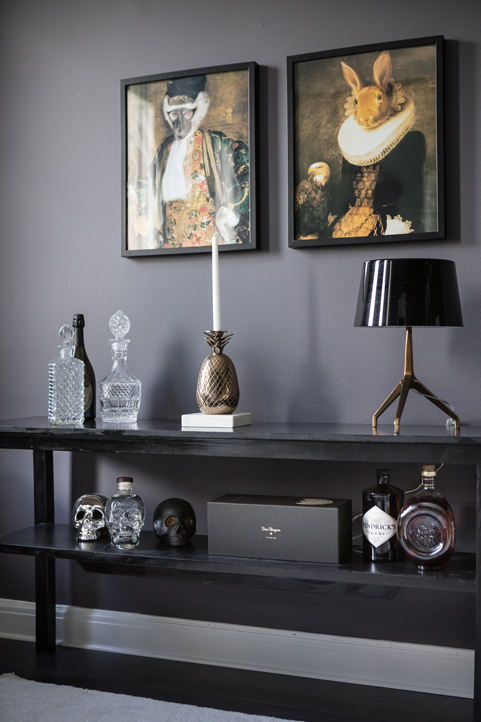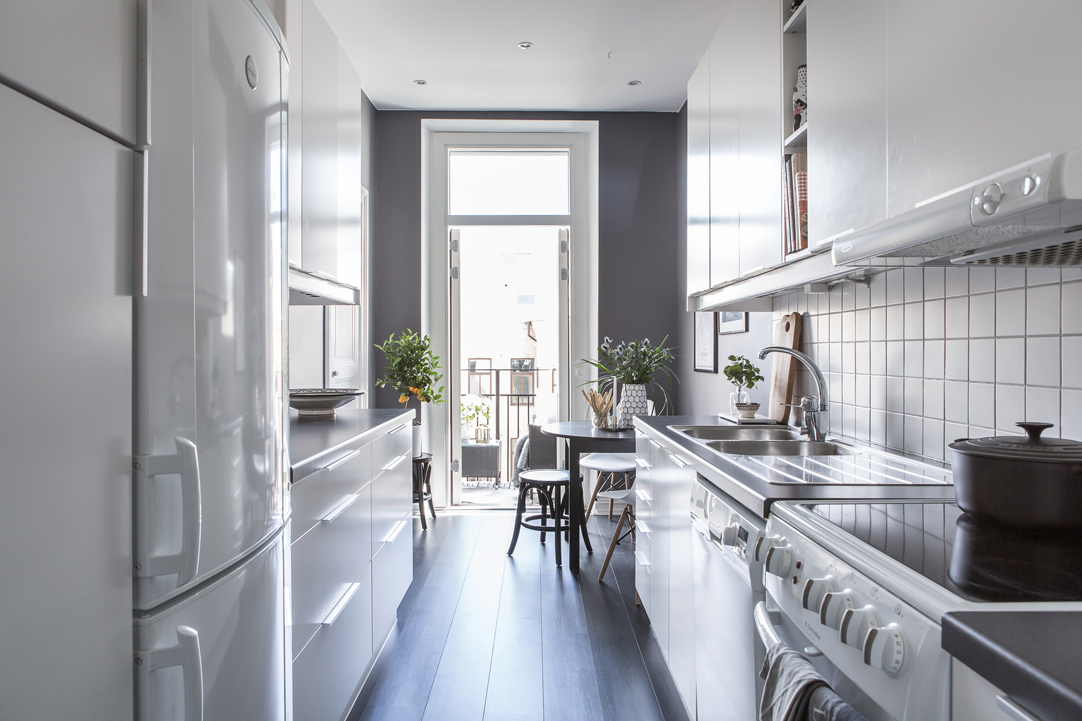 Images / Bilder via Alvhem