EN:

Today, I want to show two interior design projects that in my opinion, stand for excellence in interior design. Both are the creations of Studio GamFratesi – whose work I truly admire and respect. 

To work on a branding and interior styling for restaurants and cafes is one of the considerable aspirations in my design career. Looking at such projects proves to me how with a clever use of color schemes and the attributes of textures and materials, we can create various spectrum of impressive interior atmospheres.

Paris. The Avenue des Champs-Élysées is one of the renown streets featuring high end cultural and shopping venues, as well as being the finishing point of the Tour de France cycle race. It is also the address of La Maison du Denmark ( House of Denmark ) – a home and exhibition place of the Danish culture.

The house is furnished in classical and contemporary Danish design style by designers such as Arne Jacobsen, Poul Kjærholm, Poul Henningsen, Nanna Ditzel, Hans Sandgren Jakobsen and Boje Estermann.

Nonetheless, one of the fascinating highlights of this place for design enthusiasts is probably the two one of the kind interior spaces – flora danica brasserie and the copenhague restaurant, the interior project by Studio GamFratesi. In the restoration of La Maison du Danemark, GamFratesi try to embrace different Danish brands in order to express a combination of contemporary and classic Danish design and philosophy.

Contemporary items coexist in the space with classic mid-century Danish design pieces in a natural way. Furniture, lighting, cutlery, textile and decorative are produced by Danish manufactures or selected among vintage pieces.

The two restaurants express two different personalities, according to their functions: Flora Danica as high-end brasserie and Copenhague fine dining.

What I love the most about this interior styling, are the color themes – merging one main color (Green for Flora Danica and Blue for Copenhague) with the grey hues. The color scheme for Copenhague, creates an intense and intimate atmosphere in dark blue hues, adding one colourful contrast – the only touch of white, a series of white porcelain plates made of special edition in collaboration with Royal Copenhagen and GamFratesi. The white color brings attention to a culinary experience in a sharp contrast between the refined Danish cuisine and the intense interior atmosphere.
DE:
Heute möchte ich zwei Interior Design-Projekte zeigen, die meiner Meinung nach für Exzellenz in der Innenarchitektur stehen. Beide sind die Kreationen von Studio GamFratesi – deren Arbeit ich wirklich bewundere und respektiere.
An einem Branding und Interior Styling von Restaurants und Cafés zu arbeiten ist eines der grössten Bestrebungen in meiner Design Karriere. Die Betrachtung solcher Projekte beweist mir, wie wir mit einem cleveren Einsatz von Farbschema und Attributen von Texturen und Materialien verschiedene Variationen von beeindruckenden Innterioratmosphären schaffen können.
Paris. Die Avenue des Champs-Élysées ist eine der renommierten Straßen mit High-End-Kultur- und Einkaufsmöglichkeiten, sowie der Zielpunkt der Tour de France. Es ist auch die Adresse von La Maison du Danemark (Haus von Dänemark) – ein Haus- und Ausstellungsort der dänischen Kultur.
Das Haus ist im klassischen und zeitgenössischen dänischen Designstil von Designern wie Arne Jacobsen, Poul Kjærholm, Poul Henningsen, Nanna Ditzel, Hans Sandgren Jakobsen und Boje Estermann eingerichtet.
Dennoch ist eines der faszinierendsten Highlights dieses Platzes für Design-Enthusiasten wohl die Innenraumarchitektur der Flora Danica Brasserie und des Copenhague Restaurants, das Interiordesignprojekt von Studio GamFratesi. Bei der Restaurierung von La Maison du Danemark versucht GamFratesi verschiedene dänische Marken zu integrieren, um eine Kombination aus zeitgenössischem und klassischem dänischem Design und Philosophie auszudrücken.
Zeitgenössische Gegenstände koexistieren im Raum mit klassischen Mitte-Jahrhundert Design-Stücken auf natürliche Weise. Möbel, Beleuchtung, Besteck, Textil und Dekoration werden von dänischen Herstellern produziert oder aus Vintage-Stücken ausgewählt.
Die beiden Restaurants drückten zwei verschiedene Persönlichkeiten aus, gemäss ihren Funktionen: Flora Danica als High-End-Brasserie und Copenhague als Ort des "Fine Dining".
Was ich am meisten hier bewundere, sind die Farbthemen, die eine Hauptfarbe (Green für Flora Danica und Blue für Copenhague) mit grauen Farbtönen verschmelzt. Das Farbschema für Copenhague schafft eine intensive und intime Atmosphäre in dunkelblauen Farbtönen und fügt einen bunten Kontrast hinzu – der einzige Hauch von weiß, eine Reihe von Porzellantellern der Sonderausgabe in Zusammenarbeit mit Royal Copenhagen und GamFratesi. Die weiße Farbe bringt Aufmerksamkeit auf ein kulinarisches Erlebnis in einem scharfen Kontrast zwischen der raffinierten dänischen Küche und der intensiven Interioratmosphäre.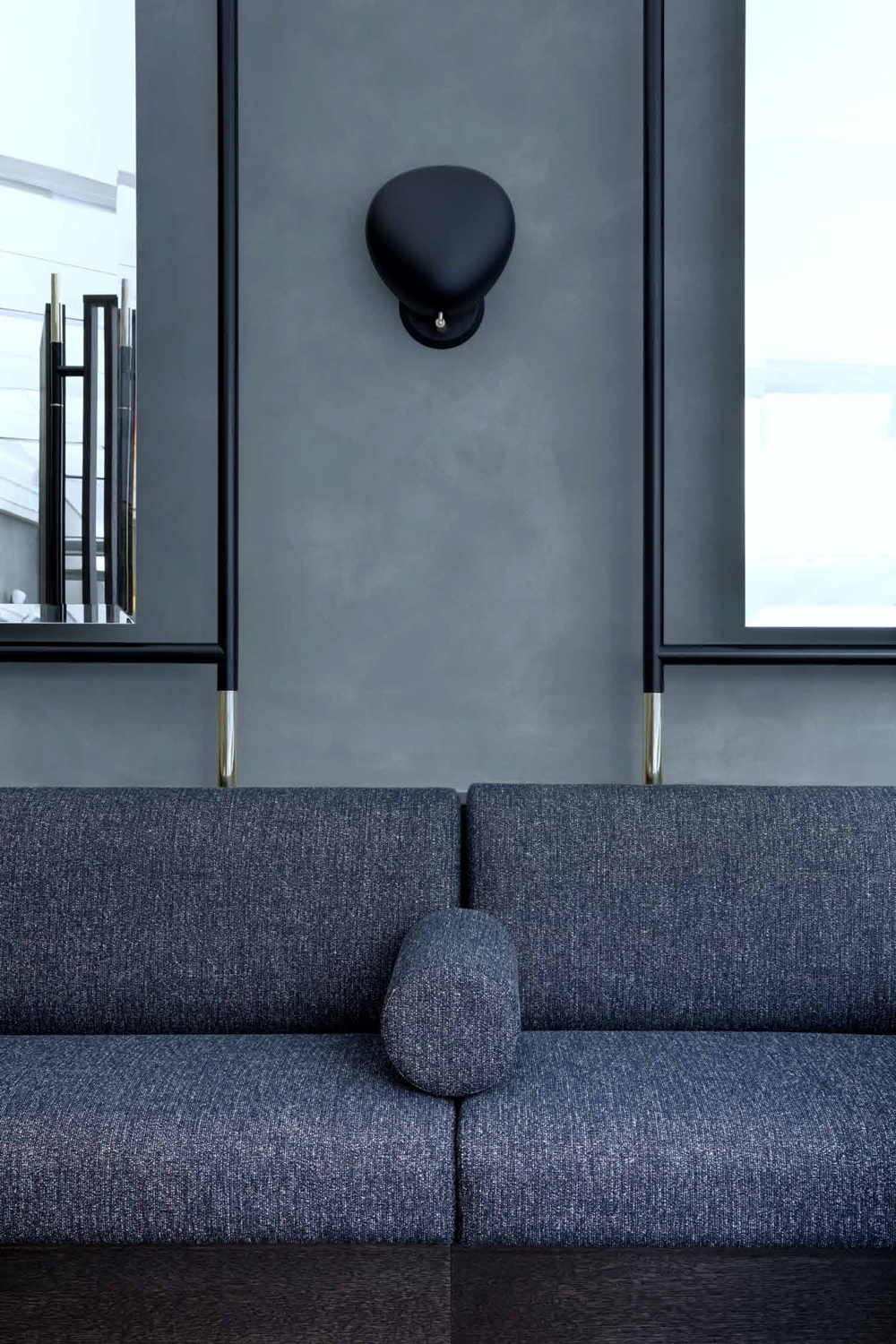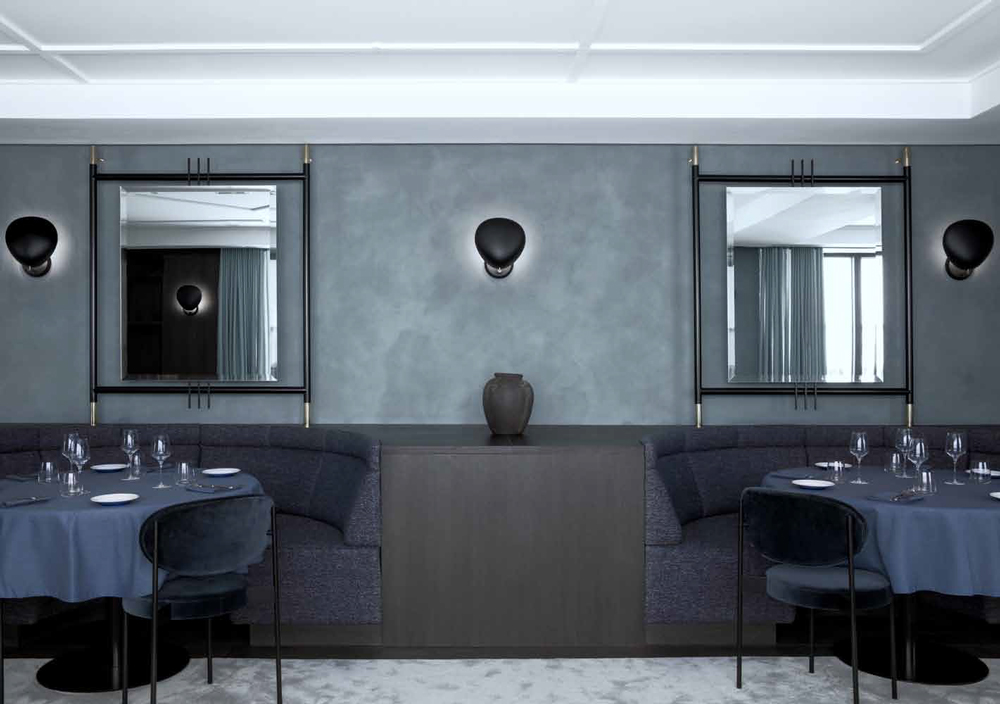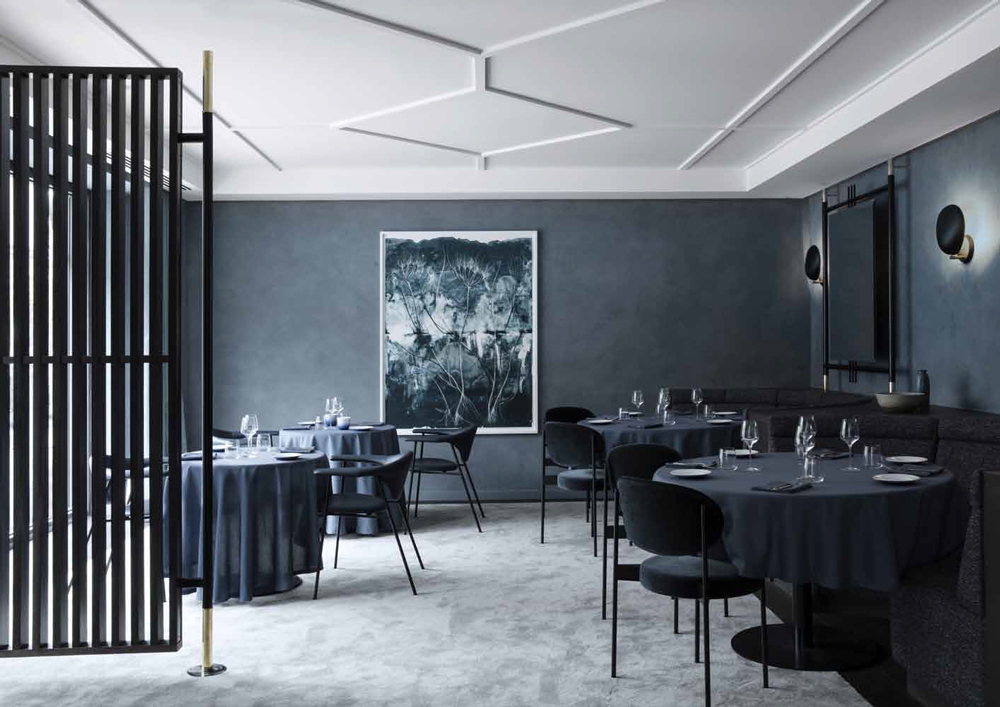 On the other hand, the colours of Flora Danica, feel almost airy and light to me. The Herringbone marble floor as combination of carrara marble and green, graphically distinguishes the entire project and bring attention to the main bar area, while the other part of the restaurant is more soft and intimate, with floor carpet and velvet sofas.  I love the green hues supplemented by tones of gray and by the furniture with black and brass details.
Auf der anderen Seite fühlen sich die Farben von Flora Danica fast luftig und leicht an. Der Fischgrät-Marmorboden als Kombination aus Carrara-Marmor und grün Marmor, unterscheidet das gesamte Projekt grafisch und bringt Aufmerksamkeit auf den Hauptbarbereich, während der andere Teil des Restaurants weicher und intimer, mit Teppich und Samtsofas wirkt. Ich liebe die grünen Töne, ergänzt durch Grautöne und durch die Möbel mit schwarzen und messingfarbenen Details.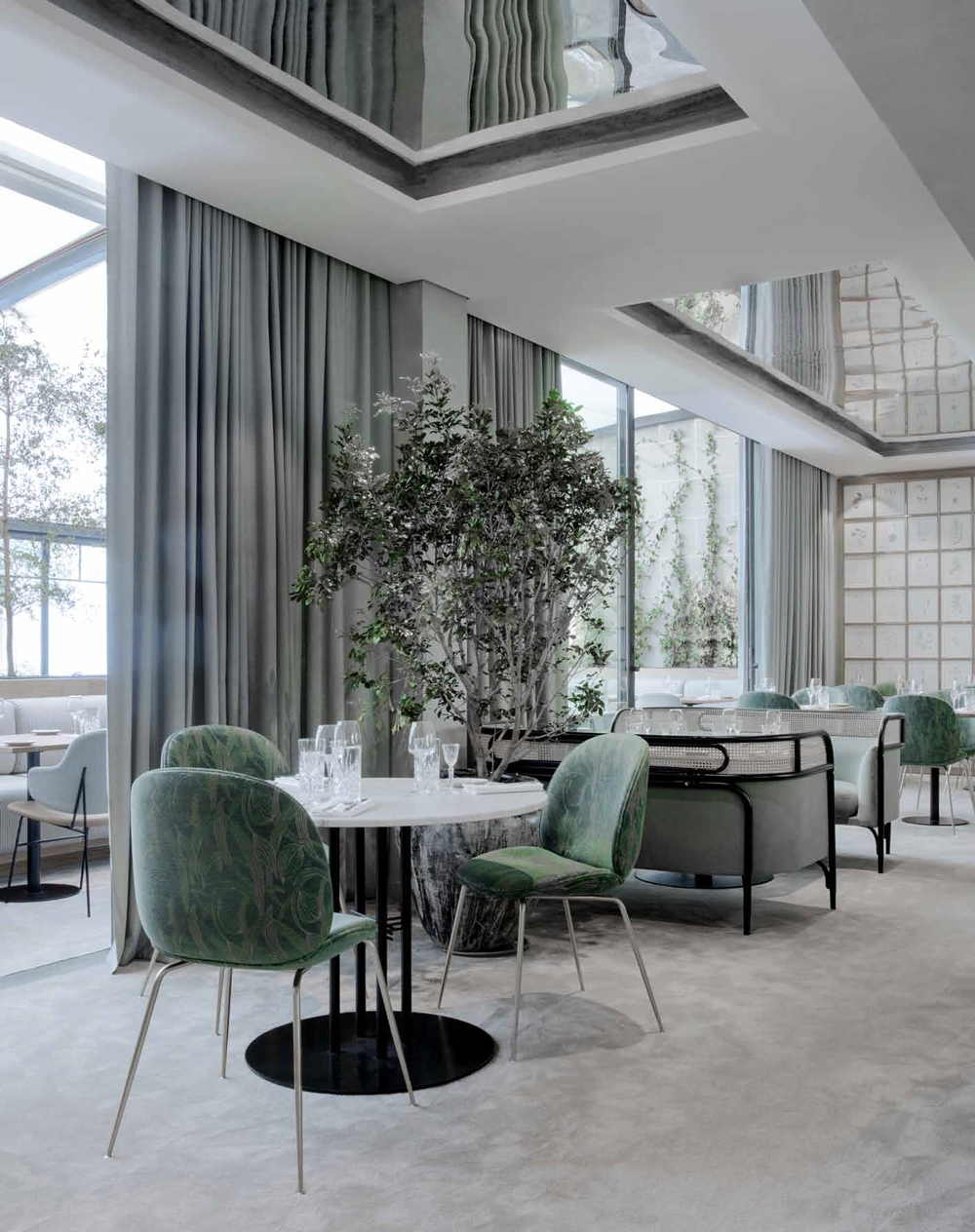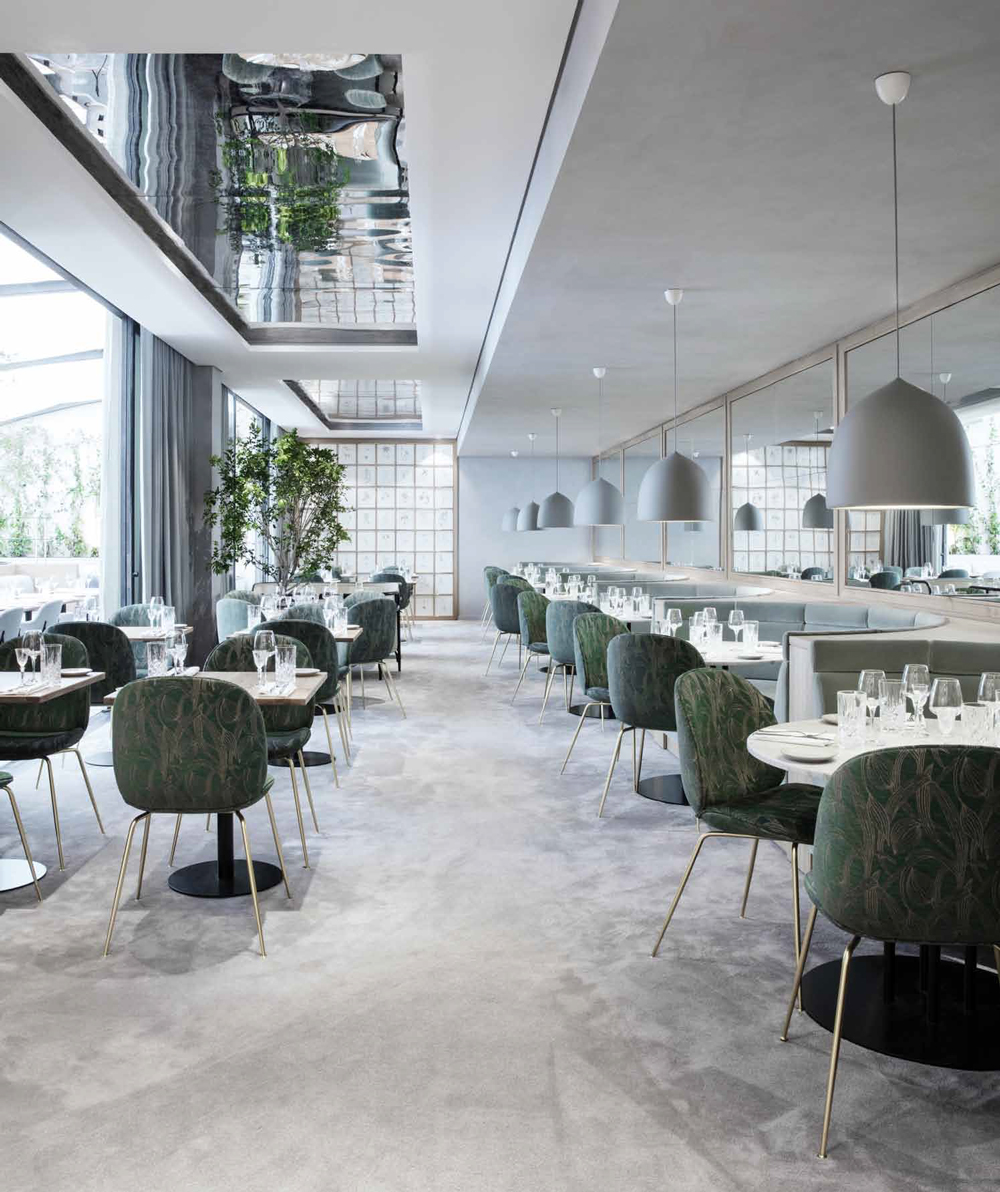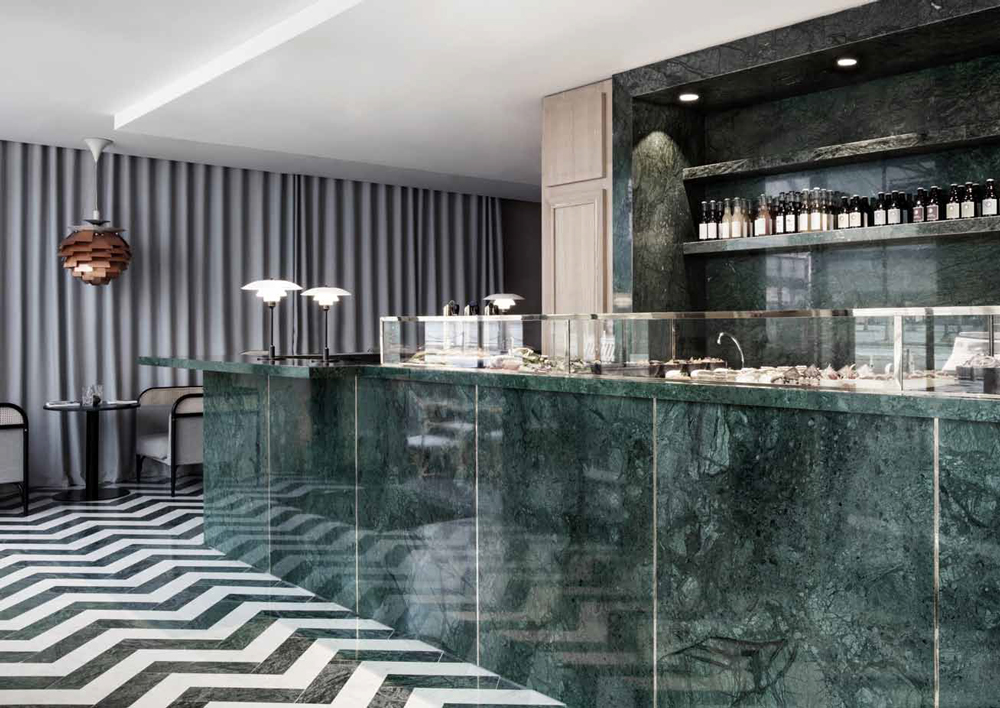 Another special element I love the traditional Flora Danica drawings, used in a contemporary way – designing a geometric frame structure on the walls and including the drawings as a large botanical display.
Ein weiteres besonderes Element, das ich liebe, sind die traditionellen Flora Danica Zeichnungen, die zeitgenössisch genutzt werden – eine geometrische Rahmenstruktur an die Wänden bringt und die Zeichnungen als eine große botanische Darstellung präsentieren.
The richness of materials and colours are probably two main characteristics in the design of both spaces. Both of these spaces, I find, perfectly reflect the dual traditional background of the design team GamFratesi. Stine Gam and Enrico Fratesi draw on the classic Danish furniture and craft tradition as well as the classic Italian intellectual and conceptual approach. From this cross-cultural substrate, they create furniture and interior that respectfully reflects tradition while also featuring unique embedded stories, symbols and associations, often expressed in a minimalist idiom.
The associations I am inspired for by looking at the interior of Flora Danica are already expressed in the name of this place – it feels to me like dining in a middle of a beautiful orangery, surrounded by the soothing flora and greenery.  On the other hand, the intimate luxurious space of the restaurant Copenhague, has a calming visual effect on me as well, achieved by dark blue setting.
I haven't savoured in these Restaurants yet, so I am looking forward  the culinarian experiences of these spaces on my next visit to Paris.
How about you? What associations do you have with these high end interior spaces?
Der Reichtum an Materialien und Farben sind wahrscheinlich zwei Hauptmerkmale bei der Gestaltung der beiden Projekte. Beide dieser Räume, finde ich, spiegeln perfekt den dualen traditionellen Hintergrund des Designteams GamFratesi. Stine Gam und Enrico Fratesi zeichnen die klassische dänischen Möbel- und Handwerkstradition sowie den klassischen italienischen intellektuellen und konzeptionellen Ansatz. Von diesem interkulturellen Substrat aus, schaffen sie Möbel und Interieur, die respektvoll die Tradition reflektieren und gleichzeitig einzigartige eingebettete Geschichten, Symbole und Assoziationen darstellen, die oft in einem minimalistischen Idiom ausgedrückt werden.
Die Assoziationen, die mich hier beeindrucken, wenn ich das Interior von Flora Danica betrachte, sind bereits im Namen dieses Ortes ausgedrückt – es fühlt sich für mich an, in einer Mitte einer wunderschönen Orangerie zu speisen, umgeben von dem beruhigenden Flora und dem Grünen. Auf der anderen Seite, der intime luxuriöse Raum des Restaurants Copenhague, der eine beruhigende visuelle Wirkung auf mich hat.
Ich freue mich auf diese Räume bei meinem nächsten Besuch in Paris.
Wie wirken die Räume auf Euch? Welchen Eindruck habt Ihr bei Betrachtung dieser High-End-Innenräume?
142 Av. des Champs-Élysées,
Open during: 12:00–14:30
,
19:00–23:00
Restaurant Copenhague
142 Avenue des Champs-Elysée,
Open during: 

12:00–14:00
,
19:00–22:00
GamFratesi
Vermundsgade 40 B, st.
DK 2100 Copenhagen Ø
Denmark
+45 51900117
Gamfratesi studio was founded by danish architect Stine Gam and italian architect Enrico Fratesi. the studio is based in Copenhagen.
Images: Heidi Lerkenfeldt with a kind permission from Studio Gamfratesi.