EN:
Waking up to the sound of the birds is so magical. As birds being such a beautiful present of the nature to us, it's natural to want to give back. Do you also have a bird feeding station in your garden or maybe you have birds in your home of whom you are taking care of?
There have been so many innovations in product design for interiors and living. Today a unique design for the bird feeding station caught our eye. The Diamond Bird Feeder is the latest addition to Garden Glory's exciting world. Like a giant diamond ring floating in the trees, it brightens up any garden. Cleverly designed, the holes at the bottom of the ring serves as a drainage in order to help the bird seed dry after rain and snow.
The design itself is very intriguing. A neighbor passing by our back yard have asked us if someone in our home just made a proposal to marry or if we are celebrating a special love anniversary. "It's just a love sign to the birds", we answered, "they are so precious in our garden like a diamond ring"
The garden glory bird feeder can also be a beautiful accessory indoors, especially if you have birds who live in your home. I styled some indoor scenes with it to inspire it. What do you think?
DE
:
Das Aufwachen mit dem Klang der Vögel ist so magisch. Da Vögel für uns ein wunderschönes Geschenk der Natur sind, ist es natürlich, dass wir etwas zurückgeben wollen. Habt Ihr  auch eine Vogelfütterungsstation in Eurem Garten oder habt ihr vielleicht Vögel in Ihrem Haus, um die Ihr Euch kümmert?
Es gibt so viele Innovationen im Produktdesign für Wohnen. Heute fiel uns ein einzigartiges Design für die Vogelfütterungsstation auf. Der Diamond Bird Feeder ist die neueste Erweiterung der aufregenden Welt von Garden Glory. Wie ein riesiger Diamantring, der in den Bäumen schwimmt, schmückt er jeden Garten. Durchdacht gestaltet, dienen die Löcher am unteren Rand des Rings als Drainage, damit der Vogelsamen nach Regen und Schnee trocknen kann.
Das Design selbst ist sehr inspirierend. Ein Nachbar, der an unserem Hinterhof vorbeiging, hat uns gefragt, ob jemand in unserem Haus gerade einen Heiratsantrag gemacht hat oder ob wir einen besonderen Liebesjubiläum feiern. "Es ist nur ein Liebeszeichen für die Vögel", antworteten wir, "sie sind in unserem Garten so wertvoll wie ein Diamantring."
Der Garden Glory Bird Feeder kann auch in Innenräumen als ein schönes Accessoire dienen, besonders wenn Sie Vögel haben, die in Eurem Zuhause leben. Ich habe einige Szenen damit gestylt, um sie zu inspirieren. Wie findet Ihr es?
Diamond Bird Feeder Indoors: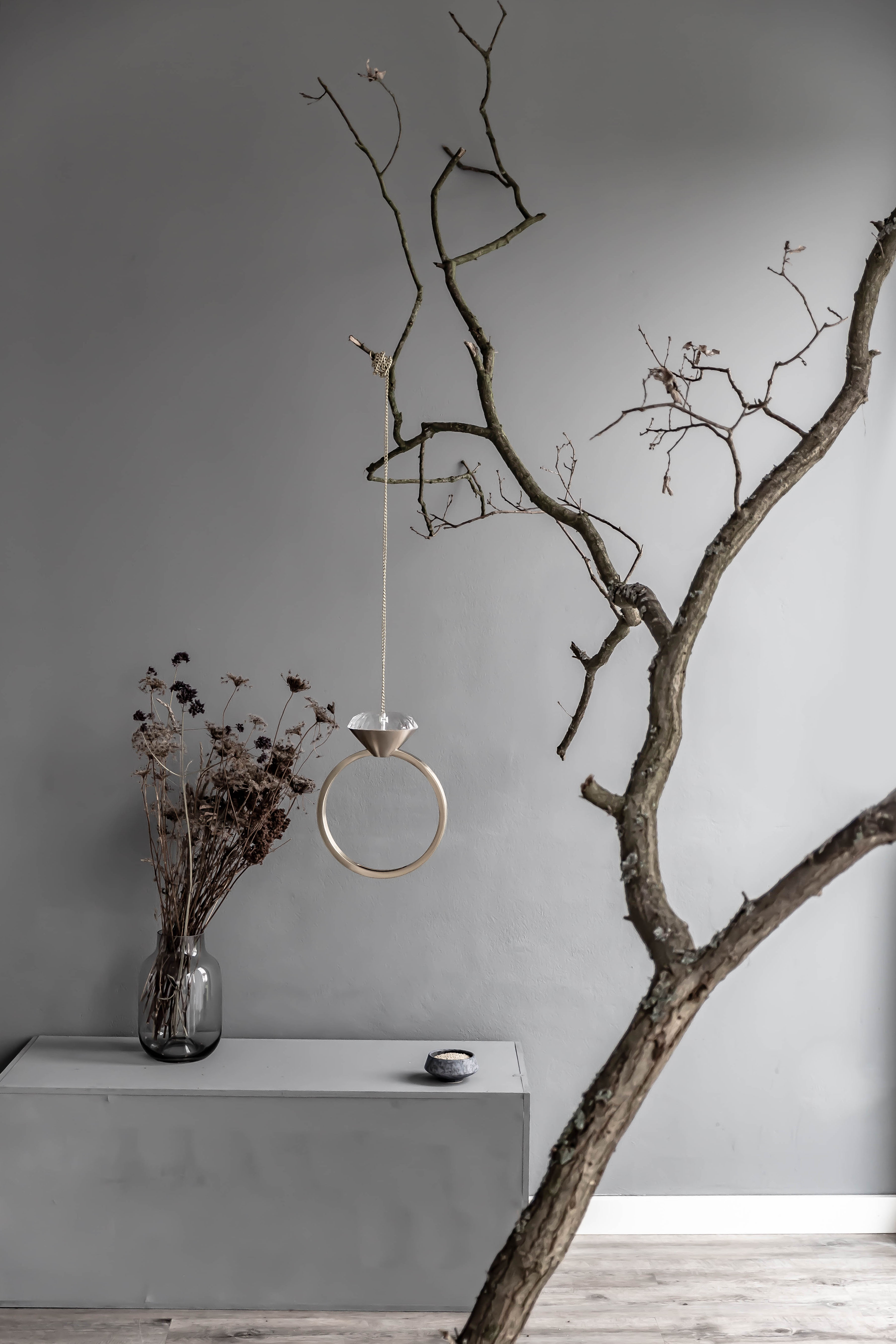 Styling and photography: Valerie Schoeneich (c)
Post in collaboration with Garden Glory.