EN:
Today's interior inspiration is a beautiful example how we can utilise in a clever and stylish way a small living space. Just like in our previous example, this apartment located in Sweden. What can I do, I am so affine with the natural aesthetics of my nordic neighbours.
I feature lately the articles about interior design for a small living space, because this subject pops from time to time in conversations. As you know, living in cities, often means living in a small apartment. Nevertheless, this does not mean we have to compromise on a comfortable atmosphere and on stylish interior.
Minimalistic influence on the design for a small apartment plays an important role. Especially when we have limited space, reducing it to the necessary and keeping the color scheme calm helps to create a feeling of expansion and lightness.
This apartment's design does exactly so, the colour scheme here is very neutral and so relaxing. White, pale wood and grey hues connect us with natural aspect of a nordic home.
Just as cohesiveness and a balance between colours is an important interior element, so is the cohesiveness of materials. Have you noticed how the marble on a kitchen countertop, the dining table, couch table and the bathroom floor tiles, enriches and warmes up the white color? The little brass details such as the kitchen cabinet handles and the water fixtures in the kitchen also contribute to this classy feeling.
Just like in our previous example of an interior design for a small living space, the space saving solution of a round dining table, cleverly used here. The small space under the slanting window with a direct daylight is used here for a small desk, home office space. The choice of the white desk is perfect for not creating a distraction in the work area.
Trough natural textiles in grey hues such as the carpet in the living room area, we add warmth to an interior space.
What I find most splendid about this apartment, is the attention to detail. The large white wall tiles versus small floor marble tiles, the little brass details and natural nuances show us that by choosing less but of a better quality interior elements, we can make a minimalist space full of class and style.
Are any of you thinking of renovating or designing your small city flat? By learning through examining each detail of stylish interiors such this one, we can gather the inspiration we need to apply in our own living spaces.
DE:
Die heutige Interiorinspiration ist ein schönes Beispiel, wie wir in einer klugen und stilvollen Art einen kleinen Wohnraum nutzen können. Genau wie in unserem vorherigen Beispiel, dieser Wohnung  in Schweden. Was kann ich tun, ich bin so affin mit der natürlichen Ästhetik meiner nordischen Nachbarn.
Ich habe in letzter Zeit mich auf Artikel über die Innenarchitektur für kleine Wohnräume fokussiert. Wie Sie wissen, in Städten zu leben, bedeutet oft, in einer kleinen Wohnung zu sein. Trotzdem bedeutet das nicht, dass wir auf eine angenehme Atmosphäre und ein stilvolles Interieur verzichten müssen.
Minimalistischer Einfluss auf das Design für eine kleine Wohnung spielt eine wichtige Rolle. Vor allem, wenn wir begrenzten Platz haben, reduziert sie alles auf das Notwendige und hält das Farbschema ruhig, hilft damit ein Gefühl der Expansion und Leichtigkeit zu schaffen.
Das Design dieser Wohnung ist genau so, das Farbschema hier ist sehr neutral und so entspannend. Weißes, blasses Holz und graue Farbtöne verbinden uns mit dem natürlichen Aspekt eines nordischen Zuhauses.
Haben Sie vielleicht schon bemerkt, wie der Marmor auf einer Küchenarbeitsplatte, der Esstisch, der Couchtisch und die Badezimmerbodenfliesen sich gegenseitig bereichern und die weiße Farbe aufwärmen? Die kleinen Messingdetails wie die Küchenschrankgriffe und die Wasserbefestigungen in der Küche tragen auch zu diesem edlen Gefühl bei.
Gerade wie in unserem vorherigen Beispiel wird der runde Speisetisch geschickt als räumliche Lösung eines kleinen Raumes verwendet.
Der kleine Raum unter dem schrägen Fenster mit direktem Tageslicht wird hier als kleines Heimbüro genutzt. Die Wahl des weißen Schreibtisches ist perfekt, um keine Ablenkung im Arbeitsbereich zu schaffen.
Durch natürliche Textilien in grauen Farbtönen wie den Teppich im Wohnzimmerbereich fügen wir Wärme in den Innenraum hinzu.
Was ich am schönsten an dieser Wohnung finde, ist die Liebe zum Detail. Die großen weißen Wandfliesen gegenüber den kleinflächigen Marmorfliesen, die kleinen Brassdetails und die natürlichen Nuancen zeigen uns, dass wir durch die Wahl von weniger, aber besseren Elementen einen minimalistischen Raum voller Klasse und Stil machen können.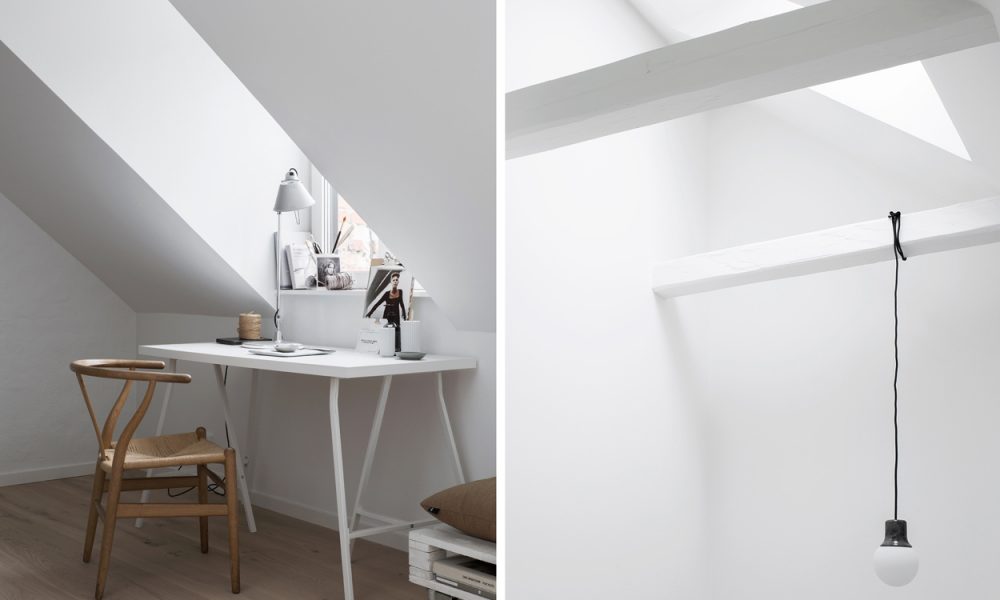 Images/Appartment via Lenca Properties