EN
:
Decorating with a statement wallpaper is coming back as a trend. A statement wallpaper can add a depth of space to the room and create a certain atmosphere. Nevertheless many have certain concerns and questions before bringing such a strong deco element in their homes – such as how to choose a statement wallpaper without it over dominating the living space?
To ease the choice of a wallpaper I scanned the current trends in wallpaper to find those not over dominating examples:
1. GEOMETRY
This ferm Living Grid Wallpaper for example has clear geometric structure and a certain softness and calmness at the same time.
DE:
Das Dekorieren mit einer Statement-Tapete ist wieder angesagt. Es ist wieder On-Trend in der Interior Design Welt. Hier gibt es allerdings einiges zu beachten. Denn einerseits kann eine grafische Tapete eine passende Tiefe und Atmosphäre in einem Raum schaffen, anderseits kann diese eine zu dominante Rolle im Raum erzeugen. Viele haben daher die gleich Frage – "Wie dekoriere ich mit einer grafischen Tapete um die richtige Atmosphäre zu schaffen und eine falsche Dominanz zu vermeiden?"
Um dies zu beantworten, habe ich nach aktuellen Trends gesucht und möchte diese mit euch teilen:
1. GEOMETRIE
Diese ferm LIVING Grid Wallpaper ist ein gutes Beispiel, denn sie hat eine geometrische Klarheit, wirkt aber gleichzeitig sanft. Sie ist sehr einfach anzubringen (so habe ich es zumindest gehört), wegen deren Struktur – es ist eine so genante "WallSmart Tapete" die auf einem Vliesstoff gedruckt wird.
Image / Bild via archiproducts.com
2.TEXTURE -MARBLE
Marble continues to lead as a deco trend. Adding deco elements in marmor look can contribute to a upscale and minimalist look. I like for example this subtle wallpaper in marble look by loveCOLORAY. 
2.TEXTUR – MARMOR
Marmor bleibt ein angesagter Trend in Interior, Mit Marmor Dekoaccessoires oder Muster kann man einen minimalistischen, edlen Look kreieren. Mir gefällt z.B diese dezente Marmortapete von  loveCOLORAY.
Image /Bild via loveColoray
3.WATERCOLOR
The first time that a large watecolor art on a wall captured my attention was last year on a styling of"Broste Copenhagen" Campagne. Today it is available as a wallpaper – how wonderful. Here is another affordable example by loveColoray 
4.WASSERFARBE
Ich hatte diesen Trend erst im letzten Winter bei einem Styling von "Broste Copenhagen" gesehen und es ist heute immer noch beeindruckend. Dieses Beispiel ist auch von loveColoray.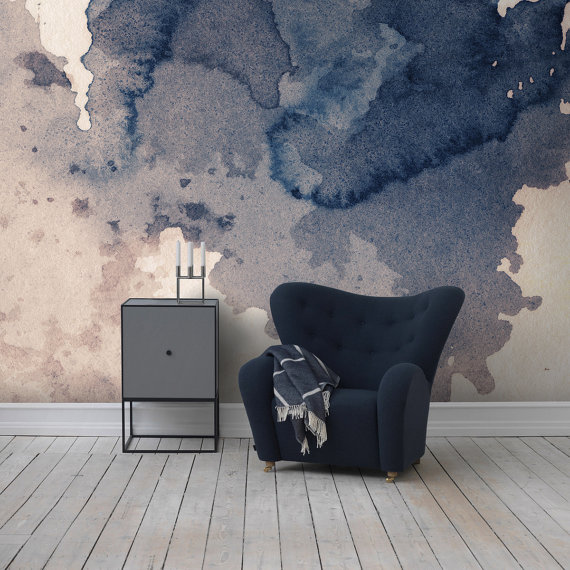 Image / Bild via
3.CITY SCAPE
Great way to bring in the city life into an interior is for example a city scape of your favorite metropole.  Here in example a graphic version of Paris
4. STÄDTE
Mit diesem Muster erhalten wir das  pralle, lebendige Stadtleben direkt in unsere Innenräume.
Diese Beispiele sind von PIXERS fototapeten.
Die Beispiele der Stadtleben kommen von Pixers und ganz besonders ist hier der Service zur Personalisierung des Innendesigns. Denn man kann nicht wirklich sicher sein, ob die ausgewählte Tapete zu dem Innenraum passt und hierbei kann ein Team von Designer von PIXERSTUDIO bei der Entscheidung helfen. PIXERSTUDIO is eine Spezialabteilung bei PIXERS die sich um individuelle Bedürfnisse der Individualisierung von Büros, Hotels, Restaurants, Fitnessstudios und jeder anderen Art geschäftlicher Räumlichkeiten kümmert.
So tell me, do you have the courage to decorate with a statement – wallpaper? Which thoughts and questions about this trend which concerns you? Which motif is your favorite?  
Hattet Ihr schon den Mut mit einer grafischen Tapete Eure Innenräume zu dekorieren gehabt? Was sind die Fragen, die Euch bei diesem Trend beschäftigen? Habt Ihr für uns eine Empfehlung für ein Tapeten-Motiv?
main Image via