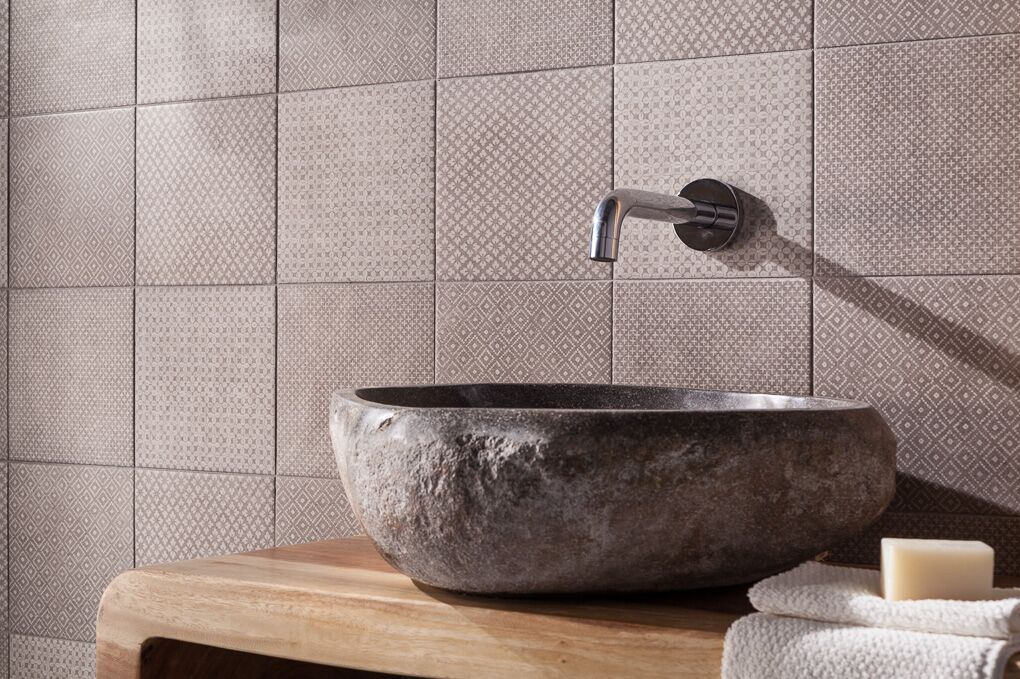 EN:
Have you noticed how the environment and nature of a particular country serves often as an inspiration for the designers. This way, we can connect the outer with the interior and make interior spaces as a natural extension to their outer environment. From kitchen countertops to stone washbasins there is a great variety of natural materials in use to be find today. At other times, designers bring inspirations from their travels and so are unique products for our homes and unique hotels interiors, which remind us of exotic places are born. Design Inspired by Nature.
One example for such inspiration could be the stone washbasins from Cipi. 
Their washbasins are designed in italy, made of stone which comes from Java and Borneo, of metal from Rajasthan and Morocco. Designed by a husband and wife who returned from their travels. The referral to nature travels from materials to shapes, the washbasins have an organic shape making it look as a piece of natural stone. Looking at the basins in Onyx, Granite and Sand Stone, stone seems to have turned light and thin. Joya, Pipe and Stone Tree, stone is not ashamed to tell her weight and age.
So weather you are designing a boutique hotel or a small oasis in your bathroom which reminds you on exotic travel as soon as you enter the bathroom, this tip might be for you.
DE:
Haben Sie bemerkt, wie die soziale Umwelt und die Natur eines bestimmten Landes die Designer unterschiedlich inspiriert?
Auf diese Weise können wir das Äußere mit dem Inneren verbinden und die Innenräume als eine natürliche Erweiterung ihrer äußeren Umgebung erschaffen.
Von Küchenarbeitsplatten zu Waschbecken gibt es eine große Vielzahl Produkten, die von natürlichen Materialien aus dem Umfeld des Designers geprägt werden.
Manchmal bringen Designer aber auch Inspirationen von ihren Reisen mit.  So entstehen oftmals einzigartige Produkte für unsere Häuser oder Hotels, die uns an exotische Orte erinnern.
Ein Beispiel für eine solche Inspiration könnten die Waschbecken von Cipi sein. Ihre Waschbecken sind in Italien entworfen, aus Stein von Java und Borneo, aus Metall aus Rajasthan und Marokko. Entworfen von Ehepartner, die sich von ihren Reisen inspirieren lassen. Der Verweis auf die Natur wandert von Materialien zu Formen, die Waschbecken haben eine organische Form, die an Natursteine erinnern. Und bei den Becken von Onyx aus Granit und Sandstein erscheint der Stein so leicht und dünn. Beim Joya "Rohr und Stein Baum", schämt sich dagegen der Stein nicht, sein Gewicht und Alter zu erzählen.
So wenn Sie ein Boutique-Hotel oder eine kleine Oase in Ihrem Badezimmer entwerfen möchten, ist dies vielleicht genau der richtige Tip für Sie. Entwerfen Sie etwas, dass Sie an eine exotische Reisen erinnert und bringen Sie Ihre persönliche Exotik in Ihren Alltag.
Moderne Design Waschbecken und mehr design made in Italy kann mann z.B online bei Viadurini finden.
Stone Washbasins Inspiration Images: 1(main) / 2 / 3 / 4 /